The cloak that is "I don't have to give you any reason for my action" is very useful to those who wish to act unreasonably. It enables civil servants to abuse their official positions behind a shield of opacity.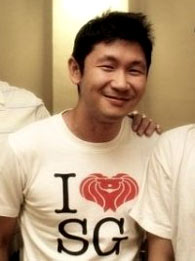 Ng Yi-Sheng is the author of SQ21: Singapore Queers in the 21st Century and a regular contributor to Fridae.
We can't say that they have abused their position every time they wield such an excuse, but the point is, when they do abuse their positions, we won't know.
Acclaimed playwright and poet Ng Yi-Sheng has been terminated by the Education ministry from his role as arts mentor. He asked the ministry for a reason, and as The Straits Times reported, got none.
It is a matter of public interest when someone is terminated like that, even if it is someone appointed for a casual position like Yi-Sheng's. The Straits Times obviously thinks so too. That's why they reported it. How can it be then that the reason for the termination is not of public interest, especially when it is an act of the state, paid by taxpayer's money?
Yi-Sheng himself believes that it has something to do with "his involvement with political and gay rights activism." The Straits Times, for its part, mentioned his play, 251, which portrayed Singapore's best-known porn actress Annabel Chong sympathetically.
"But of course they knew all this before they invited me," was his comment, packed with irony.
Either the ministry did know and was fine with his history before, but panicked when some anti-gay extremist complained [1], or the ministry really didn't know about Yi-Sheng's background and panicked when they found out. Neither possibility speaks well of them.
It may be some totally different reason, a few people might say. But if you are aware of the series of purges carried out by the Ministry of Education on gay people in the teaching profession, you will immediately sense that this is part of a pattern. His sexuality is the most likely reason.
I have been trying to document cases of the Ministry's purges that I have informally heard about. Unfortunately, many of the victims did not want to further jeopardise their careers even when they were inexplicably moved from a frontline teaching position (which they were passionate about) to a dead-end desk job. They nurtured the hope that they'd be able to go back to the classroom one day and did not want to make an issue of the injustice visited on them. Hence, they have generally been unwilling to reveal details of their case histories to me for documentation.
The problem is this: If we can't credibly document a series of abuses that show a pattern of discrimination, then how do we prove it? If we can't prove it, how do we end it?
Let me call upon anyone who thinks he has suffered job discrimination in the civil service on account of his sexual orientation to approach People Like Us with your story. Silence perpetuates injustice.
* * * * *
In any private company, when an employee is demoted or removed, it is recognised as only fair that due process should followed. The employee is given a reason and permitted to contest that reason. The Ministry of Manpower, on the Good employment practices and guidelines page of its website even says this:
Employers should adopt good employment practices such as: Recruiting and treating employees fairly and equally, without prejudice or discrimination.
The Manpower ministry also has an Industrial Arbitration Court to resolve disputes fairly. Employers are expected to be open and forthright about their reasons for action against employees, for if not, how can arbitration proceed? On the Manpower's website too is this statement:
If an employee was dismissed on the ground of misconduct and feels that it was without just cause and wishes to seek redress, he has to appeal to the Minister in writing for reinstatement to his former employment, within one month from the date of dismissal.
This is the irony: The Manpower ministry puts its weight behind the principle of due process, and as I have noted above, due process must include the employer providing an honest reason for his action.
Yet, this standard of due process has not been observed in Yi-Sheng's case. Nor was it observed in Alfian Sa'at's case a few years ago when he was terminated from his relief teacher's job, also without a reason [2]. As many readers would know, Alfian is gay as well.
* * * * *
Like I said Alfian's case, this is one more reason why we need a Freedom of Information Act. Such laws enable a citizen to ask the government for information and puts an obligation on the government to answer that question truthfully, so long as there is no overriding reason, such as national security, for that information to be kept secret. Of course, such laws also have a rule that governments should not be releasing personal information about anybody, unless it is personal information about the requestor.
In other words, even with such a law, I might not be able to request for details of Yi-Sheng's case, but Yi-Sheng himself or his attorney should be able to.
In fact, it is considered good practice to permit a citizen to ask government departments what information they hold about himself.
Why is it good practice? There have been cases in many countries where government departments have erroneous information on record about people. When these persons apply for a government job, a passport or some disability benefit, they find themselves inexplicably refused. If the government is allowed to simply say, "We don't have to give you a reason", then the erroneous information (e.g. that he was suspected to have donated money to terrorist groups, or to have imported child porn) that blackmarked his application will never come to light. It will never be cleared up, and the person will suffer unjustly for the rest of his life, slapped with one refusal after another, each time with no reason given.
A Freedom of Information Act that gives citizens the right to know what information is being held about themselves provides the little guy with recourse against the powerful. And if civil servants know that their actions cannot be hidden behind a cloak of willful opacity, they will be more mindful about being fair and non-discriminatory.
It can only be good for Singapore.
Footnotes
[1] I'm not being paranoid. I have a fast-growing list of incidents that point to a concerted effort by anti-gay campaigners to target gay people and gay events by making all sorts of complaints to the government. Actually, I grant them that freedom to do so. What I am annoyed with is the way the government reacts once they receive a complaint that someone or some event is gay. They swing into clampdown mode, without ever stopping for a moment to ask, "So what if this person or the event is gay?" These civil servants don't think, they don't uphold the principle of non-discrimination. They panic, or they blindly abuse their power because that's where their sympathies lie anyway. Then, when asked to justify themselves, they say: "We don't have to give you a reason." And we like to boast that Singapore is an exemplar of good governance.
[2] See Teacher unaccountably terminated and Teacher's termination still unaccounted for.
Alex Au has been a gay activist and social commentator for over 10 years and is the co-founder of People Like Us, Singapore. Alex is the author of the well-known Yawning Bread web site.