Any Fridae.com reader who attended the 1st International Conference of Asia Queer Studies, 'Sexualities, Genders and Rights in Asia', held in the Ambassador Hotel in Bangkok in July 2005, will remember a feisty and charming delegate from Shanghai named Zhou Dan, a member of a very select band, an openly gay lawyer and fighter for LGBT rights in China. Zhou was in Hong Kong in the last ten days of September this year to participate in the Chinese University of Hong Kong's programme on civil society organisations in China, as well as to visit human rights organisations working here. He took time out of his schedule to meet me in the Foreign Correspondents Club to talk to me about his life and work.
Zhou, 35, has already had a remarkable career compressed into what is still a young life ('Revolutionaries are always young' is a favourite saying of his). Born in the dying days of the Cultural Revolution in 1974, he started school in 1980 at the beginning of a decade which brought renewal to China and kicked off the economic development which has so astonished the world. He studied law at university in Shanghai and graduated to practise in the city. All this time he had become increasingly aware of his own sexual orientation and faced the hard fact that in China this was still regarded as an 'illness' or 'disorder.'
Back in the 90s, before the internet established itself, finding knowledge about homosexuality was difficult; only unhelpful or unsympathetic medical texts were available in the university library. It was not until he chanced to be riding his bicycle past Shanghai's Little Garden (a well known gay meeting place, though he didn't know it at the time) that he met other men like himself and his life changed. In those days, unless you knew someone, even finding a place where there were other gay men was difficult.
After writing with his real name about being gay on Chinese websites for several years, he came out publicly in a local newspaper about his gay identity in November 2003.
"The internet has changed everything," Zhou told me, "especially since the end of the 90s. Many are still too frightened to go to bars and the virtual world is a safer one. I met my partner on the net ten years ago," he adds.
Since then, things have become easier in China. In 1997, the National Peoples' Congress abolished the law penalising 'hooliganism,' a statute under which many gay men had been prosecuted. The Ministry of Health removed homosexuality from its diagnostic list of mental illnesses in 2001.
Now, as long as you are comfortable with your sexuality, you are reckoned to be mentally healthy. If you are not, though, your condition will still be treated as a mental disorder, though this of course begs the question as to which mental disorder, and Chinese doctors are none the wiser than anyone of us here so usually end up treating these 'patients' for depression. China operates a 'Three Nos' policy: 'no prohibition, no support and no promotion,' a half way house reminiscent of the Thatcher years in Britain, but this at least leaves space for academics and activists to push the boundaries of tolerance. Since 2005, Fudan University in Shanghai has offered a gay and lesbian studies programme open to undergraduates, which now has about 100 students. The university's medical school has also offered a graduate course on medicine and homosexuality (which is mostly about the latter) since 2003.
In 2006, the university held a conference on law and social policy related to homosexuality which attracted some of the country's top legal minds. "If you want to change legislation," Zhou says, "you have to educate straight lawyers and scholars, and not just in matters of fact but emotionally and sentimentally."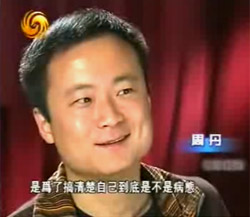 Zhou Dan in a 2007 Phoenix TV interview
In 2005, Zhou decided to focus on promoting LGBT rights alongside his legal work.
"It's hard to fight for individual rights in a society which is based on the traditional patriarchal and authoritarian system like China's," he told me.
"It's the same for the rights of migrant workers and women as for gay men. How to speak in a liberal way about any issue remains problematic. The country is still blind to the subject of gay rights, so you have to open its eyes using the ideas that current across the nation, for instance 'creating social harmony,' 'fighting injustice' or 'the three represents.'" Advocacy thus takes forms unknown elsewhere. For instance, Zhou sees it as his task to educate and nurture 'jurisprudential imagination' in the Chinese legal world. "We can do this in two ways," he thinks, "firstly by using literary imagination, by which I mean the use of ancient texts and modern literature, even books like Pai Hsien-yung's classic Taiwanese novel Niezi [known in the English reading world as Crystal Boys]. Secondly, by using sociological imagination, in effect the eliciting of compassion and sympathy using evidence based on science and facts. We research anywhere we can to justify the morality of gay rights, even in the western world," he explains.
Zhou has written a work of his own as part of this process of reaching out to educate the straight world. In May this year he published in Shanghai his Pleasure and Discipline; Jurisprudential Imagination of Same-sex Desire in Chinese Modernity (爱悦与规训), which, despite the length of its title, he says is selling well already.
Zhou takes this educative message out into the world. Apart from Bangkok, he's travelled to Canada and the USA, and is in touch by net with counterparts in Taiwan. Now in Hong Kong, on Sep 23 Zhou spoke to an audience gathered by the Faculty of Law's Centre for Comparative and Public Law at the University of Hong Kong on the subject of the emerging gay rights activism in mainland China, where he explained many of his ideas to a lively audience of Hong Kong's legal academics, students and activists.
In China, he said, homophobia has been replaced with what he describes as 'homo-blindness,' for despite the gradual growth of freedoms, a few additions to literary and cinema canons, some acceptance of public demonstrations of affection or gay fashion on the streets and the growth in the number of gay bars and saunas in the major cities, most gay life remains invisible in most of China. Very few gay men have had the courage to come out in public, and even fewer publicly recognised figures. Most continue to lead double lives, to marry and produce the expected heir, despite all the psychological and family problems, the divorces and suicides, to which this leads.
Zhou has been tremendously encouraged by changes in the rest of the world, and thinks the acceptance by Vancouver's Chinese community of Canada's same-sex marriage law is a pointer to the way Chinese pragmatism is capable of grappling with change. China's bold decision to authorise and fund local NGOs to carry out HIV education and prevention outreach programmes across the nation is another. He is, therefore, cautiously optimistic about the future, but has no illusions about the length of time that will be needed, for instance, to bring in legislation against discrimination on grounds of sexual orientation.
"All this must be approached one step at a time," he is sure, "and it's not just a river across which you're feeling the stones, but a whole ocean." The tongzhi community's own long march has a very long way still to go.