Connie Chan is not in the business of blowing her own trumpet. That she has been at least involved in, and occasionally has certainly been the direct cause of, almost every political development that has involved Hong Kong's tongzhi community over the last decade, she sees as just something pretty normal. For it is the struggle to which she has devoted her life. Not that she's going to give herself any credit for it, and I confess that I had to sneakily use her role as Chief Director of this year's Hong Kong Pride to get her to talk to me and to open up about herself and her achievements.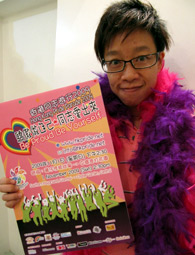 Activist and Chief Director of Hong Kong Pride 2009, Connie Chan
She's frantically busy now, as is the whole Pride Committee she leads, getting the last details stowed away before we take to the streets on Sunday 1 November, so we had to meet briefly late one night at a McCafe in Jordan. The Parade, naturally, was the subject that came first. This is Hong Kong's second Pride, and Connie's team aims to build on the success they achieved last year when over 1,000 marched. She contrasts this with the first IDAHO parade she helped organise in 2005 when everyone was worried no one would turn up and so careful was the organising committee that they ordered 100 masks for those who feared to show their faces to the media. Over 300 marched that day and the masks went in the bin. In the following years, 300 became 400 then 600, and at that point Connie knew that Hong Kong could go for a Pride Parade. "Hong Kong wasn't ready for this before 2008," she thinks, "gay people weren't ready to show themselves in sufficient numbers, there wasn't any money and we weren't sure how to run a parade. But IDAHO taught us we could do it and how to make it work. In fact it is easier to get people to come out in a Pride Parade," she says, "as it's not a political thing and it's easier to get people interested. It's easier to be happy!" Which is what, of course, Pride is all about.
This year's theme is 'Be Proud Be Yourself', something Connie is convinced we all need to be if we are to stand up and fight for our rights. "You have to be proud of yourself to come out, and if you don't come out and be seen, nothing will change," she says. So the Committee is asking everyone to wear pink to make themselves stand out. It hopes that all the LGBT groups in Hong Kong, and the myriad groups in the wider community that support LGBT rights, will march under their own banner and show they are proud of their own team, too. The organisations who have shouldered most of the work for this year's Pride are Women Coalition of HKSAR, Rainbow of Hong Kong, Midnight Blue, Nutong Xueshe and Gay Harmony, but others will take supporting roles. Brian Leung of GayStation and presenter of RTHK's programme 'We are Family' will act as MC for half the programme to be held in Chater Garden at the end of the parade. Community TV, an NGO making internet programmes, will show live coverage on the net (at https://www.communitytv.hk). Renowned local artist Kiwi has designed the Miss FAT event t shirt and Women Coalition's Lik Lik has designed the theme tee (you can see the designs here; each costs HK$98 and there's only a limited edition of 100). Two organisations are throwing an After Party, Les Peches for the girls and Cocktails for the boys, (for details of the latter, a Tea Dance, check out cocktailsproduction.com).
Like last year, contingents are expected from abroad; China will be there in strength, with groups from Beijing, Shanghai and Guangzhou. There's also planned to be a contingent flying in from Malaysia, and there'll probably be others from elsewhere. Connie gave me the exciting news that respected Hong Kong film director Ann Hui has agreed to be this year's Rainbow Celebrity and will be present in Chater Garden at the close. In November, Hui will bring out her latest film, a story of local lesbians, so this is perfect timing.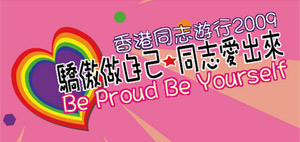 Organising all this calls for a huge amount of effort, much money and many volunteers. The Committee is desperately seeking assistance, so if you want to help, to register a group or to donate cash, go to the Pride's web site at hkpride.net/2009/eng/aboutus and click on the side buttons 'Join Us' to volunteer and 'Donations'. They need about HK$100,000 (US$13,000) to run this event and they are not yet half way to achieving that. And, of course, put on something pink and come and join the Parade on the 1st; it kicks off at 2.30 pm at Southorn Playground next to Wanchai MTR Station.
Uphill battles for change are not new to Connie, as I found out when she went on to tell me something of herself. The long and winding road which has brought her to Pride started back in school in the nineties, where she first became aware of her attraction to other girls and then fell in love. "I was in a mixed school," she recalls, "and there was no way to meet other lesbians. I thought I was the only lesbian in Hong Kong!" she laughs. She put paid to that idea in a typically straightforward way by ringing Hong Kong Telecom and asking them to put her through to a lesbian group. The bemused operator gave her the Ten Percent Club, so Connie joined the women's group that they had back then and soon became its leader, a position she held for three years. Their activities were entirely social, something which will probably surprise those who are aware of her serious dedication to the tongzhi cause and who haven't taken her for a party animal! Politics, though, soon called. There was nowhere really to turn to for this at that time, so, using the organisational skills she'd acquired, she and four College girls set up Lui Tung Yuen (LTY), or Home for Girls, in 1996. The organisers intended LTY to focus not on imported foreign queer ideas but on local issues and needs. It was a breakthrough for a lesbian organisation in Hong Kong, soon achieving over 300 members, and it lasted three years before its founders drifted apart to move abroad or found careers. Things in Hong Kong were changing then: the Internet meant that meeting others was no longer so hard; lesbian bars had begun to pop up in the city. The old ways of organising no longer worked so well. Frustrated, Connie took a break from tongzhi work and spent a couple of years with women's groups and human rights NGOs in Hong Kong.
All this was going on while she was studying, firstly for a first degree in marketing at the Chinese University of Hong Kong and secondly for her master's degree in Cultural Studies at Lingnan University, after which Connie took up a career as a journalist. "I love writing," she confesses, and says that she thoroughly enjoyed her time as a writer and editor for newspapers and magazines including Apple Daily and Ming Pao. Yet although the skills and pressures of a commercial life have given her the organising abilities which now lie behind Hong Kong's Pride, Connie felt the chasm between her day time job and her activism growing, so she eventually abandoned her beloved writing and took a post with an NGO helping workers in the commercial sex industry, Action for REACH OUT, where she works today.
In 2003, she went back to politics and came together with two close friends, Wai Wai and Lik Lik, to take up the political struggle for Hong Kong's tongzhi women once more. They founded Women Coalition of HKSAR to focus on legal reform, advocacy and the issues of sexuality and gender in Hong Kong society affecting lesbian, bisexual and transgender women.
Their brainchild has grown fast in the last six years and now has a Committee of seven (the more recent additions being Karen, Joe, Penny and Joanne). They have a large list of members and meet on the first Saturday of every month at the Rainbow Centre in Kowloon for talks and seminars as well as for social events like wine tasting. Women Coalition has been at the core of every parade held in Hong Kong since the first IDAHO march; it is safe to say that without them we would not have yet got to the point of staging a Pride by this year. They provide many of the key personnel inside the Parade's organisation; aside from Connie, Lik Lik, for instance, is the Parade's Chief Commander, Wai Wai runs the office, Joe runs security and Karen coordinates the volunteers. They are also the principal tongzhi community lobbyists of Hong Kong's Legislative Council (Legco), spearheading the fight at the moment to include same sex couples in Hong Kong's Domestic Violence Ordinance. Women Coalition has also instigated, and in some cases carried out, studies and surveys of issues such as the effect of discrimination on LGBT people; they were co-publishers in 2005 of a book about this. They brought out an anthology of lesbian lives three years later (Love Women) and this year were heavily involved in a study conducted by the Chinese University into domestic violence amongst same sex couples (which itself followed up a smaller study they had conducted themselves). All this is serious and important work for the community.
"Our next project, at the end of this year or at the start of next, will be to do with the difficulties faced by transgender people in Hong Kong," Connie informed me. "There are many issues that face them: unclear or difficult sex change procedures; getting married; facing discrimination. We are about to meet with Legco Members to start off this issue," she adds.
"Many people ask me why I'm still here doing these things after ten years," Connie grins. "Most people don't last that long. But there's so much left to do, and if you want to change the world you've got to be patient. The movement needs patience to succeed." Connie has that patience, and it's paid off. Hong Kong has gone from a few hundred nervous marchers at the first IDAHO, scared of showing their faces in public, to what Connie confidently expects will be a Pride Parade this year where several thousand tongzhi people and their friends will walk down Hong Kong's highways in the full light of day; to be proud, to be themselves.
That is something for which, to a large degree, the Hong Kong tongzhi community has Connie Chan to thank.