The body of 19-year-old Jorge Steven Lopez Mercado was found by the side of the road in Cayey, a city near the victim's hometown of Caguas, Puerto Rico on Nov 13. He was partially burned, decapitated and with both arms and legs dismembered from his torso.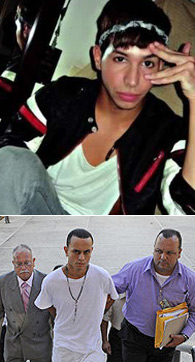 Above: 19-year-old Jorge Steven Lopez Mercado is said to be very well known in the gay community. Bottom: 26-year-old male suspect
News of the case first made it rounds when bloggers publicised an unvetted report that appeared on CNN's citizen journalism website, iReport, on Nov 15. Titled "Brutal gay hate crime murder in PR not being covered," the report posted by a 24-year-old Christopher Pagan quoted local Spanish-language newspapers as saying that the victim was openly gay and a police investigator who told a local paper that the victim deserved what he got because of the "type of lifestyle" he was leading.
News of the brutal slaying has reverberated throughout the gay and lesbian community in the United States as bloggers and observers immediately condemned the investigator's comment, and demanded that he be removed from the case due to his bias. A Facebook page called "Justice for Jorge Steven Lopez - End Hate Crimes" has been started to demand an investigation by Puerto Rico Gov. Luis Fortuno and prosecution of the slaying under the Federal Hate Crimes Law. As Puerto Rico is a US territory, federal agencies have jurisdiction over the group of islands located in the northeastern Caribbean.
International news wires and CNN have since followed up on the case in which a 26-year-old male suspect identified by Primera Hora newspaper as Juan A. Martínez has been arrested on early Tuesday morning.
According to gay news blog Pam's House Blend which translated a report on El Nuevo Dia.com, the website of a Puerto Rican newspaper, police have found a wig, a burned mattress, a PVC water pipe that was burned, a knife, and blood stains on the wall of the suspect's backyard.
US-based GLBT civil rights group Equality Forum on Tuesday called on US Attorney General Eric Holder to have the FBI investigate.
"The Matthew Shepard Amendment empowers and requires the federal government to prosecute this horrific murder," said Malcolm Lazin, Executive Director, Equality Forum in a statement, referring to the new legislation that President Obama signed the bill into law on Oct 28, 2009.
The federal hate crimes act enables federal agents to investigate hate crimes, especially where there does not appear that a full and fair investigation will be undertaken.
Puerto Rican gay activist Pedro Julio Serrano stated, "It is inconceivable that the investigating officer suggests that the victim deserved his fate, like a woman deserves rape for wearing a short skirt."
"The brutality of the slaying and the fact that he was openly gay leads us to believe it was very possibly a hate crime." Serrano was quoted as saying by CNN.
"Equality Forum joins Puerto Rican activists in condemning the statements of the investigator and calls on Police Superintendent Figueroa Sancha to terminate the officer," stated Lazin, a former federal prosecutor; who had received the US Attorney General's Distinguished Service Award, the department's highest annual honour. "It is clear that without federal intervention, there can be no fair and complete investigation."


---
Extract of Christopher Pagan's letter on why he had taken it upon himself to let the world know
Once the news aired on television the police officer at the time, before knowing what we now know about the murder said that: "When one chooses this sort of lifestyle, these type of things happen". The gay community was offended that on Puerto Rican television we were called side show freaks, that deserve whatever we get. As if a 19 year old was asking to be murdered and chopped up into pieces.
…
Suddenly Puerto Rico and its LGBT were put on the map and the world was watching and waiting. The Sunday I had posted my letters, the local PR MEDIA SPOKE ABOSLUTLEY NOTHING ABOUT THIS CRIME. On Monday it all changed, IT WAS FRONT PAGE NEWS. The LGBT around the world were uniting together to fight and denounce hate and show Puerto Rico that they cared.
Jorge's killer was found hours later, which is very unheard of in Puerto Rico and its murders. The constant pressure and press worldwide forced the local government to act and obligated the local authorities to bring justice to this crime. Pedro Julio Serrano was also a huge part in the process. He handled the media and its good and negative feedback on the case, and went out of his way to clear and correct any negative press. And he was also the person that DENOUNCED AND DEMANDED that the homophobic officer who made the earlier statements to be removed from the case.
The LGBT community of Puerto Rico is completely touched and amazed by the support and love that it has received worldwide. Jorge managed to unite a community, and island, a nation, A PLANET. He had high hopes to become an important figure in beauty and fashion. Not one negative comment has been made by his friends and loved ones. All have said that all they can remember is laughing constantly with him and his charismatic persona. He always dreamt of being an important figure, well now JORGE IS A ICON, A MESSENGER OF CHANGE. He will change the way people see bigotry and brutal acts of hate.
I never met Jorge, but I can tell you that I feel like he's sitting next to me every second of the day, even as I write this letter with tears in my eyes, I can feel his presence and his content feeling that justice was served for him, and many others that have suffered this fate. Jorge is the story, I am the messenger that made sure it was heard and read.
Always remember that your most powerful weapon in this world, is your VOICE. God bless the WORLD and god bless the Jorge.
- Christopher Pagan who didn't know the victim personally but posted the news on CNN's iReport website on Nov 15, 2009.