Held on the 20th of November every year, this day is set to commemorate transgenders who have been killed or committed suicide due to discrimination, prejudice and hatred towards the community. It is also to raise awareness on the violence, brutality and murder of gender variant or non-gender conforming individuals within the LGBT community.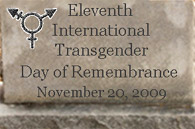 Every year, scores of transgenders have been murdered in dehumanising ways, as the hatred against gender variant or non-gender conforming individuals is on the rise. The countless deaths are from all walks of life; activists, school children, sex workers, civil servants and even mainstream executives. Even those perceived to be transgenders are not spared. Most of the murderers get off lightly, resulting in further stigmatisation that transgenders somehow "deserves it". This is also a day to take action against transphobia.

In Malaysia, battered transgenders and friends of those who died are often too afraid to speak out because of death threats and police mockery, while Islamic fundamentalists still demonise and box transgenders falsely as deviants. Many of the murder victims are often insultingly mis-gendered and called the wrong pronouns when their deaths are reported in the newspapers. And many deaths go unreported because of media bias.

As the founder of the MTAC, I believe it is time to start taking action to reduce as much as possible the violence against gender variant or non-gender conforming individuals, to educate the public on humanity and put a block to the discrimination, and stop the media from contributing to the misrepresentation of transgenders that contribute to the big hate.

The Eleventh International Transgender Day Of Remembrance 2009 (Malaysia)

Day/date: Friday / Nov 20, 2009
Time: 7.30pm till 11pm
Location: PT Foundation Transsexual Programme Drop In Centre
Fourth Floor, Wisma TanCom,
326 & 328, Jalan Tunku Abdul Rahman,
50100 Kuala Lumpur.West Malaysia
Tel: 03-2697 0644
Guest speaker
Sulastree Ariffin (Malaysia – PT Foundation Transsexual Programme)

Programme (in no specific order)
- Sharing of anti-transgender experiences
- Ways to combat transphobic hate
- Group discussion
- Thoughts and dedications
- TDOR 2009 candlelight vigil and memorial
- How to contribute towards a better future for trans people?
For a list of other participating cities/countries, click onto transgenderdor.org.