Openly gay American Idol season 8 runner-up Adam Lambert has hit right back after Aaron Hicklin, editor-in-chief of Out magazine fired the first salvo chastising Lambert and his management team for limiting the range of questions to be asked during the interview for the 'Out 100' December 2009/January2010 issue. Hicklin also complained about the magazine being denied a cover during Adam's American Idol run. (Typically, Idol contestants don't do solo covers/interviews till after the Idol season has wrapped.)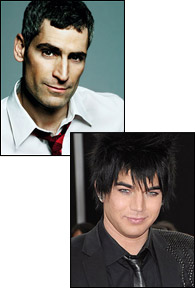 Top: Aaron Hicklin, editor-in-chief of Out magazine, and Adam Lambert who was named 'Breakout of the year' in the Out 100 issue.
In an open letter to Lambert which was published on Out's website, Hicklin wrote: "That's why we're proud to have you in this year's Out 100, along with all the other men and women who don't believe their sexuality should be a barrier to success. It's unfortunate, therefore, that your record label and management don't share the same view.
"We're curious whether you know that we made cover offers for you before American Idol was even halfway through its run. Apparently, Out was too gay, even for you. There was the issue of what it would do to your record sales, we were told. Imagine! A gay musician on the cover of a gay magazine. What might the parents think! It's only because this cover is a group shot that includes a straight woman that your team would allow you to be photographed at all -- albeit with the caveat that we must avoid making you look "too gay.""
The 27-year-old fired back via Twitter on Nov 17 saying: "Dear Aaron, it's def not that deep. Chill! Guess ya gotta get attention for the magazine. U too are at the mercy of the marketing machine." AND "Until we have a meaningful conversation, perhaps you should refrain from projecting your publications' agenda onto my career."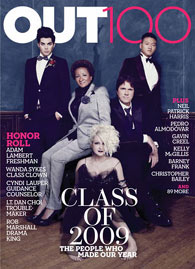 Lambert is featured on the cover of the 'Out 100' issue alongside Wanda Sykes, Cyndi Lauper, Rob Marshall and Lt. Dan Choi (left to right).
Lambert further commented on the issue in an interview with Entertainment Weekly on Thursday: "What people don't realise is, I am managing my image, more than maybe the editor of OUT magazine likes to give anybody credit for. My team is a team. And I really feel fortunate that 19 Management and Simon Fuller said to me, from the get-go, "We want to do what you want to do. You need to tell us how you want to do things, what interests you have," and they've been incredibly supportive of me. I really mean it. I'm not being puppeted around. I didn't want to jump onto a gay magazine as my first thing, because I feel like that's putting myself in a box and limiting myself. It was my desire to stay away from talking about certain political and civil rights issues because I'm not a politician. I'm an entertainer. That is not my area of expertise. I can talk about relationships and personal experiences because as an artist those things involve writing lyrics and that part of my process. But I didn't feel comfortable talking about the March on Washington. I didn't feel comfortable, so I asked my publicist to ask the interviewer to stay away from the political questions. I take full responsibility for that. I think that the editor has his agenda and has his opinions, which I respect, but they're not necessarily my opinions. And I wish there was a little respect for that. Not every gay man is the same gay man.