I have a confession to make: I have failed in my vow to banish all unchaste thoughts from my mind until I have succeeded in becoming the next Mrs Robert Pattinson – all because I was assigned to interview three beefcakes from Singapore Calendar Guys 2010.
On the day of the interview, I was determined to uphold the professional integrity expected of Fridae's writers and made a mental note to refrain from tearing into my hand-picked Singapore Calendar Guys with fervour of a starving mountain lioness.
To put my interview subjects at ease (and after my offer of a relaxing full-body massage was graciously rejected), I adopted my demure cup-my-face-with-both-hands pose – not unlike Susan Boyle on her debut album cover – and proceeded to shoot off some probing questions.
æ: Now gentlemen, how may I undress ... I mean address you?
Darren: I'm Darren, 31 years old, 1.74m and 67kg. I'm single and I'm a freelance personal trainer and model.
Jason: I'm Jason, 22 years old, 1.8m and 70kg. I'm a swimming instructor who prefers to be on top.
Raymond: And I'm Raymond, 1.83m and 72kg. I'm an undergraduate and I'm 18 years old!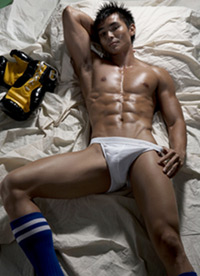 Darren
æ: Could you share with our readers your pre-shoot preparations? For instance, did you subject yourselves to a full-body wax or a dose of Viagra?
Jason: I exercised more often and shaved myself to achieve a sleek and smooth look.
Raymond: I made a few more trips to the gym to bulk up and as you can see in the calendar, and I don't need any Viagra, thank you!
Darren: I subjected myself to more sessions of high intensity strength training and went for a tanning session a day before the shoot. As for Viagra, I don't need it – I just need the right attention.
(Darren smiles and winks at Alvin, thereby causing the latter to reach for his smelling salts in order to continue with the interview.)
æ: In the course of the photoshoot, were there any manhood malfunctions such as major shrinkage or unwanted wood, and if so, how did you address them and keep your minds focused on the shoot?
Darren: It's a good thing that everything went smoothly or all hell might have broken loose (laughs).
Jason: I'm a healthy young man so I don't have a shrinkage problem. I must confess that unwanted wood could be a problem but thankfully, the photographer wasn't that hot.
Raymond: Shrinkage is never a problem for me. Actually, I was more worried that the trunks were too small!
(Alvin shifts his seat closer to Raymond while continuing with the interview.)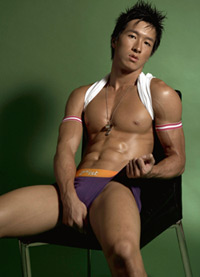 Jason
æ: David Beckham created a furore by publicly flaunting his killer abs and well endowed package for an Armani underwear advertisement. How did you guys think you measure up?
Darren: I believe we can hold our own in terms of our physiques but when it comes to charisma – that's another story!
Jason: I guess I have killer abs but I suppose I fall a little short in terms of package. Then again, it's not the size that matters right?
Raymond: I have to work harder at the gym to achieve his killer abs but I think my package isn't too bad either.
(At this point, Alvin is practically sitting elbow-to-elbow with Raymond who appears discomforted – no doubt due to the afternoon heat.)
æ: With regards to your provocative poses in the calendar, did you have to re-watch episodes of America's Next Top Model for tips or scrutinise the photospreads in Playgirl for inspiration?
Darren: I just followed the directions of the professionals in charge of the photoshoot – but that's a great suggestion and I'll definitely do that – if I get another calendar offer.
Raymond: I think that's a very good suggestion too! But I must say that our poses in the calendar are sexy in their own way.
Jason: How did you know that's what I did? (Laughs) What do you think of my poses?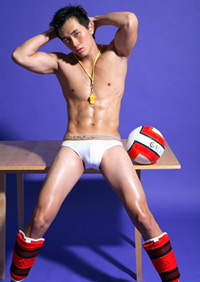 Raymond
æ: Hand me my bib please. Now that the calendar's out, how do you cope with being the lust objects of hormonally-charged teenagers, cougars-on-the-prowl, and of course, delectable gay men with discerning taste?
Darren: I honestly never thought that was possible so it's really flattering and a great compliment.
Jason: I just want to thank everyone for their attention.
Raymond: Me too - I appreciate all the attention that everyone is giving me right now – just no indecent proposals please!
(Upon hearing this, Alvin crumbles a secret note in his palm and lets it drop discreetly into his Hermes Lindy.)
æ: And finally, how have your lives changed since you showed off your heavages (aka male cleavages) in the Singapore Guys Calendar?
Darren: Nothing much has changed – except for the fact that my friends keep calling me to tell me that they see me "on display" at the windows of local bookstores.
Raymond: I guess I'm getting more attention from both clients and strangers – so it's a good stepping stone for me!
Jason: I made quite a few new friends in the process and gained valuable experience. And, I get a lot more attention these days – just like I have yours now.
(Alvin blushes convincingly and hides his smile behind a perfumed embroidered handkerchief.)
æ: Thank guys. Let me end this interview by saying that I am now a full-time professional fluffer with the requisite sexperience. So if you have similar shoots in future, do remember to give me a call?
Darren, Jason and Raymond (in unison): Sure! What's your number?
[Editor's note: Upon reviewing the recorded interview, I would say that an "uncomfortable silence" would be a more accurate description of the interviewees' response to Alvin's final (and utterly inappropriate) question.]