Quietly, unobtrusively, there's been a revolution going on up in the Himalayas. It's not the political turmoil that has engulfed Nepal repeatedly over the last decades of which I write, but a more astonishing social upheaval. Coming back from trekking in the hills of West Nepal, I sought out Sunil Babu Pant, MP, the man almost single-handedly behind this, and over tea at the Shangri-la Hotel in Kathmandu he spoke to me about his life and his successful struggle to bring change to what outsiders have traditionally regarded as one of the most conservative places in Asia.
Let me place his amazing work in some context with a few words about Nepal's attitudes to diversity to illustrate where Nepal was before he started work only eight years ago in 2001. Sex, gender and sexuality were not something politely discussed in those days. Despite a very tolerant attitude to the sexual act itself, everyone got married and was expected to produce an heir. There was nothing approaching any recognition of the west's current rigid differentiations of gay and straight and certainly no identifiable gay lifestyle. Instead, there was a much more traditional acceptance of a third gender of men who adopted women's dress and who, in accordance with Hindu tradition, danced and sang at weddings, births and festivals to bring good fortune and to entertain. These could be either castrated hijeras, as in India, or uncastrated men from hill tribes, marunis in the hills of the west, notwas among the peoples of the plains, or metis in the hills of the east. The traditions behind these stretch back for aeons; Hindu texts some 6,000 years old mention 'persons of the third nature'. Alongside all these existed a fascinating custom of ritualised friendship called mit, in which men, though usually wed to women in traditionally arranged marriages, were able to choose a male life partner and to undergo a ceremony to mark their relationship, after which they shared most things in their lives, including a bed. These relationships were formally recognised by the families of both sides and brought honour, not disrespect, to all. As a result, Nepal, despite the fact that exposure to western religious-based ethical systems has tended to submerge open discussion of local culture, has always had a more pragmatic view of human gender and sexual orientation than most of us would have supposed.

All this did not, alas, stop the authorities attempting to suppress LGBTI people, whom they felt were an embarrassment to tourists and other foreigners. Nor did it stop the illegal activities of local police and civil officers who saw LGBTIs as an easy source of blackmailable funds. Beatings, even murders, extortion and incarceration without charge faced many young queer men and women in the capital and towns of Nepal. There was no organisation to help them, and many who would or could not marry faced ostracism from their families. Abandonment by the family in an undeveloped country like Nepal, which has no social safety net, is a life and death issue. Destitution, despair, drug taking, prostitution and disease were not uncommon among those cut loose from their homes.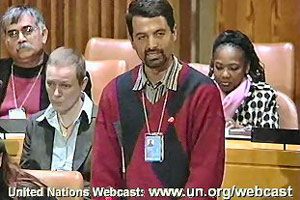 Image: msmasia.org
It was to this alarming mix of ancient custom and modern abuse that Sunil Pant's attention turned in 2001. Sunil had been born in Gorkha, the hill country district that was the original kingdom of the Shah dynasty of Nepal (in the course of their conquest of the country their army gave its name to the Gurkha, the fighting man of the Nepalese, and later British and Indian Armies). Sunil went abroad to study for a masters degree in computer science in Minsk in Belorus, a degree he took in Russian. Whilst there he saw the oppression of gay men prevalent in that sad state; the queer bashing, the posters in hospitals telling people to 'beware of gays', the police raids and beatings. He had no contact there with what subterranean gay life existed, so it was to be on his arrival in Japan, where he next went to work as a volunteer, that he was first exposed to his own sexuality. What he found changed him irrevocably and scared him deeply. For three days he could not sleep, and only started on a resolution of his own view of himself and the world by talking to a gay book shopkeeper and reading every useful book he could get his hands on, including works on Hinduism and sexuality.

Eyes by now opening, his next stop was Hong Kong, where he went for further computer study at the University of Science and Technology. What he found there confused and disoriented him. Expecting Hong Kong to be a modern society with liberal ways, he was open about his sexual orientation, only to find himself way ahead of his fellows who drew back from his openness. Sunil was uncomfortable, too, with the one night stand aspects of the Hong Kong scene, and after only six months he abandoned his studies and returned to Nepal. In 1999, by now less interested in computers and more interested in social work, he went down to Orissa as a volunteer to bring aid to the victims of the super cyclone that killed over ten thousand people there that year. He stayed ten months and was introduced to Buddhism. Returning to Nepal, and by now certain of the sort of path his life would take, he started to meet other gay people and learned how unpleasant and difficult their lives were in his own country. He decided to do something to alleviate this, and in 2001 formed the Blue Diamond Society, Nepal's first LGBTI organisation.

Blue Diamond began life in AIDS prevention work, the only way then available to get funding. It swiftly moved into monitoring and reporting on human rights abuses, then instituted a human rights training programme. It opened offices in the capital and quickly spread to other towns and cities, initially to Pokhara, Biratnagar, Janakpur, Itahari, Dharan, Bhairahawa and Nepalgunj; it now has offices in twenty-nine locations across the state. It has moved its emphasis into other areas, including programmes to teach income generation; these have training people to be beauticians, cooks and security guards, and they will shortly start to train trekking guides as well. Training is cheap but employment scarce in Nepal, so Blue Diamond is always on the look out for anyone willing to invest money in projects or willing to employ gay, lesbian and transgender Nepalese.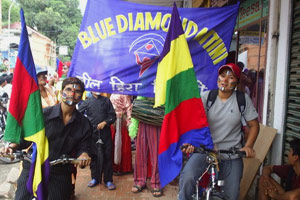 Image: msmasia.org
The activist activities Blue Diamond was involved in culminated in 2007 in an incredible (and I use that word in its real sense) victory in the Nepalese courts. An interim Government had then taken power, from which Sunil had hoped for much, but it proved uninterested in reform, so Blue Diamond decided to go to court to fight the Government on the grounds of its discriminatory laws and behaviour. Blue Diamond won, and, in a wide ranging decision, the court ruled that the Government should recognise the third gender and review and reform all laws that had a discriminatory basis. The Government accepted the ruling and Nepal thus became the first country in the world to recognise a third sex and the first in South Asia to legalise homosexuality. The upshot also included the formation of a seven member same Sex Marriage Committee.

This victory brought Sunil to the attention of Kathmandu's political world. Always looking for votes in the highly fractious bull pit of Nepal's politics, a small offshoot communist party, the Communist Party of Nepal (United), invited Blue Diamond to participate in its campaign for the elections for the new Constituent Assembly in 2008. CPN (United) won 5 seats allocated by proportional representation, all in the fifteen districts in which, by then, Blue Diamond had offices and could campaign. So Sunil became an MP and took the fight for human rights directly into the Constituent Assembly, whose task is to draft a new constitution for Nepal. There he has been involved heavily in the drafting of the Fundamental Rights Chapter and has gained agreement from all the major parties (including the Maoists, whose cadres had earlier got an unsavoury reputation for homophobia) to the inclusion of provisions to include non-discrimination on grounds of gender and sexual orientation. They all agree, too, that the Chapter will specifically recognise the third gender; that its social security provisions will include all LGBTI; and that it will set out the right to family of everyone, irrespective of gender or sex. This last means that it is almost certain that Nepal's constitution will specify that it is the right of any one 'person' to marry any other 'person' with no further definition.

Bitter political fighting is something to which Nepal is by now too well used, so it is likely that for reasons totally unconnected with Sunil's work the new constitution will face delay in implementation. But whatever form of Government emerges in Nepal, it does seem sure now that its constitution will have embedded within it provisions more liberal than anywhere at the moment in the world.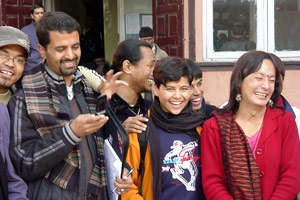 Image: Blue Diamond Society, bds.org.np
It would seem, then, that Sunil's work is pretty much complete, but to those who know Nepal it is obvious that there is so much still to do there. He is now setting his sights on development and has formed the Peace Environment Development NGO to work in dealing with the effects in the country of climate change, and on issues like water supply, fuel, sanitation and eco tourism. 2011 is designated Visit Nepal Year and the Government's intention is to bring double the number of tourists to Nepal that year. As part of this effort, the Ministry of Tourism has convened a LGBTI tourism conference in Kathmandu in February next year, to be attended by international airlines and tour agencies. In response, Sunil has established Pink Mountain, Nepal's first gay travel agency (see its site at www.pinkyatra.com), which intends to offer tailor made touring services to gay couples, including tours of ancient sites featuring specifically queer themes (much of the magnificent Hindu statuary in the capital and surrounding towns is transgendered or gay, though this is so far not pointed out to tourists) and investigations of the queer features of traditional local culture, like shamanism. Once the constitution is in place, and gay marriage is allowed, Pink Mountain will offer all the trappings of same sex weddings in the fantastic locations the country offers. The Nepali term for same sex couple, salijo (from sama, meaning same, lingi meaning sexual and jori meaning partner) is one many will come to hear in years to come.

Nepal's political classes really do seem to have taken in the existence and needs of the country's LGBTI citizens. The Prime Minister recently received Georgina Beyer, the world's first transgender MP (she was in New Zealand's parliament from 1999-2007). Nepal sent a delegation, including Sunil, to the international gay tourism conference in Boston this year. Nepali culture is beginning to reflect the changes; theatre plays, novels, TV documentaries and films with gay themes have started to emerge and win popular acclaim. Echoes of all this, it is clear, are reaching India, which has started to sit up and watch what its smaller northern neighbour is doing. The Indian press have reported all these developments, with some amazement, including the story that Prince Manvendra Singh Raghubir Singh, Crown Prince of Rajpipla in Gujerat, one of India's foremost out gay men and founder of the Lakshya Trust, will marry in Nepal when the law allows.

Sunil Pant has shown that one man's work can change the thinking and the laws of a country. He is an inspiration to us all.