Scott Moore – the second 'pregnant man' to go public after Thomas Beatie – is due to give birth to a boy in February, with his husband by his side.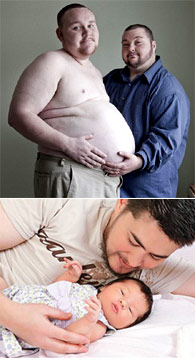 Top: Scott Moore (left) with his husband Thomas; above: Thomas Beatie with daughter, Susan Juliette Beatie
The UK's Daily Mail reports that Moore was born female and has undergone surgery to become male but still has female reproductive organs as his parents couldn't afford the full surgery.
The pair lives in California with their two children aged 12 and 10 from his husband Thomas's former female partner who has since passed away. Thomas is also a transgender man.
The couple is legally married as Moore, who was born Jessica, still has his female birth certificate. Moore told the Mail he first realised he wanted to be a man when he was 11 and started taking male hormones when he was 16 years old.
"We know some people will criticise us but we are blissfully happy and not ashamed." Moore, 30, was quoted as saying in the Daily Mail. He was artificially inseminated with a friend's sperm the paper reported.
They have decided to name the child 'Miles'.
The case is similar to that of Thomas Beatie, a transgendered Oregon man, who made headlines around the world in 2008 when he went public with his pregnancy. Beatie, who is married to a biologicial woman but couldn't conceive having had a hysterectomy, gave birth to a healthy daughter in 2008 and a son last summer.