Now that the euphoria has subsided after a recent decision by the Philippine Supreme Court an epic task awaits Asia's only LGBT political party, Ang Ladlad. A judicial stamp of approval has meant Ang Ladlad can step out of the courtroom and get down to the matter of converting public sentiment into actual votes in the upcoming general election.
A political scuffle between the Commission on Elections (Comelec) – one of the constitutional bodies charged with overseeing and implementing election laws – and Ang Ladlad has been on the boil since Comelec threw out Ang Ladlad's application for accreditation in November last year. The commission justified its action by proclaiming that Ang Ladlad "tolerates immorality which offends religious beliefs".
Ang Ladlad's Acting Chairman Danton Remoto swiftly cried foul play, saying the commission's decision flies against the Philippines' secular constitution. In January this year Ang Ladlad brought its complaint before the highest court in the land and the much-anticipated verdict was handed down from a full bench of the Supreme Court in early April. The result: a majority vote in favour of Ang Ladlad.
Chief Justice Puno went so far as to say that LGBT Filipinos deserved "heightened constitutional protection" in the face of persistent discrimination over the years. However Justice Mariano del Castillo, the author of the groundbreaking decision, made it abundantly clear that Filipinos should not expect a "golden age for gay rights" as a result of the verdict.
With its legitimacy now secure Ang Ladlad is sprinting towards the May 10 showdown seeking voter support for four candidates running on its party-list ticket. Since Remoto himself is prohibited from running as a candidate due to laws forcing unsuccessful public-office aspirants to make way for alternative contenders, all of Ang Ladlad's hopes and aspirations rest on the shoulders of Bemz Benedito, Germaine Leonin, Cris Lopera, Naomi Fontanos and Dexter Macaldo.
Rumours abound of other LGBT people who stand in the midst of those jockeying for public office and Remoto is adamant that several pink politicians are campaigning despite being officially "in the closet".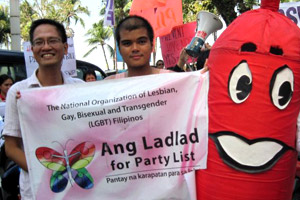 While Ang Ladlad, founded in 2003, continues to blaze a trail the track record for LGBT political parties worldwide is far from rosy. There was a chapter in South Africa's civil movement history that saw the emergence of the Gay and Lesbian Alliance who grabbed headlines by publically outing closeted public figures. Local activists quickly rejected the Alliance and its aggressive stance. The party was then de-registered by South Africa's electoral commission in 2005.
A similar case came from Israel where in 2007 journalist Hagai Eyad proclaimed the formation of the out-and-proud MAGI political party, named after a Hebrew acronym for "Gay Party". This move came at the height of attempts to hold pride marches on the streets of Jerusalem. However commentators from within the Israeli LGBT community, while noting Eyad's good intentions, divulged that MAGI was far from representational.
History seems to have favoured LGBT politicians who have run as "out"-candidates in established parties – such as the Australian Green Party leader Senator Bob Brown and Johanna Sigurdardottir President of Iceland and member of the Social Democratic Allianace – or as independent candidates as in the case of Japan's only openly transsexual official Aya Kamikawa. It is yet to be seen whether Ang Ladlad can buck this trend and build an election platform that resonates with the wider, non-LGBT voting public whose support is vital for victory at the polls.
As May 10 looms, a generally supportive media and a growing number of political allies bodes well for Ang Ladlad. What is more encouraging for Remoto and his candidates is the emergence of middle class LGBT voters actively rallying support for the party as it plies the campaign trail.
Gay and lesbian professionals, many young and previously tepid to the idea of political activism, have found new vigour and meaning in this year's electoral contest. This new generation have provided the party with campaign resources, signed on as volunteers and broadcast Ang Ladlad messages through social media or via mass text messaging – a tried and tested tool for SMS-addicted Filipinos.
And as we inch closer to the actual polling day, which one U.S analyst described as "the most important Philippine Election Day since independence in 1946", it is safe to say that Ang Ladlad will be leaping and bounding where no other LGBT party has tread before.
Q&A with Danton Remoto, Acting Chairman of Ang Ladlad, Philippines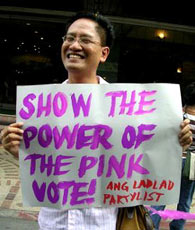 Danton Remoto, Acting Chairman of Ang Ladlad, Philippines
æ: If the Ang Ladlad Party-List wins in this election, what is the first thing on the agenda?
To refile the Anti-Discrimination Bill in Congress. The Philippine laws are silent on homosexuality. It is not condemned, but violations are ignored. To paraphrase Kafka, Ang Ladlad is like the axe that will break this silence.
æ: What impresses you the most about Ang Ladlad's Party-List candidates?
I am most impressed with the work they have done for Ang Ladlad despite our limited resources; by their education; by their track record in LGBT advocacy; by their links to the grassroots; and by their excellent communications skills, which are important for any candidate.
æ: How have you been trying to connect with the voting public and your constituents? What is the measure of your success so far?
After the Supreme Court decided on April 8 that we could run, funds started to pour, both from LGBT and straight supporters. The measure of our success is that we have many unpaid volunteer who are going around the country campaigning for us. Last night, I went to speak in a beauty pageant for young bisexual men and transgenders, and when I walked to the stage to speak, the response was stunning: People were calling out my name, applauding and shouting. After feeling like a rock star for a second, the heavy responsibility of making Ang Ladlad win in 2010 suddenly dawned on me.
æ: The Party-list system was designed to give a voice to those marginalised in our community. That said the leverage that party-list seats have in Congress is relatively small. If the Ang Ladlad party-list wins in the elections, it won't be able to achieve its goal of equality for LGBT Filipinos and protection against discrimination on its own. Who will be Ang Ladlad's likely allies in Congress?
We will work with Akbayan Party List and other party-list groups. There are also allies in Congress and Senate who, I am sure, will help us push for equality for LGBT Filipinos. Many of the young politicians in the Philippines are personal friends of mine (they are helping fund Ang Ladlad), and they have reassured me that they will be with us when the legislative mills begin to turn.
æ: How do you intend to convince non-LGBT Filipinos to vote for Ang Ladlad?
By focusing on the human rights aspect of our advocacy and showing them how serious we are in our work.
æ: The Filipino pink community still faces latent homophobia and barriers to coming out in the community, how do you intend to empower them and change the status quo?
By filing the Anti-Discrimination Bill and turning it into a law, and by being an oversight committee that will make sure the law is implemented. By embarking on a massive information and education campaign that will show them that they themselves should not allow the status quo to oppress them – and showing concrete, doable ways to undo the shackles that bind their arms.
æ: Which Presidential candidate does Ang Ladlad endorse? Why?
Noynoy Aquino for President because of his unsullied reputation and Jojo Binay for Vice-President because of his excellent executive acumen. So Ang Ladlad believes the heart of Noynoy and the hands of Binay will be the best combination in the May 2010 elections.
æ: What other are election hopefuls should LGBT Filipinos be watching?
Ang Ladlad is supporting the candidacy of Risa Hontiveros in the Senate, because she filed the Anti-Discrimination Bill.