The following is an extract from the Philippine Daily Inquirer. Click on the link below for the full story.
Ang Ladlad, the first gay political party in Asia vying for a seat in Congress, has thrown its support to Liberal Party standard bearer Benigno "Noynoy" Aquino and Puwersa ng Masasang Pilipino vice presidential candidate and Makati City Mayor Jejomar Binay.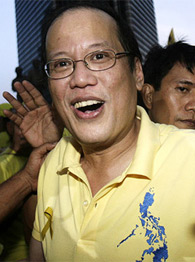 Above: Benigno "Noynoy" Aquino III is the son of former President Corazon C. Aquino who passed away last year. His father Benigno Aquino, Jr – a former Philippine senator and a leader of the opposition to the rule of Ferdinand Marcos – was assassinated at the Manila International Airport upon returning home from exile in the United States. His death set off the chain of events that led to the "People Power" revolution that swept dictator Ferdinand Marcos from power in 1986 and elevated Mrs. Aquino to the presidency thereby replacing the 20-year Marcos regime.
"We will have the heart of Noynoy, the hands of Binay and the beauty of Ang Ladlad in Congress after May 10," said Naomi Fontanos, Ang Ladlad's first nominee should it win a seat in Congress through the party-list elections.
Remoto said they decided to support Aquino because they consider him the "Mr. Clean of Philippine politics."
"Walang bahid, walang mantsa. Hindi mo na kailangang magkuskos at magkula pa. (He has no mark. He has no stain. You won't need to scrub and rinse anymore)," Remoto said.
He said they admired Binay's stand against the Marcos dictatorship as a human rights lawyer. They also said Binay was a good executive for implementing pro-poor programs in Makati.
Remoto also revealed that in 2007, he ran under Binay's PDP-Laban party and has since been a card-carrying member of the party.
He said Sen. Francis "Chiz" Escudero was instrumental in getting support for Ang Ladlad from Aquino and Binay. Remoto as well as Fontanos are Bicolanos just like Escudero.
When asked why they chose Binay and not Aquino's running mate Sen. Mar Roxas, Remoto said Roxas' campaign was "too slow" in responding to their request for support. Remoto had once worked for Roxas as a communications consultant. "Mar is a kind and decent man and we are still friends. But we had to make up for lost time."
On April 8, with barely a month to go before the May 10 elections, the Supreme Court decided with finality on the accreditation of Ang Ladlad.
Ang Ladlad has around 16,000 members. But Remoto said they would be banking on the estimated 5 million LGBT voters. "We would be happy if we could get around half of those voters."
Ang Ladlad's other nominees are Bernz Benedito, Germaine Leonin, Cris Lopera and Dexter Macaldo.