On May 6, the Miami New Times reported that George Alan Rekers, one of America's most prominent anti-gay activists and a Baptist minister, took a 20-year-old male escort that he met on Rentboy.com to Europe.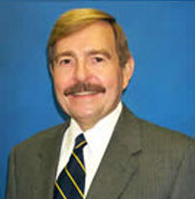 When contacted by gay blogger Joe Jervis (Joe.My.God) after the news broke, Rekers said that he was seeking out folks like "Lucien"
in order to "minister" to them
.
The pair was seen arriving at Miami International Airport on April 13 after a ten-day trip to Europe.
When quizzed by a Miami New Times reporter before a trip to Bermuda, Rekers said he learned "Lucien" (what the paper called the rent boy) was a prostitute only midway through their vacation.
"I had surgery," Rekers said, "and I can't lift luggage. That's why I hired him." (The paper noted that "medical problems didn't stop him from pushing the tottering baggage cart through the Miami airport.)
Rekers is a founder of the Family Research Council, a board member of the National Association for Research & Therapy of Homosexuality, and testified as an expert witness in favor of gay adoption bans in both Arkansas and Florida. He has also published several anti-gay books.
In 1983, he and James Dobson (Founder of Focus on the Family and 'America's best-known homophobe') formed the Family Research Council, a D.C.-based, rabidly Christian, and vehemently anti-gay lobbying group that has become a standard-bearer of the nation's extreme right wing.
Truth Wins Out, a group that monitors the ex-gay movement, has called on Rekers to resign from the board of a leading "ex-gay" therapy group and apologise to the LGBT community.
"This is a bombshell that completely discredits the ex-gay industry and proves that the movement is a fraud," said Wayne Besen, Executive Director of Truth Wins Out.
"While Rekers keeps a low public profile, his fingerprints are on almost every anti-gay effort to demean and dehumanise LGBT people. Lobby groups that work to deny equality to LGBT Americans ubiquitously cite his work. Rekers has caused a great deal of harm to gay and lesbian individuals."
"Given the sordid and tawdry facts, he should immediately step down from NARTH's Board and apologise to the LGBT community for his extreme hypocrisy and self-loathing. As of today, his entire body of work on LGBT issues is rendered meaningless."
Meanwhile, gay blogger Joe Jervis (Joe.My.God) who contacted Rekers after the news broke was told that the latter was seeking out folks like "Lucien" in order to "minister" to them.