Hong Kong has been the third largest art auction market in the world since 2007 and the Economist noted recently that whilst the global art market shrunk by more than a third in 2009, the Chinese art market reached a record high of US$5.5 billion, boosting China's share of the world art market that year to 14%, the highest ever. Riding and reinforcing this trend since 2008 has been the rapidly growing Hong Kong International Art Fair mounted by Asian Art Fairs, a joint venture of three of the world's leading events organisers, which is already the biggest art fair in East Asia and possibly all Asia. These three came together back in 2007 to create an annual arts event at Hong Kong's Convention and Exhibition Centre in North Wanchai. Single Market Events, known for such mammoth draws as the London Fashion Week and the British Motor Show, joined business-to-business events manager Andry Montgomery of Montgomery Worldwide and Will Ramsay, Chief Executive Officer of Pulse Contemporary Art Fairs, which shows in centres like Miami and New York, to attract galleries from around the world to exhibit in Hong Kong.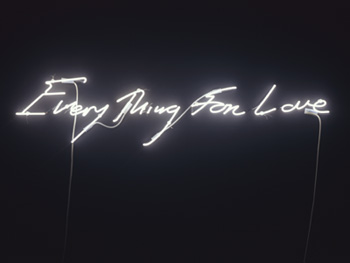 Everything For Love (2005) by Tracey Emin
White neon 13 9/16 x 59 1/16 in. (34.5 x 150 cm)
© Tracey Emin. Photo: Stephen White. Courtesy White Cube

The Fair pulled in 101 galleries from 24 countries in 2008 and increased this to 114 from 26 countries the next year (including the hugely prestigious Gagosian Gallery, whose world-wide network originated in New York, and the White Cube Gallery from London). They deliberately set themselves three core values of quality, geographical diversity and accessibility to entice galleries of a very high standard indeed. This has been phenomenally successful, as 300 galleries queued up to exhibit this year, though only a lucky 150 from 29 countries were chosen.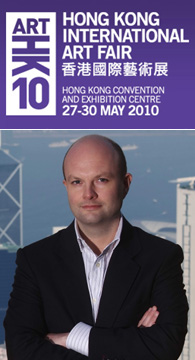 ART HK 10 Fair Director, Magnus Renfrew
I went to see the Fair Director, Magnus Renfrew, in his offices in Admiralty to find out about the event and its charitable work. Magnus, an art historian who had accumulated a great deal of experience with the art auctioneers Bonhams, having set up the first sale of contemporary Asian art for the company in 2006 and, as many of us do, became fascinated with Asia. He had the great fortune to be offered a post with Shanghai collector and gallerist Pearl Lam, for whom he travelled all over China in a crash exposure to the country's art world. When Asian Art Fairs was formed, he was a natural to lead the team. He travelled the globe taking forty flights in six months to set up the first show. Clearly the commercial success of the enterprise is its driving factor, and this is now considerable – a work by Andy Warhol worth an estimated US$12m will be shown this year – but it is by no means the whole story.
"Accessibility is one of our core vales," he told me, "and this means ensuring there is art for many to buy, with pieces starting at about US$1,000. It also means opening the show to the general public and making sure they can find out about what's being shown without being intimidated by it. We have a programme of lectures by museum directors and curators arranged by a Hong Kong organisation, Asia Art Archive, and there'll be a programme of guided tours in Mandarin, Cantonese and English run by a non-profit NGO, Para/Site."
Which brought us neatly to the subject of the Fair's work for charity. Each year the Fair benefits a different organisation. In 2008 it was the Hong Kong Cancer Fund and last year it was the Chi Heng Foundation. This year, AIDS Concern has been chosen.
"We're delighted to be working with AIDS Concern," Magnus told me.
"HIV is something that has impacted hugely on the arts world and in response the arts have always generated a lot of funding and support for HIV organisations." So the Fair has decided to donate to AIDS Concern 500 tickets to the late view evening which will run between 6-9 pm on Thursday 27 May 2010 and will include musical and dance performances. Each ticket will admit two and will cost HK$150. For every ticket sold, AIDS Concern will receive 100% of the cash. On top of this, the Fair has also agreed to donate 20% of the income from the remaining tickets sold for the late view. This should generate significant funds for AIDS Concern.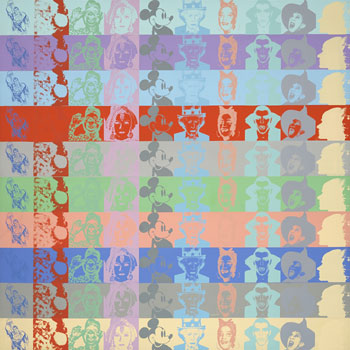 Myths (1981) by Andy Warhol
Silkscreen ink on synthetic polymer paint on canvas
100 x 100 inches (254 x 254 cm)
Signed and dated twice "Andy Warhol 1981" on the overlap
© The Andy Warhol Foundation for the Visual Arts Inc.
Courtesy Greenberg Van Doren Gallery, New York
Loretta Wong, the Chief Executive of AIDS Concern, is delighted with the Fair's generosity. The NGO has been working in Hong Kong since 1990, when it was founded to provide a helpline service and a buddy service for people living with HIV/AIDS (PLHIV), and although its been funded since then in part by money from the Hong Kong Government's budget (administered by its AIDS Trust Fund, which is restrictive in the areas it will fund), most of its funding is self-generated, and nowadays its vastly expanded programmes cost a cool HK$10.5 million a year to run.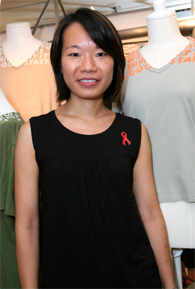 Loretta Wong, Chief Executive of AIDS Concern
From its early days, AIDS Concern's work has developed to include programmes variously entitled Voluntary Counselling and Testing, Outreach (to targeted communities), Prevention Programmes in the Cross-Border Area and Mainland China, Peers Education and Support, Empowerment of PLHIV, Capacity Building (educating the community), an Anti-Stigma Campaign, Encouraging Support of the Stakeholders (enlisting/engaging the support of the private sector for HIV programmes), Policy Advocacy and still the original Helpline Service.
Loretta has personally seen this growth. She joined the NGO in 1994, and so cut her teeth during the dark days before cocktail therapy extended lives and before (some) Government money was made available for HIV programmes. Back then, there was a long, slow and uphill battle against prejudice and ignorance, which had to be waged by a very small staff and a hardy group of volunteers. Now Loretta runs an organisation with 30 full time staff (20 of these being in the front line) working from two offices in Hong Kong and with projects in Shen Zhen. She showed me round AIDS Concern's busy HQ in Chaiwan, where it is located in a hospital quarter. That day, along with the full time staff, I saw teams of volunteers, mainly middle-aged Chinese ladies, packing condoms and literature.
"ART HK 10 will help us fund all our projects", Loretta told me. "The Fair has also given us a space to man a booth throughout the event, where our volunteers will be able to hand out red ribbons, trigger discussions and interact with visitors. We've also formed a partnership to create an electronic platform, 'alivenotdead.com' with local performing artists, which we'll show at the Fair."
I asked Loretta about how the link with the fair came about. "They approached us out of the blue," she told me.
"It was one of the greatest surprises I have had since I took over as Chief Executive in 2006."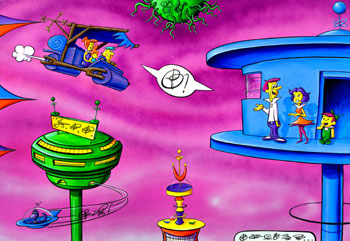 A New World (2009) by Kenny Scharf
Acrylic and enamel on canvas 36 x 52 1/4 inches, 91.4 x 132.7 cm
© Kenny Scharf. Courtesy Paul Kasmin Gallery
It is a tribute to her personal achievements in making AIDS Concern such a well-known and reputable name among Hong Kong's charities. When she joined AIDS Concern back in the 90s, she brought skills from her previous experience that have benefitted the organisation. Having studied a degree in social work at the Baptist University, she was initially interested in health work but initially took up the post of assistant to Legislative Councillor Fred Li, who had been her tutor at the University. She followed this with a spell with the Caritas Community Centre before joining AIDS Concern. So low profile was the organisation in those days that she found it by asking the telephone directory enquiries to put her through to an AIDS organisation.
"All this has given me a strong belief in community development, in empowerment and in standing up for your own rights," she told me.
"I always wanted to work in the field, not in management," she adds, "but after taking a masters degree in health systems management – which took me 6 years! – I have changed my perspective and realise that there's a need for someone to mobilise and front up to the public."
Something which has paid off with the ART HK 10 benefit on 27 May.
Charity tickets are now on sale from AIDS Concern. Please call Jamie Higgins, Project Coordinator (Volunteer) 9099 2027 or email jamie@aidsconcern.org.hk. Tickets for the Fair itself can be purchased via www.hkticketing.com.