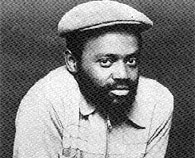 Carl Bean
I'm walking through life in nature's disguise
You laugh at me and you criticize
'Cause I'm happy, carefree and gay
Yes, I'm gay
Ain't no fault - it's a fact
I was born this way - yeah
Now I won't judge you - don't you judge me
We're all the way nature meant us to be
Chorus
I'm happy, I'm carefree and I'm gay
I was born this way
You call me strange 'cause you don't understand
God's role for me in life's overall plan
I've learned to hold my head up high
Not in scorn nor disgrace
Doin' my thing individually
Entwined with this human race
---
Carl Bean's 1977 hit "I Was Born This Way" was as an early gay-positive nightclub anthem even before The Village People became famous.
Since he recorded "I Was Born This Way," Reverend (now Archbishop) Carl Bean founded Unity Fellowship Church, Los Angeles in 1982 and, in 1990, the Unity Fellowship Church Movement (UFCM) which counts 14 churches in nine (US) states today, over which he presides as Archbishop. In 1987 he was awarded the National Association for the Advancement of Colored People's Image Award for his pioneering work on AIDS in the African-American community.
---
I Was Born This Way: A Gay Preacher's Journey through Gospel Music, Disco Stardom, and a Ministry in Christ
Hardcover: 264 pages
Publisher: Simon & Schuster; 1 edition (June 1, 2010)
Language: English
Book description by Simon and Schuster:
Carl Bean has been crossing boundaries all his life and helping others do the same. He's never been stopped by his race or orientation, never fit or stayed in the boxes people have wanted to put him in. He left his foster home in Baltimore at seventeen and took the bus to New York City, where he quickly found the rich culture of the Harlem churches. As a singer, first with the gospel Alex Bradford Singers and later as a Motown recording artist, Bean was a sensation. When Berry Gordy signed him to record "I Was Born This Way," it was a first: the biggest black-owned record company broadcasting a statement on gender identity. The #1 song, recorded with the Sweet Inspirations, was the first gay liberation dance club hit.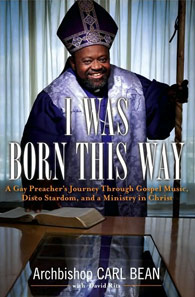 Whether making records, educating the black community about HIV and AIDS, or preaching to his growing congregation, Archbishop Bean has never wanted to minister to just one group. He's worked on AIDS issues with C. Everett Koop and Elizabeth Taylor and on civil rights issues with Maxine Waters, Julian Bond, and Reverend Joseph Lowery. At the height of his recording career, he worked with Dionne Warwick, Burt Bacharach, Miles Davis, and Sammy Davis Jr. He's brought South Central Los Angeles gang members into his church, which now has 25,000 members in twelve cities nationwide; those same Crips and Bloods have shown up at the Gay Pride parades Bean has organized with U.S. Congresswoman Maxine Waters. And he has courageously devoted his time and energy to spurring black civil rights leaders to address the AIDS health crisis within the African American community—an issue on which they had been silent.
Preaching an all-embracing progressive theology, he is an outspoken practitioner of brotherly love, a dynamic preacher, and a social activist. The Unity Fellowship message is grace: "God is love, and God is for everyone"; "God is gay, God is straight, God is black, God is white." I Was Born This Way is the rare personal history of one of black gospel's biggest stars and a frank, powerful, and warmhearted testament to how one man found his calling.