One man shows with a gay theme are becoming something of a tradition in Hong Kong. Alvin Wong began it with his Queershow, a production that made a name for itself and its star, Joey Leung, and has been reprised several times on major Hong Kong stages. Rick Lau came home temporarily from Australia to give us Sun Rice, came back for How Now Rick Lau, then, buoyed by the success he'd achieved with those shows, stayed here semi-permanently to add Men in Love and My Queer Valentine to the repertoire. Pichead Amornsomboom, most recently star of the last big Hong Kong Christmas hit, Scrooge: the Musical and before that playwright and star of the outrageously camp Homo Superus, gave us one man cabaret at the Fringe just over a year ago, that time with a little help from Chet Lam. Now Derek Wong has decided to lose his Hong Kong stage virginity with a tale of coming of age, coming out and losing your cherry in America, My Very First Time, which will hit the Hong Kong scene between 23 and 27 June at the Sheung Wan Civic Centre.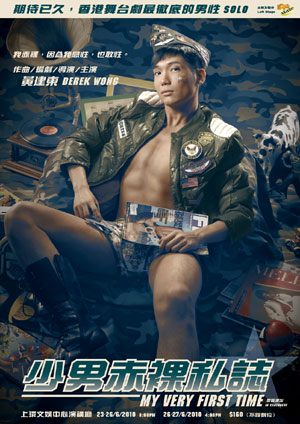 Though this is indeed Derek's first production in Hong Kong, it is certainly not his first exposure to the theatre. He made his debut some years ago in the United States and has trod the Hong Kong boards as well. He's a Hong Kong boy who'd always watched Hollywood films and dreamed of California, and who, after ten days in South Africa with a Cathay Pacific-sponsored Youth Federation group, just knew he had to go abroad to study. He was fortunate enough to have a father who was prepared to use his life savings to send him to study acting and dance at the State University of New York at Fredonia (40 minutes from Buffalo). He chose this for the course and because he wanted to immerse himself in a 'real' American university (only 1% of the students there were foreign), but found this led to all sorts of racial and cultural problems, some nice, some nasty, which lie at the root of much of what he shows in My Very First Time. Vacations allowed him to travel to perform, first in the summer of 2001 as a technical intern at the Berkshire Theatre Festival, Massachusetts, then in 2003 as assistant musical director and actor for the Galveston Island Musicals in Texas, where he performed in Buddy: The Buddy Holly Story and George M. Then in the summer of 2004, he worked as an actor for mainstage and cabaret shows like Miss Saigon, Victor/Victoria, Annie Get Your Gun and Hello Dolly at the Forestburgh Playhouse, New York, which also appointed him musical director for a children's show.
After graduation, Derek moved to New York City and got a part in Pan Asian Repertory Theatre's Off-Broadway production of Cambodia Agonistes, as well as working as a host on Chinese radio and appearing in a Japanese period piece, Voices of the Wind at the New York City fringe. In 2006 he came home and was appointed the next year to the Hong Kong Repertory Theatre as a resident actor, in which role he worked for three years until April 2010. Whilst there, he did a few TV commercials and starred in a music video of Denis Ng's 'Old Cow Voice'. He got some good parts in plays like Caligula and the Chinese plays Boundless Movements and De Ling and the Empress Dowager CiXi, as well as parts in the musicals Scrooge: the Musical and Field of Dreams.
In April this year he left the HK Rep to launch his solo career with My Very First Time. He'd entered a potential playwright scheme with part of the show back in November 2009. His presentation caught the attention of Horace Tse, who was looking for new stage productions for his company Loft Stage, which planned to extend its focus of business to theatre production rather than concentrate, as it had done, on renting out art spaces in the lofts of San Po Kong.
"I saw that Derek had the potential for us to work together", said Horace, whom I met with Derek in Hong Kong's Fringe Club to hear about the genesis of the show. "We're showing three previews, each a different part of the show, at City Hall and Hong Kong Space Museum between April and May", Horace added.
"We want to give Derek exposure and to encourage audiences for the full show."
I watched the first of these in April; its topic was love and sex. Family and death forms the theme of the second preview and the theme of the third will be finding yourself; it will deal with racial prejudice, sexual identity and standing up for who you are, the kind of issues that Derek himself had to fight through at Fredonia. All three parts will be brought together in the final six performances at the end of June.
"My character in the show's called Alvin Chan," Derek told me, "a young man who goes to be educated in America and finds that its culture is not what he'd expected. He launches himself out on life there only to fall over his own feet when faced with racial prejudice and the realisation that he likes men."
Depression and resurrection follow and Alvin finally makes it both personally and sexually. It could be a harrowing story, but that isn't the way Derek interprets it, which is to make it into a unique one man mix of comedy, music and surreal make believe. He can be very funny indeed and on the night I saw the show, its first preview, he had the audience laughing with him almost all the way through. It's clear he has a future in single man productions.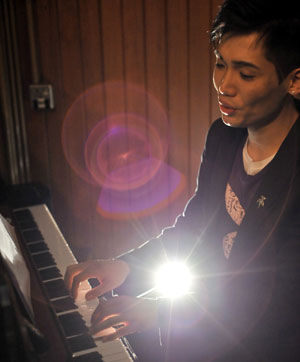 There's a good deal of music and movement in the production. Derek composed the melodies for all the songs, which are all Canto-pop in style. Derek's lucky to have Frankie Ho (musical producer/director and composer of a string of Hong Kong shows) working with him as sound designer and musical director. The show is far from being a monologue and a very large amount of it revolves around the reaction Derek elicits from his audience; Alvin spends a considerable part of it chatting with people about the various predicaments he finds himself in. So, in effect, the audience itself forms a very large cast indeed.
The show is in Cantonese throughout, and it's not planned to have English sub-titles. The prohibitive cost of these is one of the reasons why Chinese drama is so little known to the ex-pat community, alas. This is a pity, as the subjects straddle both worlds and through humour make them plain. If the Hong Kong Government was seriously intent on encouraging the arts scene here, it would provide the resources to translate the vibrant local productions which are increasingly emerging here. Time for a campaign, perhaps.
Until that time, shows like Derek's will remain below the radar of most of the English speaking community, which is a waste, as his talent deserves wider recognition. I asked him why he had chosen this subject to launch this new phase in his career.
"I have wanted to try out a one man show for some time," he told me. "The six years I spent in the States was a cultural journey and opened me up to the way that a lot of things are repressed in Hong Kong. I wanted to explore these and open people's minds here."
My Very First Time will undoubtedly do just that.
My Very First Time (in Cantonese) plays from Jun 23 - 26 at 8pm and Jun 26 & 27 at 4pm at Sheung Wan Civic Centre. Tickets at HK$160 from Urbtix.