Boo Junfeng first got the LGBT community's attention in 2007 when his short film Katong Fugue was screened and received the Special Jury Prize at the 20th Singapore International Film Festival. The 10-minute cinematic short tells the story of a young closeted gay man and his mother – both of whom are trying desperately to reach out to the other.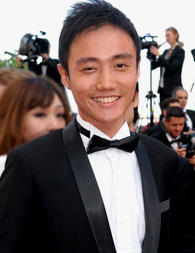 Boo Junfeng at the 2010 Cannes International Film Festival
His next gay related short film Tanjong Rhu, which was partially funded by Fridae, is based on a real-life incident in which 12 men in Singapore were arrested in a police entrapment exercise in 1993. Despite having participated and won awards at a string of festivals around the world including the Berlin Film Festival (Teddy Award Nomination) and the Torino GLBT Film Festival (Audience Award), Tanjong Rhu was pulled from the 6th annual Singapore Short Cuts festival in 2009 at the last minute without any explanation.
Fresh from being featured at the 49th Cannes Critics' Week this year, his new film Sandcastle has so far stayed clear from controversy of any kind and will open in Singapore on 26 August exclusively at Golden Village Cinema Europa. Five of his short films (Un Retrato De Familia, Katong Fugue, Keluar Baris, Stranger and Tanjong Rhu) will be shown from 13 to 15 August. Two screenings on Aug 15 have recently been added after sessions on previous days were sold out. (See schedule below.)
Fridae caught up with the 26-year-old director for a quick chat about Sandcastle, censorship in Singapore, and having to adapt to military conscription fresh from a 6-month student exchange programme at film school in Barcelona "where (he) had all the freedom in the world."
æ: Can you tell us more about Sandcastle and how did that come to be your debut feature-length film?
Junfeng: Sandcastle is essentially the story of a boy who comes of age as he starts to question his sense of identity. While waiting for enlistment into the army, he encounters the first taste of romance, witnesses his grandmother's worsening Alzheimer's disease, and discovers that his late father was a student activist during pre-independence Singapore. These events and revelations threaten to alter his world view and causes him re-evaluate the pieces in his life. I have always wanted to explore the theme of memory – the parallels between personal memory and social memory. When the opportunity came to make my first full-length movie, I felt that it was a theme that I was ready to examine.
æ: You've got just days before Sandcastle opens in Singapore. Are you nervous?

Sandcastle stars Joshua Tan (above), Bobbi Chen, Elena Chia, Ng Jing Jing and Samuel Chong.
Junfeng: I'm too busy to feel nervous! I was nervous in Cannes, moments before its world premiere. I was then still in disbelief that a story I had written in my bedroom would be presented at a place like Cannes. It's a Singaporean story, and I'm looking forward to see how Singaporeans would react to it.
æ: In your statement, you described National Service (in Singapore male citizens are conscripted into the military for two years) as "nationalistic indoctrination". You wrote: "And yet among members of my generation, the experience has often bred cynicism and even apathy. The idea of defending the ideals of the nation has become abstract and remote." What was your own experience of National Service and what effect did it have on your sense of 'national identity'?
Junfeng: I had just returned from a 6-month student exchange programme in Barcelona; and had to enlist almost immediately. It was an especially painful process because I had all the freedom in the world during my stay in Spain, and it was very difficult for me to adapt to the military regimentation. I guess that was when I started to question the notion of a 'national identity'.
æ: Do you think National Service in Singapore should be voluntary?
Junfeng: I doubt we'll have many volunteers. Let's be honest. I think most of us see the importance of having National Service, but we just wish we didn't have to do it.
æ: What advice do you have for those who feel that it's a grand waste of two years of their young lives?
Junfeng: Make the most out of it. You'll realise a few years down the road that reservist is a bigger waste of time.
æ: In researching the film, what did you learn about yourself and Singapore?
Junfeng: I realised how much Singaporeans have changed. While researching for the film, I found photos and articles on the Chinese school student protests of 1956. Students as young as 14 had ideological convictions that led them to boycott exams, organise rallies and stage protests. They were patriotic, anti-colonial and left-leaning. That kind of fervour and lack of fear in expressing themselves are unthinkable for a Singaporean like me who was born in the 1980s.
æ: You are an outspoken critic of censorship (of the arts) in Singapore. Some say censorship encourages creativity. Do you agree?
Junfeng: Well, we find creative ways of circumventing censorship.
æ: Some of your short films centre on (homo)sexuality without being sexually explicit, is that a calculated move to escape the scissors or was sex just not necessary in telling those stories?
Junfeng: Sex just wasn't necessary. That's the bigger reason. I don't believe in making sex explicit for the sake of it.
æ: What would it take for you to direct a film with sexually explicit scenes?
Junfeng: My first short film, Un Retrato De Familia (A Family Portrait), had a sex scene. There's also a sex scene in Sandcastle. There's nudity, but it's hardly 'explicit'. They were moments that were necessary for the story.
æ: What do you think is the greatest harm done on an individual level as well as on a societal level in Singapore where even acceptance speeches by Oscar winners are censored?
Junfeng: It affects how discerning an individual is when it comes to social issues. It is very unhealthy for a society's growth when people form opinions and make decisions on issues that they only partially understand.
æ: What is your vision for the gay community?
Junfeng: This sounds like a NDP (National Day Parade) question. I hope the community will come together to build on social acceptance. We don't have to be angry to make ourselves heard, but we still have to make ourselves heard. There are many people out there (especially LGBT youths) who still feel alone in what they have to go through. I believe Pink Dot's growing attendance each year is a sign that things are moving forward, and it instills a sense of hope in the community.
æ: What's your biggest guilty pleasure?
Junfeng: A certain song between Barbra Streisand and Celine Dion. Okay this stays only on Fridae, right?
æ: Who would your dream date be if you were straight for a day?
Junfeng: My primary school crush. I remember her face but can't remember her name.
æ: And before the interview comes to a close, I'm sure many readers would want to know if you're in a relationship...
Junfeng: Yes happily so :)
Sandcastle opens in Singapore on 26 August exclusively at Golden Village Cinema Europa, Levels 2 & 3, VivoCity.
---
Sandcastle *BlogAloud* (NC16/Mature Theme & Sexual Scene)
Exclusive preview of Sandcastle followed by a dialogue session with writer-director Boo Junfeng as he shares his Cannes experience.
Date: Thursday, 19 Aug
Time: 7.00pm (Movie Screening)
8.32pm (Dialogue Session)
Venue: Cinema Europa, GV VivoCity
Ticket Price: $10 (SOLD OUT)
---
Sandcastle Charity Gala Premiere (NC16/Mature Theme & Sexual Scene)
Proceeds from the Charity Gala Premiere of Sandcastle will benefit 4 charities under the Community Chest and St Luke's Hospital (one of the locations featured in the film). The director and cast of the film will be presented at this exclusive screening.
Date: Wednesday, 18 Aug
Time: 6.00pm (Reception), 7.00pm (Movie Screening)
Venue: GV MAX, VivoCity
Ticket Price: $50
Please contact Felicia Tan production2@zhaowei.com to reserve seats.
---
Against The Tide: A Screening of Boo Junfeng's Short Films *BlogAloud*
Showtimes + Dialogue Session
AUG 13 - 7:00pm (SOLD OUT)
AUG 14 - 4:45pm & 7:00pm (SOLD OUT)
AUG 15 - 6:20pm & 8:30pm
Venue: Cinema Europa, GV VivoCity
Ticket Price: $10
Rating: R21
Boo Junfeng's Short Films:
Un Retrato De Familia
Best Short Film & Special Achievement Award - 18th Singapore International Film Festival
Synopsis: Sergio is a seventeen year-old photographer who is aroused by black-and white encyclopedia diagrams of the female genitalia. When his little sister asks him about sex one day, he revisits a memory years ago, in which he discovers a sexual secret amongst his family members.
Katong Fugue
Special Jury Prize - 20th Singapore International Film Festival
Synopsis: A boy with a hidden life and a mother desperately trying to reach out. This is a film adaptation of a short play of the same name by Singaporean poet-playwright, Alfian Sa'at..
Keluar Baris
Best Short Film, Director & Cinematography - 21st Singapore International Film Festival
Synopsis: A boy returns to Singapore from his studies in Europe, two days before he is enlisted into the army. A sensitive depiction of an 18-year-old's struggle between national duties and personal liberty.
Stranger
18th Singapore International Film Festival
Synopsis: A Chinese boy returns to Little India during Deepavali to reminisce a time when his close friends celebrated Singapore's many cultural festivals together. A celebration and reflection on colour, and the wonder of estrangement in one's own homeland.
Tanjong Rhu
Teddy Award Nomination - 59th Berlin Film Festival
Audience Award - 24th Torino GLBT Film Festival
Synopsis: A former military officer seeks closure by making a documentary film about a man whom he had furtively encountered in Tanjong Rhu many years ago. Tanjong Rhu is a secluded beach on the east coast of Singapore, and a popular cruising ground for gay men. In an entrapment exercise in 1993, 12 men were arrested there and sentenced to imprisonment and caning. This is a fictionalised account of what has happened since then to one of these men.