When the Government has set its face against legislation to outlaw discrimination against its own LGBT citizens, how can you make progress towards the goal of an equal society?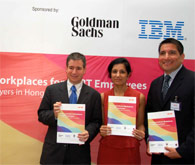 From left:
Stephen Golden, Executive Director, Human Capital Management at Goldman Sachs and sponsor of the LGBT Resource Guide, Shalini Mahtani, Founder of Community Business and Co-author of the Resource Guide; and Anthony Tenicela, Global Business Development Executive at IBM and sponsor of the LGBT Resource Guide.
Ex-Legislative Councillor, community activist and think-tank founder Christine Loh Kun-wai posed this question to the panel she moderated at the Foreign Correspondents Club on Wednesday 9 June, when Community Business launched its business diversity guide, Creating Inclusive Workplaces for LGBT Employees: A Resource Guide for Employers in Hong Kong.
Christine's own answer was clear: "If you cannot get legislation, you have to change the geography, the social background, in ways which will make legislation inevitable." By which she meant, of course, that if you can change the beliefs and behaviours of society at large, eventually even a Government which claims, as this one does, that it cannot introduce legislation for "lack of a consensus", will have to follow the flow.
Changing society is some tall order, so this is going to be a long and incremental process, but where better to start than the most influential part of Hong Kong, its commerce? So Community Business has launched a project to change minds in the business community in order both to improve the lot of its LGBT employees and also thereby, bring us closer to legislation outlawing discrimination.
One of the main authors of this plan is Shalini Mahtani, charismatic and forceful Founder and Advisor of the non-profit organisation, Community Business (CB), which has been working in Hong Kong since 2003 and has as its mission "to lead, inspire and support businesses to improve their positive impact on people and communities". CB is one of the main advocates in Hong Kong of Corporate Social Responsibility. Shalini herself is a veteran of the decade long and eventually successful campaign to extend Hong Kong's anti-discrimination legislation to cover race.
Speaking at the launch of the Guide which she co-authored, Shalini said: "Matters relating to sexual orientation and gender identity in the workplace are largely not addressed in Hong Kong, yet the cultural and legal context here is such that LGBT individuals face a number of specific challenges – not just in their private but also in their professional lives. Quite apart from the need for companies to be fair and responsible employers, companies should be concerned by the negative impact such challenges can have on workplace relationships, the health of LGBT employees and ultimately productivity and performance."
She went on to enumerate the positive advantages to businesses whose employees are encouraged to be totally themselves and so are able to free up their creative drives for the benefit of the firm. This, of course, is something that has been learned elsewhere, and, in a few admirable cases, is already being introduced to Hong Kong by major international companies. Two of these, IBM and Goldman Sachs, have financed CB's Resource Guide and both were represented at the launch by key players in their own diversity programmes: Anthony Tenicela, IBM's Global Business Development Executive, and Stephen Golden, Executive Director, Human Capital Management at Goldman Sachs.
The Guide is a substantial 50-page document that will be distributed initially to major corporations in Hong Kong. It is packed with information about the LGBT community and best business diversity practice. Community Business took enormous care to make the Guide accurate and useful, and so took advice from key local activists such as Hong Kong University's gender expert Dr Sam Winter and campaigner Roddy Shaw, Chair of Civil Rights for Sexual Diversities (CR4SD), both of whom were on the panel at the launch. Also consulted were Mark Kaplan, one of the pioneers of LGBT workplace initiatives in the States, as well as three organisations: the US-based Human Rights Campaign; workplace advocate Out And Equal; and Hong Kong's own Tongzhi Community Joint Meeting (TCJM).

As part of the accumulation of material and evidence for the Guide, Shalini's team ran an anonymous online survey of LGBT employees between 3 February and 12 March this year. Despite great publicity and the joint efforts of Hong Kong's community activists, only 139 respondents completed the survey, the low response figure in part an indication, if any were needed, of the fear that most people still have of disclosing themselves in any way connected with their work. The survey results showed large differences between those responding in English (101 of these) and those using Chinese (36). As expected, the latter indicated higher fears of discrimination and far lower rates of openness. All respondents indicated that they saw the top challenges they faced in working in Hong Kong as: coming out; the ignorance of colleagues; and the possibility of negative effects on their careers. The survey results helped drive the content of the Guide and are reproduced in one of its Annexes in full.
As this was going on, the TCJM completed its own survey of over 450 major companies doing business in all sectors in Hong Kong. From this it was clear that, whilst many international companies had diversity policies covering LGBT issues blazoned across their home websites, their Hong Kong branches did not. It was also clear that no major companies operating in Hong Kong had so far been prepared to state their LGBT diversity policies in public, even when they had implemented such policies and even when they were (as in the case of many of the investment banks) comprehensive, liberal and generous. Despite the need of many of these companies to import LGBT staff and their partners from abroad, and the legal difficulties these currently face in coming here, discretion still rules everywhere; for instance, investment banks that deliberately target LGBT university students for recruitment will not discuss this activity openly. It was clear from this survey that Hong Kong companies were more in the closet than their own employees.
Given this very low base, what will drive the changes CB seeks in the workplace? The answer Shalini gave was education coupled with commercial competition. CB plans a steadily widening series of workshops and talks for major companies to introduce the concepts in the Guide. This will be coupled with publicity in the local media focussed on encouraging companies to see that good diversity policies will give them a competitive advantage in terms of their effectiveness, their recruitment of staff and their customer relations. Once the ball has started rolling, and when CB and the two giants funding the project reckon that the market is ready, the next step will be the introduction of an annual, publicly-announced, LGBT index. This will probably rate the best ten companies working in Hong Kong in terms of their diversity policies, much as is done by the Human Rights Campaign Foundation's Corporate Equality Index in the US and Stonewall's Workplace Equality Index in the United Kingdom.
All of this is miles removed from the kind of tongzhi activist politics which we have seen in Hong Kong to date, which will, no doubt, continue to press for change through political channels and in more public ways. In fact the fight for a bill against discrimination is only now beginning to warm up. There are parallel campaigns being launched now in fields as diverse as education, where local groups are beginning to collect data to illustrate the pervasiveness of bullying and discrimination in schools, and the law, where a project has just been initiated, funded by Hong Kong and US universities, to trawl the Hong Kong statute book to identify all pieces of legislation that are discriminatory. Eventually, and we are looking at many years here, if not a decade, all these strings will be drawn together in a comprehensive drive for legislation to ban discrimination against LGBT people.
CB's drive to introduce diversity to Hong Kong's corporate agenda has the potential to be a major contributor in all this. It is the freshness of this approach, though, that is one of the reasons it is so exciting. The idea of using what is usually seen as one of the most conservative sectors of society to liberalise views, to make people's lives better in ways that really matter to them and to help, finally, usher in legislated equality may be counter-intuitive, but is one which is about to have its day.
For information on Community Business, and a free download of the Guide, visit: www.communitybusiness.org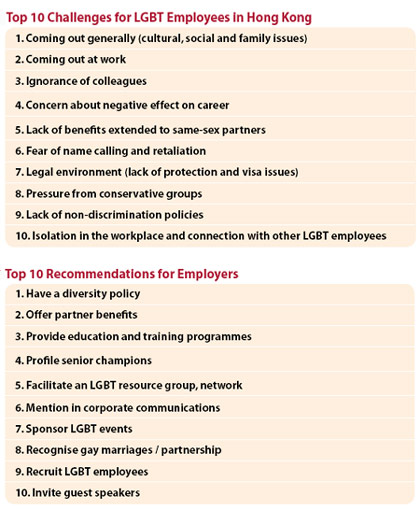 From Creating Inclusive Workplaces for LGBT Employees in Hong Kong