A licensing executive in an organisation that provides the licensing rights for cartoon brands by day, Yuki Vivienne Choe, 34, is one of Malaysia's most recognisable transgender activists. In addition to blogging and writing for Tilted World, a Malaysian LGBT Community Project and US-based Ex-Gay Watch, Choe also runs TransMalaysia, a group to support Malaysian transgender people and their family and friends.
She speaks with Fridae about her debut stage performance in Waiting for Godot which runs at the Kuala Lumpur Performing Arts Centre (klpac) next month, activism and being lesbian-identified.
æ: Tell us more about what to expect at Waiting for Godot and the adaption to accommodate two transgender women to play the two roles played by men in the original script.
Yuki: The original script was changed to include some local words and references to give it a more Malaysian flavour. This is the probably the play's first ever adaptation that crosses gender boundaries, as the writer of the play, Samuel Beckett, is against women from acting in his plays. This is truly a transgender play in the sense that it features different transgender people; a transsexual woman, a drag queen and a cross-dresser – separate classes of non-gender conforming people.
The original idea from Rohaizad Suaidi and Jerome Kugan was actually to adapt it to tell the story of two sex workers. However, after discussions, they realised that an adaptation of the story from two men to transsexual female sex workers would actually bring out more depth and better define the struggle and the hope that Samuel Beckett wanted to bring across in the original, especially when transsexual sex workers are often seen waiting for something. And to bring about a sense of realism into the play, they approached mainstream transsexual females, and I was available. Then Kimmy Kiew took helm as director, and we began developing this play.
Fairuz Tauhid, dancer and choreographer, plays Estragon, Vladimir's one and only friend in a long journey of waiting for something good to come daily while absurdly trying to pass the time. Singer and songwriter Jerome Kugan plays the boy that comes daily to deliver a message from Godot.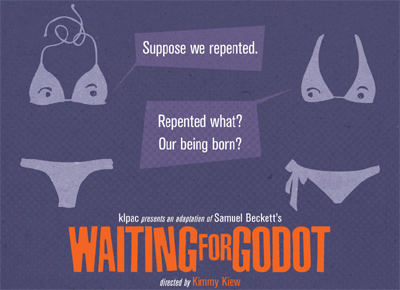 Waiting for Godot is regarded as one of the most prominent works
of the "Theatre of the Absurd" and one of the most significant
English language plays of the 20th century.
æ: What about Waiting for Godot that speaks to you?
Yuki: The silence, the wait, the despair, the loneliness, the hope, and struggling to live. The original play was about two homeless tramps, therefore being underprivileged as a trans person in this country having to struggle much more to achieve our dreams and a semblance but face tremendous pain and sorrow along the way, it is easy for any transsexual to relate to the play. The fact that the transsexuals are also portrayed as sex workers brings the situation into a deeper context of hurt in most of society that has done all they can to stigmatise, hate-monger and discriminate against transsexuals.
æ: When did you realise you are transgender, and lesbian-identified?
Yuki: I have always known I was a girl, but at the same time different from the other girls. The discomfort grew more intense as I got older; I was placed in a boys' school, chastised for reacting differently than other boys. I was not only a transgender child; I was also a transsexual child. That struck me further when puberty hit and my body became so 'disconnected' from me that it gave me intense distress even up to today.
After I had decided to accept myself as a woman, I felt another burden; that I needed to come out as a lesbian as I have always been attracted to women. I often wondered if it was due to my own issues with being a transsexual, or if there was a little bit of homo/transphobia in me, or if I would only be attracted to men if I had my Gender Reassignment Surgery (GRS). It was also in my mind that my height and athletic build probably did not work in my favour in terms of attracting a lesbian. So since being with cisgender women is near impossible nor did I want to have sex with men, I declared myself asexual. A chance encounter with a handsome butch however changed all that. I became comfortable with myself. It defined me. It also made me realise that I do not need to change who I am in order to be with who I wish to be. I am finally at peace with myself.
æ: What are the biggest challenges that you face as a transgender person in Malaysia?
Yuki: Challenges faced by transgender people, especially transsexual females, unfortunately differ depending on various factors. As a non-Muslim transsexual female, I was given room to breathe and live my life without persecution from religious fundamentalists here in our country.
However, I face the same problems that many do in terms of job environment, legal identification, hate crimes, housing, healthcare, and even when taking up an insurance policy. Most media outlets persist in sensationalising trans people and painting us as freakish or downright deviant, and the recent move to allow LGBT people in movies with the condition that homosexuals or trans people must repent or die does not help. The fact that medical related information about trans people are censored in this country speaks plenty of how intolerant our country is to people who are born different. And a worry for me is that some do take their bigotry to another level by being violent and abusive to trans persons, and to some quarters such hateful treatment is considered justifiable.
æ: How do people react to you being a transgendered woman who identifies as a lesbian?
Yuki: Some of the funniest questions come from the trans community, like "So who is going to be the top?" while some accuse me of being 'hypersexual'. The lesbian community's reaction is mixed. Even as a transsexual female, I was barred from attending lesbian parties by one of the leading organisers of parties for lesbians, as if there is a rule that one must be born female in order to be considered females in their group. Fortunately, there is another group, The KL Word which provides space for bisexual and transgender people to interact with the lesbian population, and thankfully I have friends there who fully accept me as who I am as a female.
Some cisgender people however, especially males, use this opportunity to mark me as, well, really a 'man', since I like women. But they in fact accept me better as a transsexual female because of that. They feel more comfortable with the fact that I am not going to be attracted in any way to men. The majority of people I have encountered are actually okay with it. I've even met a couple of trans females with women partners, and it is a sweet sight.
æ: How do you see activism in relation to performance art?
Yuki: I definitely see myself as an advocate more than an artist. Activism is a part of life. Whether we like it or not, I believe how we present ourselves in society, especially as LGBTs, is a form of advocacy. All of us represent that one chance to show we are not 'confused' or 'sexual broken,' living in a so-called 'alternative lifestyle' as some religious institutions accuse us of, and that we are not 'lost' and 'useless'. We could let people see that we are just ordinary people living a normal life, breathing the same air... That to me is the best form of representation of LGBTs.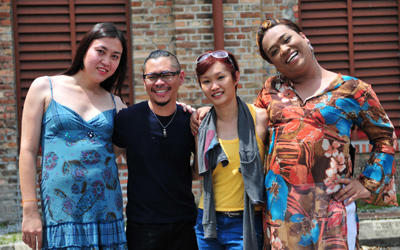 From left: Yuki Vivienne Choe, Jerome Kugan, Kimmy Kiew and Fairuz Tauhid
æ: The publicity material for the play says: "One can draw a parallel to the outlook faced by the marginalised transsexual female population in Malaysia. One filled with a lot of waiting, question marks and ambiguity." What are the biggest challenges facing the transgender community in Malaysia?
Yuki: Many transsexual females in Malaysia in general face a life on the streets, and many are not able to get out of the flesh trade due to the lack of job opportunities caused by discrimination. And many are so accustomed to life on the streets, that it has become their comfort zone. Known locally as 'mak nyahs,' many are bullied by religious institutions on a regular basis. Transsexual females especially those who are Muslims are banned from undergoing Gender Reassignment Surgery. For non-Muslim transsexual females that are able to go under the knife, changing the gender marker on our identity cards is a long difficult process. It is so financially draining that many give up pursuing it. Marriages between transgender people and (opposite sex) cisgender people in Malaysia are not recognised by law.
æ: How well or badly informed do you think the Malaysian public of transgenders and transgender-related issues?
Yuki: The Malaysian public in general is decades behind modern science and information in regard to transgender people. For transsexuals, the need for treatment and healthcare is largely ignored, as society regards transsexuals as challenging gender norms. Many also ignorantly think that transgender people are 'influenced' by people or are really 'feminised' gay men, without realising that the gender binary is very fluid and exists on a continuum. Sadly, many still refer to old information that gender is based on either one or two sex organs, and everything that exists in between is invalidated or silenced or forcefully moulded to fit a gender norm.
æ: You wrote on Facebook recently: 'My gay friend who has known me since 2006 said, "So you all are going to be in drag?" I was very annoyed by that question and quipped, "I do not drag!" My straight friend then said, "Yeah, she does not drag. She already transformed." It is simply amazing that my gay friend can be so ignorant, yet my straight friend gets it.'
Yuki: Yes, which brings me to the fact that sometimes there are divisions within the LGBT community itself. Correct me if I am wrong, but it seems to be everywhere, each subset of the LGBT movement has their own community and they seldom interact enough to understand each other. The gay friend I mentioned thinks that I do not need surgery and that I will regret (if I do so)! It shows that many do not know anything about transsexuals, and what it means when we are born with a gender that is different from our sex, as do many people in society when dealing with those who are transsexuals, their needs, Hormone Replacement Therapy and other matters.
æ: What do you think the LGBT community can do more of to understand and support their transgender friends?
Yuki: They could read up on transgender issues worldwide, find out more information about gender and understand the complexities of the gender binary. Just because some gay men cross-dress does not mean all gay men do, likewise, there should be no assumptions when dealing with subsets of the transgender community such as transsexuals.
Gender identity is personal and everyone should respect a person's gender presentation. It is the same if a person is left-handed, do I offer to a left-handed person items that right handed people use? Or would I offer a gay blind date for a person that is heterosexual? Likewise, when trans people, especially transsexuals, express their gender, treat them as they would like to be treated, as their true selves.
æ: What themes in the play do you think would resonate with the LGBT community?
Yuki: What is engaging about the play is that we will cover issues relating to homosexual orientation, gender perceptions, across stereotypical music, while questioning gender identity and celebrating gender variance in Malaysia and beyond. Through some twists, this play hopes audience members discover for themselves a new shared sense of humanity.
æ: What is your vision for the LGBT community in Malaysia?
Yuki: It is still a very long road ahead, but I hope we do not need to fear the authorities and be willing to stake our claim for our rights as citizens. There is something wrong with society when we are accused of 'promoting' homosexuality and deviancy when the media has long promoted heterosexuality and one-dimensional gender identity and expression for years. More importantly, we need to give ourselves a chance to show that intolerance and prejudice is wrong, and that our existence does not automatically constitute sin. We need to respond and counter the misinformation created based on their ignorance. We must decide and move forward from where we are now, as we can no longer afford to be complacent in holding on to what we have as we see certain freedoms eroding away. The LGBT community must take the lead in showing the values of love and family, as we have done for years.
The Kuala Lumpur Performing Arts Centre presents an adaptation of Samuel Beckett's Waiting for Godot from 2 to 5 September with a preview on 1 September 2010. Tickets are priced at RM35 and RM23 for students and the disabled. RM10 minimum donation at the door on preview. 3 Sep: Drag Nite – RM23 for anyone who dress in drag. 4 Sep: Saturday matinee special – RM15 for students. Call 03-4047 9000 or walk in to klpac, The Actors Studio @ Lot 10, Axcess Headquarters (Jln. Semangat) or Axcess 1-Utama outlet to purchase tickets. For more information, visit www.klpac.org