Jeff Sharlet, an investigative journalist and author of The Family: The Secret Fundamentalism at the Heart of American Power – about a US-based religious and political organisation, met and interviewed David Bahati, the Member of Parliament who came to international attention after introducing Uganda's draconian anti-homosexuality bill in October 2009.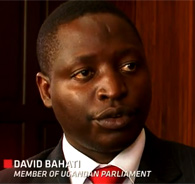 MP David Bahati is said to be a core member of The Family. He works, he organises their Ugandan National Prayer Breakfast and oversees an African sort of student leadership program designed to create future leaders for Africa, into which The Family has poured millions of dollars working through a very convoluted chain of linkages passing the money over to Uganda. – The Secret Political Reach Of 'The Family' (NPR)
The proposed bill, which has attracted international outrage since it was announced last year, would impose prison terms for Ugandans who fail to report a homosexual within 24 hours, and the death sentence for homosexuals who had sex with a person under 18, who is HIV-positive and had sex, had gay sex with a disabled person or being classified as a "serial offender" – that is, someone who has gay sex more than once. Already under Uganda's Penal Code Act of 1950, those who engage in the "unnatural offence" of gay sex may be imprisoned for life, and those who merely attempt to do so can be imprisoned for up to seven years.
The assistant professor of English at Dartmouth College and contributing editor of Harper's Magazine recounts his meetings with Bahati at his home which is "way high up in the hills outside Uganda" and at a "very, very upscale hotel (restaurant)" in a September 2010 Harper's piece, "Straight Man's Burden."
Sharlet says he visited Kampala at the invitation of Bahati who had told him: "If you come here, you'll see homosexuals from Europe and America are luring our children into homosexuality by distributing cell phones and iPods and things like this.
"And he said, 'And I can explain to you what I really want to do.' "
That is "to kill every last gay person," Bahati told the journalist.
Sharlet recounts on a NPR radio programme: "It was a very chilling moment, because I'm sitting there with this man who's talking about his plans for genocide, and has demonstrated over the period of my relationship with him that he's not some back bencher – he's a real rising star in the movement. This was something that I hadn't understood before I went to Uganda, that this was a guy with real potential and real sway and increasingly a following in Uganda."
Sharlet explains that Bahati is one of the Uganda leaders of an American evangelical movement called the Fellowship, or the Family – the secretive fellowship of powerful Christian politicians who wield considerable political influence, both in Washington and abroad.
Last year, NPR quoted Bob Hunter, a longtime member of The Family, that neither he nor anyone he knows in The Fellowship supports the Ugandan bill.
Sharlet however wrote that he had discovered a "very direct relationship".
"And [the Fellowship members] are emphatic and saying: 'We haven't killed any gay people in Uganda. This isn't what we had in mind. We didn't pull the trigger.' And that's true. They didn't pull the trigger. But there's a sense in which they built the gun, which was this institutional idea of government being decided by small groups of elite leaders like Bahati, getting together and trying to conform government to their idea of Biblical law. And this is what their American benefactors wanted them to do."
The Anti-Homosexual Bill remains with the Ugandan Parliament's Committee on Legal and Parliamentary Affairs and has not been put to a vote.
The president of Uganda, Yoweri Museveni who is reportedly a member of The Fellowship, has distanced himself from the bill as a result of intense international lobbying by non-governmental organisations and international governments including the United Kingdom, United States, Canada France, Sweden and Germany. The European Parliament on 16 December 2009 passed a resolution against the bill, which threatens to cut financial aid to Uganda.
Jeff Sharlet's article "Straight Man's Burden" is published in the September issue of Harper's. An excerpt of the article can be read here.



Read transcript of radio interview.