I have lived most of my life by this rule 'never trouble trouble until trouble troubles you'. Partly because I was taught to embrace it since I was young and partly out of fear of things that brought about inconveniences. It was a perfect philosophy in every way until I decided to go for a sex reassignment surgery. Although it may sound like a flighty overnight decision it took me about 28 years of contemplation before I finally accepted the fact that I needed one. While I was at the high point of that life-changing experience – I was literally singing 'I Could Have Danced All Night' on the hospital bed – I didn't realise then that the things to come were only the beginning of a disquieting journey.
The day that I tried to get my identification changed at the registration office was when I realised trouble had finally come to me. The next few years, I went on a wild goose chase to get my identity reaffirmed and substantiated by a piece of document. In the end I found out the law was not on my side and it would take lots of money and sleepless nights if I wanted to set things right. Like so many of us who had contemplated it, I decided to leave the country to pursue a new life when an opportunity came up. But at the check-in counter at KLIA, the officers refused me entry. And to add drama to the grand finale of the incident, my body decided to shut down completely and I passed out right there and then.
After recovering from the nightmare, I decided to write some articles regarding my personal experiences for the local newspapers as part of my catharsis. From there it snowballed into something greater than I expected.
It began at this place called The Annexe Gallery where I go to every now and then to catch an art exhibition, attend a workshop, and watch a performance or rendezvous with friends. It was in 2008 that I learned that Seksualiti Merdeka was going to be held at this little corner of the world. My first impression of the event was mixed with skepticism and curiosity and since I wasn't in town I didn't think much of it and let it slip by. But when the second Seksualiti Merdeka came around the year after, I felt compelled to take a bolder step forward. I participated in a workshop about Sexuality and Human Rights, submitted an entry for Body 2 Body: A Malaysian Queer Anthology (and was published) and also shared the story of my life in an intimate talkshow called 'All You Need is Love'. It was my first time working with the LGBT community and I found myself feeling at home with this new found family.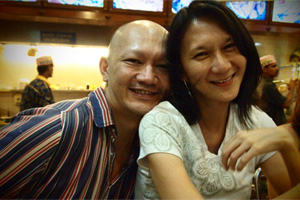 Julya (right) with actor Edwin Sumun. Photo by Jerome Kugan.
And coincidentally, this year's theme for Seksualiti Merdeka was 'We are Family'. As a co-facilitator for the Transgender workshop, I learned more about gender and sexuality variants than I had ever imagined. We were a potpourri of post-op, pre-op and non-op transsexuals, drag queens and cross dressers, with various sexual orientations. But we were free from labels that day when we came together as a transgender family.
We came from all over Malaysia, even East Malaysia, (our transport and accommodation kindly sponsored by the festival) comprising of those who are independent and dauntless as well as those who are timorous and withdrawn. While some of the transgenders ran their own businesses others had to trade their bodies to make a living. Wherever we are from, we each have a story to tell. Some stories are joyful accounts of acceptance from families and friends while others are horrific depictions of arrests, abuses and imprisonment. If I hadn't had the chance to meet these transgenders I would still be observing them from a distance and drawing restricted conclusions about them, even though I might be considered as one of them. During the short time we were together, we felt the bond of the sisterhood breaking through all levels and barriers. We have different journeys, but the one thing we all have in common is our destination. Every one of us in that room wants to be left alone to live our lives the way we want to. Primarily, that is all we are seeking, the right to be our own person.
Another heartwarming program in Seksualiti Merdeka is the storytelling session, not unlike the one I participated in the previous year. With the theme 'Meet the Family' the speakers came with their family members to talk about their coming out. It was witty, inspiring, beautiful and bittersweet. I wish more people knew about this event, especially those who are trying to find ways to come out to their family or have had bad experiences coming out. Knowing that there is a safe space among people who share similar stories can be empowering and comforting.
To me, Seksualiti Merdeka is about celebrating life in diversity. Whether it is about raising women's issues through 'HerStory Films Project: Love, Sex & Desire', which was launched to a packed audience featuring five short films, or getting intellectually stimulated by Farish Noor's lecture, or experiencing the 'Rainbow Massacre' concert in all its campy glory, it's all about being alive and living it. And that is just stating the obvious.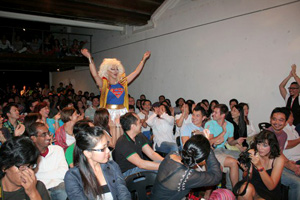 Drag queen Shelah entertaining the crowd at Seksualiti Merdeka
that attracted some 1,500 over the 5-day festival. Photo by Jun Kit.
After the drag queen Shelah (actor Edwin Sumun's alter ego) sung Kylie's 'All the Lovers' on the last night of Seksualiti Merdeka, it was officially closed. A bunch of us headed off like the Gauls from Asterix and Obelix to have our big feast at one of the regular hangouts. As we sat down for a meal and conversation I realised that the people around us only really clicked with their own kind. Yet here we are representing everyone under the rainbow, including our straight brothers and sisters.
At times, I sit back and wonder how my life would have been had I left the country for good. I couldn't imagine what it would be like had I not met my Seksualiti Merdeka family. Although I am very close to my mom and dad I realise family is about being with the people we care about even if we don't share any blood ties.
There are still so many misconceptions about the LGBT community, perpetuated by the sensationalist media, inconvenient police raids and ridiculous accusations. One would think that at a time and age like this, the country should be investing in expanding our talents and skills, exploring new frontiers and improving lives all over the world instead of embarking on witch hunts, when there are no witches in the first place.
Some day, I would like to see the LGBTIQ label as something unnecessary and passé, and the only direction the whole world needs moving toward is unity. Meanwhile, Seksualiti Merdeka cannot be more essential than right now, because like I said, we can't rest as long as trouble troubles us. We could continue accepting blames for things we hadn't done or we could come together and find the courage to be our true selves.
The article is contributed by Julya Oui, a freelance writer who has written movie scripts, short stories, poetry and articles. She is also an artist who has lent her skills to commercial works and fine art. While she believes that she can dream up things and make them happen with the stroke of a pen or a brush she is also taking the first step to being a rainbow warrior.