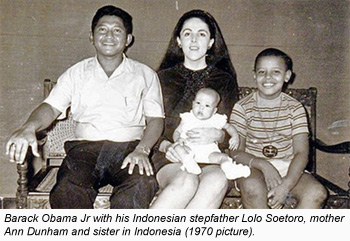 US President Barack Obama's visit to Jakarta, Indonesia, where he had lived for four years between 1967 and 1971, inspired the New York Times to run a story about his life in Indonesia, where his family lived, what school he attended and that he had a gay nanny who later joined a transvestite group.
Over the last few days, many websites from the gay media to anti-Obama blogs have quoted the Times article that ran on Monday in advance of Obama's visit to the most populous Southeast Asian country on Tuesday and Wednesday:
"Mr. Obama's family rented the guest house inside a compound belonging to a prominent physician. There, according to the neighborhood's longtime residents, the young Obama, who had already experienced differences in class and religion in his short stay in Indonesia, was exposed to another aspect of Jakarta's diversity.
"His nanny was an openly gay man who, in keeping with Indonesia's relaxed attitudes toward homosexuality, carried on an affair with a local butcher, longtime residents said. The nanny later joined a group of transvestites called Fantastic Dolls, who, like the many transvestites who remain fixtures of Jakarta's streetscape, entertained people by dancing and playing volleyball."
The word "transvestites" however is not the most accurate word to describe members of Indonesia's indigenous waria culture. Waria – a contraction of Indonesian words 'wanita' meaning woman and 'pria' meaning man – is one of Asia's many indigenous "transgender" identities alongside mak nyahs (Malaysia), baklas (Philippines), kathoeys (Thailand), kothis and hijras (India) and metis (Nepal). Also known as the "third gender", warias are often male persons who have feminine mannerisms and dress in female clothing but may or may not solely identify as male or female, or neither.
According to Dédé Oetomo, founder of GAYa NUSANTARA, the longest-running Indonesian gay organisation, Fantastic Dolls was a famous waria dance group in the late 1960s and 1970s. The group's leader, Myrna (a.k.a. Bambang) also founded Himpunan Wadam Djakarta in the late 1960s and is said to be Indonesia's first waria organisation that worked on social issues and usually with the help of municipal governments.
Inside Indonesia, a non-profit publication, said in a 2007 article: "Every few years the Malang city government has offered employment training programs in which waria participants are trained and financially assisted to establish beauty salons (part of an effort to dissuade them from engaging in prostitution). When I enquired in 2006, the Malang city government's Social Affairs Division told me the last program was held in 2005 and had enrolled 25 participants."
To read more about Indonesia's waria culture, click on the links below.