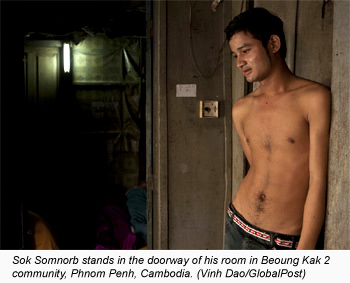 Along the train tracks in one of Phnom Penh's ubiquitous slums, the noise never stops and everything is changing. Longtime residents are fearful that they'll soon have to move. This place isn't safe anymore, they say. It isn't moral anymore.
Along these same tracks, roughly 100 new residents, in search of asylum and community, have trickled in over the last several years and now lead lives of shocking desperation. Most of them only sleep during the day. Some perform acts of prostitution. Others dress as women. Almost all of them are homosexual men. And this place, Beoung Kak 2, has become a home: Cambodia's first gay town.
But this isn't Boystown in Chicago, nor the Castro in San Francisco. This isn't a place where homosexuals can celebrate sexuality, individuality, love. Make no mistake: It's a place for survival.
Every month more newcomers arrive, and as this community expands and supplants longtime residents, it represents both a burgeoning confidence among Cambodia's gay population, as well as the difficulties that lie ahead for homosexuals here struggling for acceptance and equality.
As two worlds converge and clash in Beoung Kak 2, each seems allegoric, as though re-enacting a bigger national issue. The young, radically sexual newcomers stand juxtaposed against a traditional set of neighbors that are baffled, and sometimes frightened, by the swelling number of openly gay Khmer down the road.
For more photos and the full story, click here.