The Malaysia New Straits Times reported on Nov 7, 2010:
From outside, nobody would suspect that two shophouses without signboards in Jalan Kampung Pantai and Lorong Hang Jebat near Jonker Street here were allegedly spas for gays.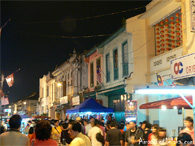 Popular with tourists, Jonker Street is in the heart of Malacca, a historical city known for its Portuguese and Straits Chinese (Peranakan) heritage.
More than 30 men, aged between 20 and 50, were caught partially or totally naked in a raid on the illegal spas last Friday.
The raid was conducted by officers of the Foreign Student and Workforce Division (FSWD) of the Chief Minister's Department, Immigration Department, Melaka Tengah district police headquarters, state Islamic Department (Jaim) and Malacca Historical City Council.
FSWD chief Shadan Othman said the spas came to light after a tip-off by parents of a higher learning institution student.
"We received a tip-off from the parents of an Indonesian student who learnt about their son's activities here," he said.
"We conducted surveillance on both centres for about a week.
"During the raid at 9pm, we found most of the men in both spas clad in towels. Some of them were also found naked in one of the spas' open shower area," he said, after the operation at Jalan Kilang, Melaka Tengah here.