[Editor's note: The Hainanese in Singapore are descendants of immigrants from Hainan, China's southernmost island province while the Teochews are descendants of those from the Chaozhou region in Guangdong, China.]
I had some serious reservations about this movie. Never mind that it's written and directed by Han Yew Kwang, one of Singapore's most awesome unrecognised filmmakers and the creator of solid comedy films like Unarmed Combat and 18 Grams of Love. I was royally pissed off by the press release, and I was fully prepared to hate it.
You see, someone had described the production as "a romantic comedy between a 'womanly' man and a 'manly' woman". What kind of message does that send out? That limp-wristed men and butch-acting women can all fall in love and become happy straight couples, if we only take the chance?
(The title's another allusion to the idea of a mismatched couple. Supposedly Hainanese men make the best husbands and Teochew girls make the prettiest wives; when a Hainanese woman tries living with a Teochew guy, things may not work out so well.)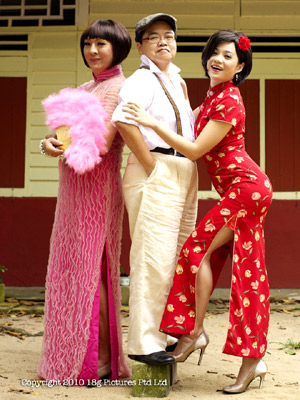 From left: Tan Hong Chye (Ms. Teochew), Lee Chau Min (Hainan-boy)
and Yeo Yann Yann (Meihui)
Then a week ago, I saw a photo of the two leads, Lee Chau Min and Tan Hong Chye. And immediately, I knew this film was something different.
Lee, who plays "Hainan-boy", isn't a mere tomboy: she's a middle-aged woman with a crewcut who's regularly mistaken for a man. Likewise, Tan, who plays "Ms Teochew", is a middle-aged man with shampoo-commercial long hair who's often mistaken for a woman. They say they more or less play themselves in the show – they're neither more butch nor more effete than they are every day.
"I asked myself, why are romantic comedies always about handsome men and beautiful women? What about ordinary people like us?" says Han, the director. He even speaks about the film as an anti-romantic comedy, deliberately going against the conventions of the genre.
Neither Lee nor Tan are professional actors: in fact, this is Tan's acting debut. However, there's a few sexy, full-time showbiz stars included in the production. TV celeb Alaric Tay, for example, plays the ghost of Teochew's murdered bad-boy brother, who keeps on telling him to "be a man".
Meanwhile, award-winning actress Yeo Yann Yann plays Hainan-boy's ex-girlfriend. The two even share a full-on lesbian kiss on screen, which probably earned the movie its NC-16 rating. (Han considers this an "upgrade": both his previous feature films were only PG.)
I'd say the film's worth supporting for three reasons. Firstly, it's really very entertaining. The leads have great chemistry together, and the comic situations created by their personalities and family relationships are classic.
Secondly, it casts queer Asians in a totally new light. Usually, gay guys and lesbians are depicted as young, beautiful, cosmopolitan, urban professionals. Even transgender characters are shown as people of the city: sex workers and nightclub workers, dressed in gorgeously sequined costumes.
The queer characters in When Hainan Meets Teochew are instead figures from the heartland of Singapore: squabbling in their HDB (public housing) flats, hanging their washing out to dry, working boring office jobs and speaking fluent dialect – Teochews and Hainanese who're longing to hear their languages on screen should really enjoy these bits of dialogue.
It reminds straight viewers that us queer folks can be very normal as well – plus, it reminds us gay and bi folks that the queer community is a lot more diverse than what we imagine.
My third and last reason is that these folks need the money. The whole shoot was done on a shoestring budget of a little over S$10,000, and our two leads are only getting their payments out of the money the film makes.
And if you're still not sure you want to buy tickets, maybe a chat with the leads themselves could change your minds.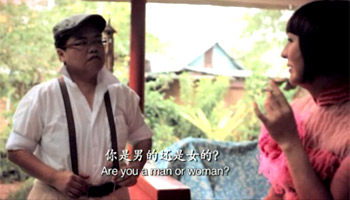 All images are courtesy of 18gpictures.com
æ: Congrats for making such a great film – I'd never have known you weren't professional actors. What do you really do for a living?
Chau Min: I'm working for this company by the name of Wawa Pictures, the one that did TV show The Perfect Cut. I'm a Production Manager in charge of the daily filming.
Hong Chye: I'm the Chief of Wardrobe at Resorts World. The production that I'm running is [the circus act] Voyage de la Vie.
æ: How did you get cast for the movie?
Chau Min: One day out of nowhere Yew Kwang just called: "I have this idea, can I come and talk to you?" So he and [Lau] Chee Nien, the producer, came to my house. And he mentioned he had this idea of doing something about a very manly woman and a very womanly man. And he said he'd found research in Japan that there's this 1% of possibility that people like this can get together. So I was like, "Ha ha, very funny. Who am I going to get as a partner?" And he said, "What about Hong Chye?" "My friend? Why not?"
Hong Chye: Initially he told us it was just a short film, like for 15 minutes. But along the way, when he was writing the script, he added in one or more things and it became an 80-minute film. We contributed some of our ideas, like what are the dialogues when we usually talk to each other, and things like that. That inspired him to put more things into the show.
æ: So I guess the two of you knew each other before the movie?
Hong Chye: We are actually working partners. I got to know Chaumin we were colleagues when I was in Mediacorp. That was like in 1993. And I don't know if this show gives the wrong impression that we're together. For us to develop a relationship like love, I think it's not possible. So basically, we are just good friends, I would say.
Chau Min: But this Hong Chye, you know, he is my stylist since I don't know how many donkey years ago. And I don't know why, he say for so many years. "If you've got nobody, take me as heelai," – that means the second wife. And I say all the time, "Please lah, I don't want you. You're taller than me, I don't like. You're thinner than me, I don't kike. You have such beautiful hair, which I don't like also."
But he said, "I don't care. You treat me so well; you want to give me a house and a garden or not?" He always said, "I don't care, I just want a house and a garden." So one day I cannot tahan [bear it], I think of a way to stop him from saying this. I say, "Why not I burn. I burn a paper house for you at your funeral." And he was so angry.
We always quarrel, but after that we can still go out. So we can get along as friends. So that's why Yew Kwang saw this thing and put us together.
æ: Could I ask, do you actually identify as gay?
Hong Chye: I like men. But I am not sure, honestly. Mentality-wise, I'm a totally a woman. So deep inside my concept is like, I'll only do what a woman will do to a man. It would never occur to me to do what a man would do to a woman.
Chau Min: I wouldn't identify myself as gay, because I ever had a guy chase after me, about four or five of them. And I've been with one girl before. I follow my feelings. If I have right feelings, then gender is not the problem.
æ: Have you encountered difficulties in your life because of looking too "manly" or too "feminine"?
Chau Min: Yeah. I think since primary school I've looked manly, so all my classmates… Well, if they could take it, they took it, but they could not, I didn't really care. Then the first time when I went to Mediacorp for an interview, I had to wear skirts, so I just told myself, "Let's get a skirt and a blouse and get the job." And later they told me, "For this job you don't need to wear skirts." I was so happy.
Hong Chye: Of course people will call you ar kwa and things like that. When I was young I would just feel hurt: "Why are the calling me this? That's not right. Bullies, why do they want to bully us?"
Gradually, after I grew up, I sort of knew what I'm doing and I know what I am, and from that time onwards I'm quite firm. And I'm not sure, because I don't really go through a lot of difficulties, because people actually do accept me. Even when I go hawker centre and things like that, there are aunties who say, "Oh, your skin is very nice, and you look beautiful," things like that. Actually the way I behave, I'm quite friendly with people. So maybe people feel comfortable with me and they don't really give me a hard time.
The difficulties I have now, especially with my long hair and my looks, are when I go to the toilet. When I walk into a male toilet I get very conscious that the people inside will run away, or when I'm about to step out, somebody gets worried they get into the wrong toilet. It always happens to me. So I try to avoid to go to the toilet. I only go to the handicapped toilets now. Other than that I'm quite fine.
æ: How do you feel about the film now?
Hong Chye: Do you know, when we were doing filming that time, I didn't expect that it would turn out to be so fun, that everything would look so well done. But after I saw everything, after editing, I thought it was quite amazing the away Yew Kwang put things together. I think he's a very talented director.
And everybody likes this film actually. I don't know why. They come back to me and say they enjoy it very much, they laugh from beginning to end. And people congratulate me because they say that they are surprised that I can act so well.
But when you look at the film, you see my real personality. I'm like that. I did not try to make it more feminine or more dramatic, no. In the show and in real life I'm the same. The only thing I did not know was that I actually can be so comedic. That I can actually bring laughter to people. So I'm quite happy.
Chau Min: I hope that maybe my relatives and siblings will see this movie and know this is my kind of lifestyle; they'll know that I'm happy with what I am and with what I have. Not say the whole thing is a bout me, but somehow I hope they can understand. Sometimes you just have to be single: if you can't get the right one, then don't.
æ: And is there anything else you'd like to tell the audience?
Chau Min: I'm also one of them! I'm also a member of Fridae… I want to tell them to follow their feelings, and I hope everybody finds their true love, and don't regret.
Hong Chye: The message I want to let the audience know is, don't always have the wrong impression of a sister or a queen. Because I realise in Singapore whenever you talk about transsexuals or transvestites or drag or whatever, it always leaves people with the wrong impression that these people are very loud, that they go around and sell their backsides and things like that.
But what I'm trying to say is not all of them. We are nice and different people also. Try to look at them in another way, to look at the good side of it.
Fridae is giving away 5 pairs of tickets to the Dec 17 screening of When Hainan Meets Teochew at the Arts House @ 7.30pm to each of the first five readers to write to editor@fridae.com. (Update: This giveaway has ended. Successful readers will be contacted by email.)
When Hainan Meets Teochew is showing at the Arts House and Sinema@Oldschool until Sunday 19 December. Tickets are $10 at bytes.sg and tix.sinema.sg respectively.
Ng Yi-Sheng is a poet and playwright, and winner of the Singapore Literature Prize in 2008 for his poetry anthology Last Boy.