In an effort to address the disproportionately high new HIV infection rates among gay men and other MSM, the New York City Department of Health last week debuted a 30-second public service awareness advertisement with a tagline line "It's Never Just HIV." It warns viewers that an HIV positive person – even if taking medications – is at higher risk of severe osteoporosis (bone loss), dementia and anal cancer, amongst dozens of diseases. It urges views to "Stay HIV Free" and to "Always Use a Condom."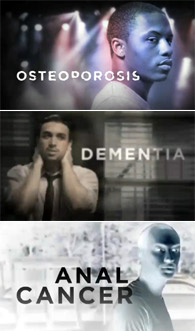 New Health Department brochure
(PDF): Anal Cancer: Cancer ofthe anus is normally rare among young men,but having HIV makes you at least 28 times more likely to be diagnosed with anal cancer.
To be shown on the Internet, cable and broadcast television for the next two weeks and for two weeks in January next year, the video "speaks directly to the city's most heavily affected population – gay men and other men who have sex with men – in an effort to combat complacency about HIV," reads the press statement issued by the Health Department.
The video has however received scathing reviews for what has been described as a "horror movie trailer-style" voice-over (accompanied by a suspenseful soundtrack) and a graphic image of "anal cancer" – not unlike images found on cigarette cartons meant to scare smokers.
A blog posting in the Metropolis section of the Wall Street Journal website quoted the Gay Men's Health Crisis, an HIV/AIDS prevention and advocacy group, and the Gay & Lesbian Alliance Against Defamation, as saying that the ad creates a grim portrait of being an HIV patient, which could further stigmatise victims.
Lifelube, a US website which focuses on gay men's health issues, slammed the ad calling it "absolutely hateful and totally stigmatizing to all of us living with HIV" – a view shared by a number of commenters on Youtube and gay blog Towleroad.com.
"Thanks for saying that even if we take our meds, our lives will be hell, with brittle bones and anal cancer. And thanks for the super scary voice-over to make sure we're all appropriately terrorized. Who consulted on this? Focus on the Family? Concerned Women of America? David Bahati, our friendly Ugandan legislator who wants gays imprisoned or dead? Satan?" Read the Lifelube blog.
It continued: "How many guys who don't know their status – and should know their status – will be convinced by this horror show to get tested? Would you want to know your status if this told the truth about what lay in store for you? Negative guys – will the lovely glimpse of anal cancer make you wear a condom every single time, maybe scare you into a full latex body suit? Will this ad make you run for the hills when the guy you're cruising tells you he's POZ (aka DERANGED [and] DISFIGURED)?"
A reader on Towleroad, who signed off as DC05, thought those who criticised the video as being offensive should consider the dire situation facing gay men. "Let's for ONCE get logical instead of emotional about this disease. We so fear offending ourselves that we don't want to protect ourselves. After so many of our very own have been affected by this disease, we should have a more healthy (sic) grasp on it than ANY other demographic and yet recently the rates are skyrocketing, ESPECIALLY with young gay men. That is inexcusable!"
In New York, the number of new diagnoses has increased among those under 30 – from 489 in 2001 to 747 in 2009 while the number has declined among older MSM over the past decade (from 1,190 to 830 in the same period).
Gay men and other men who have sex with men (MSM) account for more than half of new diagnoses (56%) among men and about 44% of newly diagnosed HIV infections – more than any group – in New York City each year.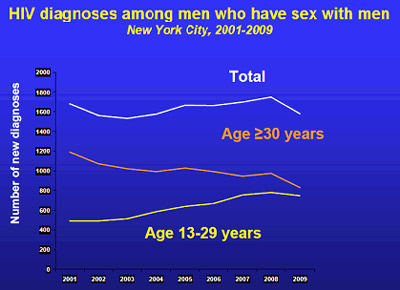 From: New Health Department Media Campaign Shows How HIV Can
Compromise Health and Well Being, Even when Treatment
Controls the Infection (NY Health Dept)
"HIV continues to take a major toll on men who have sex with men – regardless of whether they identify as gay – and the virus is spreading more each year in those under 30. This spot should serve as a wake-up call. Unprotected sex is still dangerous, and more partners means more risk," said Dr Thomas Farley, New York City Health Commissioner.
The press release added: "Unprotected sex holds special risks for MSM, and the reasons are partly biological. Rectal tissue tears more easily than vaginal tissue, enabling HIV to pass readily between partners if one is infected. Rectal tissue also is more permeable than vaginal tissue, meaning that HIV can be absorbed into the body even when the tissue is intact. To make matters riskier, HIV is more prevalent in the MSM community than in other parts of the population – meaning that any given encounter is more likely to result in exposure."