He is one of Malaysia's most recognisable sexuality rights activists. His quote "Stop censoring who I am" was even Time Online's quote of the day on 25 Feb 2009. At the time he wrote a lengthy letter to the press to protest Malaysian cable TV operator Astro's decision to censor the words "gay" and "lesbian" from Sean Penn's and Dustin Lance Black's Oscar acceptance speeches – for their movie Milk about American gay rights activist Harvey Milk – in which they called for equal rights for gay men and lesbians.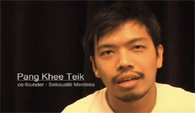 Pang Khee Teik, 36, co-founder of Seksualiti Merdeka
Pang Khee Teik is also the co-founder of Seksualiti Merdeka, Malaysia's annual sexuality rights festival; and Arts Programme Director of The Annexe, Central Market.
In this video, the fifth of the It Gets Better in Malaysia series, Pang shares his journey to self-acceptance as a gay man from as a schoolboy in Singapore who was often bullied by his classmates to undergoing reparative therapy at a church for 12 years where he was told that being gay is wrong and it is possible to change one's orientation from gay straight.
"For 12 years, I stopped myself from loving. Every time I fell in love or had a crush on someone, a guy, I stopped myself. I did not allow my heart to feel what it needed to feel... There are many ways to kill yourself. One of the ways is to stop yourself from loving, to stop yourself from living. And for 12 years I did that. And I died slowly everyday. Until one day I realised and I asked myself what is wrong with love."