I have been entering the darkened portals of Propaganda, Hong Kong's principal gay club, since well before the '97 handover to China, but it wasn't till early this year that I chanced to meet one of the two directors of the place, Steven Khouw, one late night there weaving between the bar and the dance floor. Had it not been for the fact that I was that night with broadcaster and music director Brian Leung, who knows just about everybody in Hong Kong, I would never have got to meet Steven then. I knew, of course, as almost every gay man who's been out on the town in Hong Kong does, that there were two partners running the organisation, but I had never knowingly even set eyes on the second, Lawrence Ho. I confess I am not Hong Kong's most gregarious of clubbers, so was not surprised I had not met them personally, but I had always wondered why they were so invisible. So when, in November this year, they opened Psychic Jack, their new wine and champagne lounge on Wyndham Street, I took the chance to go and see them, to talk with them about themselves and their new venture.
Not surprisingly, in the light of the above, I found them rather shy, certainly not about to blow their own trumpets, definitely not interested in exposing much of themselves to public view (they would not, as you can see, give me their photographs, and they haven't got a website) and modest about what they had achieved over the nearly twenty years in which they've provided the principal sites where Hong Kong's gay men could enjoy themselves, be themselves, meet themselves and, yes, one has to say it, spend a good deal of their disposable pink dollars fatiguing themselves in the pursuit of hangovers that last an entire weekend. No, this interview was going to be about their clubs, they insisted, for that is what they wished to be known by, not about themselves personally. I managed, nevertheless, to do a little personal delving.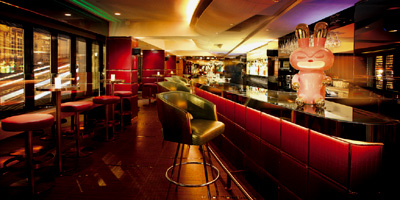 Psychic Jack
Psychic Jack is their newest venture in a line that goes back to 1991. Lawrence and Steven's partnership, though, goes back a lot longer than that, for they were at school in Hong Kong together at La Salle College. After that, they went separate ways to further education abroad, Steven to Seattle in the States and Lawrence to Edmonton, Canada. They graduated then came home in 1989, Steven to work as an account executive for an advertising agency, Lawrence as a banker. Neither of them, though, was very interested in their careers. When they got home, they found Hong Kong going through the throws of the struggle that was to lead at last to the decriminalisation of homosexuality in July 1991. There wasn't much of a decent gay scene.
On Hong Kong side, Disco Disco had folded sometime before and the Yin Yang Club that had succeeded it was to fold shortly thereafter. Both had been, in any case, members clubs, so not open to all. Across the harbour, Wally Matt was there, but still for some years to come in its early, charmingly grotty, phase. Lawrence, who is gay, and Steven who is straight, thought there was an opportunity to provide gay men with a place that had no restricted access and that would enable them to take advantage of what was shortly to become their liberated status. So it proved to be. They opened Propaganda on the corner of Wyndham Street and Glenealy in November 1991, and have been going ever since.
I put it to them both that this was a courageous step back then, both as the initial planning stages for their venture were well under way before the law changed and as there was not even the slightest guarantee that the community would support the venture. "It didn't feel brave at all", Lawrence replied. "Back then we didn't think a great deal about it, we just followed our hearts and we didn't have much to lose. We just wanted to create a social platform for the gay community to enjoy themselves".
I suggested to Steven that taking on a gay partner and opening a gay bar was a pretty amazing thing for a straight guy to do in 1991. "Not really," he said. "We were best friends, I had no homophobic hang-ups and it never crossed my mind I was doing anything out of the ordinary." They seemed surprised by the question; my turn, then, to be surprised.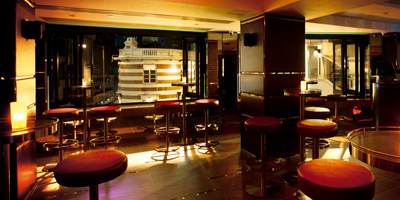 Psychic Jack
The old Propaganda closed in November 1997 ("Everything we do seems to happen in November", Lawrence noted) when we moved it to the present location opposite the Police Station in Hollywood Road. "The old Propaganda was designed for its time," Lawrence explained. Dark corners and corridors, industrial style fittings, no windows, it all fitted the fact that people felt then they had to be more discreet. The new Propaganda was designed to be brighter, lighter, more modern, lots of steel and chrome and dancing poles, reflecting the more open times.
"We also opened a restaurant there," added Steven (I was one of their first guests), "but it was a total failure and closed after a couple of months. There really isn't a market even now for a restaurant tied just to a gay clientele." But gay men liked and missed the grunge of the old place and so they re-opened it much as before in 1998 and named it Works. This stayed open till 2008, when it closed its doors and dark corners so that it could be reborn as Psychic Jack.
"The décor of Psychic Jack follows the evolution we've seen in our clubs from the start", Lawrence told me. "It's much more sophisticated, a piano bar in the early evening with comfortable and elegant furnishings surrounding a central island bar, a new feature for our clubs, as people seem to like them now and gradually progressing into a clubby atmosphere in the late hours on the weekends. The design has been done for us by Zanghellini & Holt as well as Light Directions. There's a piano, played in the early evenings at the moment by Ernie Corpus, but which will also be available for our customers to play their own stuff. And it's open, for the first time, to the outside. All our windows on two sides of the club open out onto views of the street." We were sitting in front of one of these, and it did indeed look straight down onto the corner of Lan Kwai Fong and the Fringe Club, a quite unique Hong Kong historic view.
The partners have been successful over the years in negotiating a careful path with the authorities. Remembering the occasional police ID check raid in the old location, I asked them about this. "We haven't really experienced any homophobia from the police", Steven replied. "Checking for underage drinkers is pretty normal in Hong Kong. In the old days they used to have all the lights turned on. Now they're more discreet. But we've had no trouble because we're operating a gay bar. In fact some of the policemen we have known have been gay or pretty friendly." Relations would have to be good, the new Propaganda being only about 50 yards from Hong Kong Island's old Central police station.
I asked them both about their low profile in the community. "We've always seen the clubs as having their own personalities," Lawrence answered. "The business is not about us. Just like the names of our clubs have never had any particular meanings. We don't intend them to make a statement or be political in any way. We want to give people the space to define for themselves what the places are about." They've been subject to criticism in the past for their apparent distance from the community, and their reticence has allowed some critics to accuse them of a lack of commitment to the community. This interview, I suggested, was an opportunity to right the balance. Prompted, for they were not about to boast about it, they both ran through for me the ways they've worked with the gay community since the start.
"We've been working with AIDS Concern from our early days," Lawrence said, "as sponsors of their events and to help them collect cash. This has gone on right up to now. When Psychic Jack opened, we raised over HK$ 35,000 (US$4,500) in cash for them. We've been regular sponsors of the Hong Kong Lesbian and Gay Film Festival, and for them, and other events, we've often also given free admission afterwards to anyone with a ticket stub, not to mention throwing innumerable pre and post parties."
The pair was also heavily involved in the gay cultural renaissance that erupted in Hong Kong after the decriminalisation. The Nineties were the days of gay writer, playwright, dancer and film maker Edward Lam and gay writer and broadcaster Dino Mahoney and of others. There was a lot that was new and gay going on then in the arts and no government subsidy so Propaganda was a continuing source of funds. IDAHO, HORIZONS, the Ten Percent Club and the Pride Parade have all benefited from fundraising there. "When there was more suppression," Lawrence commented, "there was more need to fill. It's maybe not so important now, though our contribution to the gay community still goes on."
As, no doubt, does the evolution of style in Lawrence and Steven's clubs. As the gay scene changes, so have they. That, of course, is one of the reasons they have survived so long.
Propaganda is at B/F 1 Hollywood Rd (see map), Central, Tel 2868-1316; Psychic Jack is at 1/F, 30-32 Wyndham Street, Central. Telephone 2868 6102. Email pjlounge@biznetvigator.com