Organised by Mplus, a Chiangmai-based HIV/AIDS NGO, and a coalition of other community groups, the march was officiated by the deputy mayor of Chiang Mai and went on without incident.
The northern Thai city witnessed its first LGBT march on 27 January 2008 when some 160 gay activists and NGO workers who were in town for the third International Lesbian and Gay Association Asia conference joined locals in a march through the main Chiang Mai's Night Bazaar road. The second parade held on 21 February 2008 was however attacked by Redshirt groups and/or members of the United Front for Democracy against Dictatorship (UDD) which accused participants of destroying the local culture.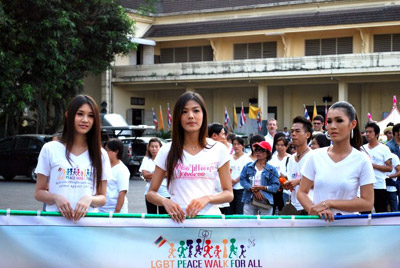 All photos courtesy of Aung Myo Min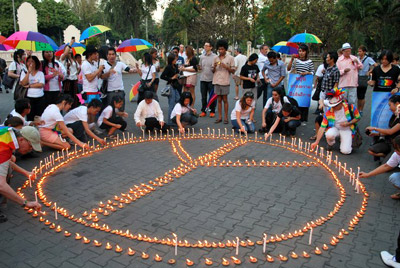 Buddhist monks and participants lighting candles to form a
peace symbol at the event.
Labelled as a 'peace walk' to promote gay rights and non-violence towards members of the LGBT community, the parade on Sunday passed through the busy Chiang Mai Night Bazaar area. Gay and human rights activists including Anjana Suwanawanon, President of SOGI Foundation (Sexual Orientation and Gender Identity) and Aung Myo Min, Director of Human Rights Education Institute of Burma (HREIB) addressed the crowd. They were joined by Rev. Dr. Kenneth Dobson, a Presbyterian minister and missionary, and a Buddhist monk, Pra. Tanomsing Kossonnawin, President of Dhammadrops Foundation and other speakers who spoke against discrimination.
Aung Myo Min, a former Representative ILGA-ASIA, told Fridae: "This peace walk sends a message to society that LGBT people are not a problem, but part of society. We can contribute good things to society and we need understanding and recognition. And we don't want violence."
Myo, who is also the director of the Human Rights Education Institute of Burma, explained that it is difficult to achieve LGBT rights within the Burmese exile community and in Burma, public protests of any kind are not permitted.
"We are struggling and we still have to try much harder to obtain equality for LGBT people. We can say that it is a struggle within a struggle. It means that the LGBT rights activists are struggling even in the communities which promote democracy and human rights for Burma in order to fulfill LGBT rights." He was quoted as saying in The Irrawaddy, a news magazine published by Burmese exiles living in Thailand.
The India-based Burmese-focused Mizzima News Agency noted: "Activists said that the Burmese community has become more understanding of the rights of homosexuals in recent years. In the past, The All Burma Students' Democratic Front (ABSDF) classified homosexuality as a crime. In 1997, the ABSDF revoked that classification. Similarly, the Burmese Women's Union now allows all women, including lesbians, to apply for membership."
Gay rights activist and project coordinator of the Mplus project Pongthorn Chanlearn was relieved that the event went on smoothly. He was quoted as saying in The Irrawaddy that although gay people were not seriously injured physically in 2008 during the counter protest, they were injured psychologically.
"We respect and are aware of the local culture," Chanlearn said. "We just want to promote LGBT rights and reduce discrimination against the LGBT community. We want to align our identity between the culture and our rights."