Now in its fifth year, gCircuit's annual 3-day Song Kran party will be held from the 15th to 17th of April 2011 (Fri-Sun) in Bangkok, Thailand. Widely recognised as one of the flashiest, largest-scale parties of its kind in Asia, the lineup includes DJ Alyson Calagna (US) and DJ Moto Blanco (UK), both of whom will be playing for the first time in Asia, and DJ Joe Gauthreaux (US). Up and coming Asian DJs Spectrum K (Thailand), DJ Head (Taiwan) and DJ Alan Liao (Taiwan) will open the festivities while fire dancers, Sky – a local gymnast performing group and Japanese gogo act Composite featuring porn actor Masaki Koh will entertain partygoers.
As 2010 saw some of the worst political unrest in modern Thai history, last year's Fantasia party had to be cancelled with full refunds to ticket holders. This year, organisers are determined to ensure that Song Kran 5 goes on without a hitch.
Fridae, a longtime online retailer of gCircuit tickets, speaks with Tom Tan of party producer gCircuit, about the preemptive steps organisers have taken to ensure the success of the event.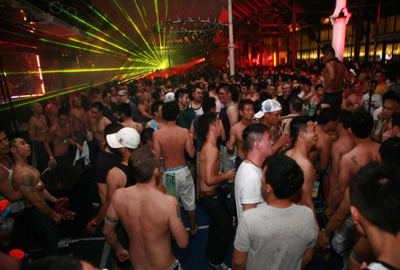 Snapshots from previous gCircuit parties. All photos courtesy of gCircuit.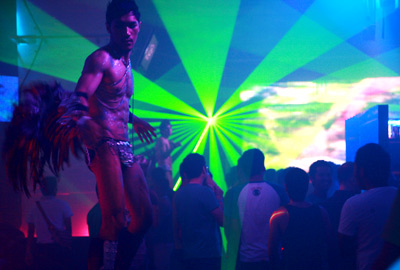 æ: What happened with Fantasia last year that was unique to the political situation at the time?
Tom: At the time, the Fantasia parties coincided with the changing of the guard for the major police ranks and the red shirt protest that particular Sunday. It was a really sensitive time for the newly appointed police officials and when the government issued a warning against mass gatherings on Saturday night, it made the event impossible to go on. We had not much choice but to cancel the event and to proceed with full refunds to our customers whom we really want to thank for their understanding and support.
æ: What steps have organisers taken to ensure that Song Kran 5 goes on without a hitch?
Tom: We have since worked closely with the relevant authorities in the planning and choosing of the venue for Song Kran 5 to make sure that such a situation will not arise again. Firstly, there will not be a change in the ranks of the police during that time, so we will be working with a stable police hierarchy. And after consulting with the police, we have chosen to hold the parties not in the town center, but in a location which is slightly out of town but still easily accessible and more importantly, will not be affected should there be any protests. We have kept Fallabella as the venue for the last night due to popular demand but we have a Plan B in place should we need it. We have planned and picked the venue for Song Kran 5 in such a way that protest or no protest, the parties will go on.
We will provide shuttle services to and from the venue for partygoers' convenience. Full details will be made available on our website and on our Facebook page. Also, we are working with numerous taxi companies to ensure that there will be ample taxis at the venue during the end of the party.
æ: Tell us more about the venue and what's in store for partygoers.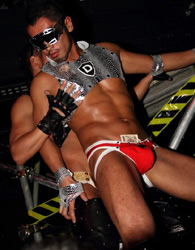 Japanese gogo act Composite featuring top Japanese porn actor Masaki Koh will perform at Song Kran 5.
Tom: The exciting new warehouse venue for Song Kran 5 means that production will be on a scale never seen before for gCircuit events. It will be top-notch and more eye-popping than ever. Also, with Alyson Calagna and Moto Blanco making their debut in Asia plus the return of Joe Gauthreaux, the music for Song Kran 5 will be more than amazing! This year will also see us feature more Asian DJs such as DJ Head and DJ Alan Liao from Taiwan and DJ Spectrum K from Thailand opening for our parties.
Partygoers will also be treated to amazing shows and performances for all three nights, from hot Japanese gogo act Composite featuring top Japanese porn actor Masaki Koh and Sky, a local gymnast performing group, fire dancers, hot dancers and more surprises! gCircuit will be pulling out all the stops to make sure that Song Kran 5 will be an unforgettable experience.
Advance VIP/Standard Song Kran 5 Combo tickets are available on Fridae Shop till Apr 13 at US$169 / US$139. VIP ticket holders are entitled to VIP express entry, access to VIP area, VIP bar/service, VIP restrooms and a VIP gift. Visit www.gCircuit.com and/or its Facepage page for updates on party information for Song Kran 5.