Nantita Khumpiramon (also known as Bell Nuntita), said to be a 27-year-old transsexual woman, wowed judges and the audience in the second episode of Thailand's Got Talent Season 1 which was aired on Sunday, 13 March 2011.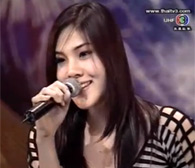 Nantita Khumpiramon got three 'yeses' from the judges on Thailand's Got Talent.
Her YouTube videos, which have been linked by Yahoo Music and international LGBT-interest blogs, have attracted more than 50,000 views since Sunday.
Nantita stunned the judges and the audience when she switched to a deep masculine voice after singing the first verse in a delicate feminine voice.
Impressed by her performance, Nirut Sirijanya, one of the three judges said: "You've deceived me since we first met. It's impossible."
Pornchita 'Benz' Na Songkhla, who's the only female judge of the three, turned around and asked the audience: "Isn't she beautiful?" She added that she was stunned when she started the second verse.
The third judge Pinyo Rutham said although he initally thought that she might be transexual, he dismissed his suspicion when he first heard her sing until she switched to a deep masculine voice.
Nantita got three 'yeses' from the judges.
She was quoted as saying in an interview after her performance: "[Kids] always made fun of me... But what could I possibly do? And my dad never accepted me for who I am. The worst, he once beat me badly. He tried to beat me until I quit being transgender.
"I want to tell my dad, I love you and I finally made it now."
The English translations are based on the subtitles in the video. If readers can provide a more accurate translation, please do so in the comments section below.