Attitude was launched over 16 years ago, and now bills itself as the largest circulation UK gay magazine. It has long been available in Bangkok in Kinokuniya and Bookazine. Those outlets also retail Out, Advocate, Details and Gay Times (mainly, I think, for foreign customers). With the ups and downs of some of these magazines, Attitude is probably the most successful gay magazine internationally at this point in time. It is well produced. Lots of fashion. Lots of celebrity news.
On March 9, 2011, the first Thai language edition of Attitude hit the newsstands. Three young Thai men are on the cover. Like the cover of the February UK edition, they are wearing pants but no shirts. Inside photographs are also erotic, but discrete. There will be no problems with censors. The three young men are straight actors from an upcoming TV comedy drama about a school swim team. The three are interviewed in the magazine. Using fresh new media figures is in line with the focus on popular culture in Attitude and other Western gay magazines. The performers want publicity. They are trendy. They are probably free.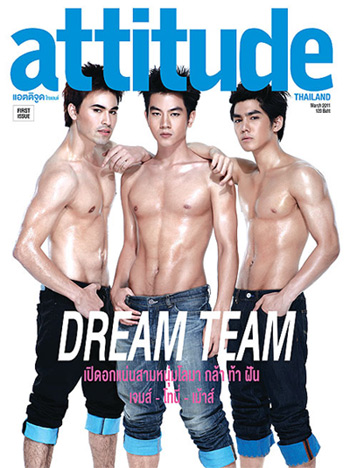 Seventy percent of the content of the Thai edition is taken directly from the British magazine and translated into Thai. The graphics for those stories are identical. In one feature, the model who is sporting a range of US 'preppy' clothing is the same face in both the UK and Thai editions. If the shirts come off, the bodies are changed from British to Thai.
This is unabashedly a "gay" magazine. The staff listed for the British edition are almost completely male. Women get included in stories if they are celebrities, like Lady Gaga or Sandra Bernhard. A Thai woman, Laikram Lerdvitayaprasit, working with GMM Publishing, made the deal with Attitude UK. Her editor is a Thai man, Thawatchai Deepattana. He heads a four man editorial team, all gay and all experienced writers on lifestyle.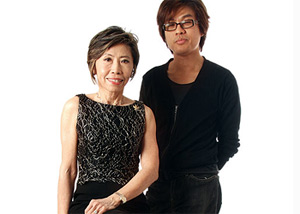 Left: Laikram Lerdvitayaprasit, publisher of Attitude Thailand and
editor Thawatchai Deepattana. Photo: bangkokpost.com.
GMM publishes localised editions of Madame Figaro and Her World for women, and Maxim for men. There is an odd historical echo. One of the first of the small-format gay magazines, Neon, was launched in the 1980s by a straight publisher, recognising there was a market out there. Nikul, a gay Thai man was editor.
The first Thai edition of Attitude has lots of advertisements – Jean Paul Gaultier, Diesel, Paco Robanne, Sisley, Puma, Giorgio Armani, Davidoff, Playboy eyewear. This is an impressive start, even if they gave away advertising space to lure business. None of these flashy hi-so ads turn up in the UK edition in February – and Diesel is the only big international brand name to advertise in March. So maybe the ads in Attitude Thailand were solicited by GMM contacts, not Attitude UK contacts.
The February number of Attitude UK has eight pages of ads for sex hot lines, massages, and dates. It seems forbidden to bill yourself, in these ads, as an "escort." A full page advertisement for something called "XXX Filth", lists 100 "real stories" you can get by telephone, pretty raunchy stuff, usually involving teenagers. These ads are in sharp contrast to the upscale tone of the rest of the magazine.
Thai give-away gay tourist magazines live on ads from gay bars and massage parlors. Attitude Thailand has none of these. It has no advertisements for any local gay venues, not even hotels or restaurants. Such advertisements would bring Attitude Thailand into collaboration with the commercial gay sex scene in the major Thai cities. Given the sex advertisements in Attitude UK; that should not be a problem in the relationship between the two magazines. The Thai ads would in fact be more discrete than those currently appearing in Attitude UK.
Attitude Thailand may never get advertisements for local gay businesses. Middle class Thai gay men have usually shunned the venues that attract foreigners (both Caucasians and Asian foreigners). Those businesses will probably not spend money advertising in Attitude Thailand, recognising that you will not get to foreign gay customers, whether tourists or expatriates, through a Thai language magazine. The English language tourist give-away gay magazines and maps will keep their advertisers. Maybe the high-end shopping malls and designer stores will start advertising.
Smile! Attitude landed on the shelves in Smile books. Wow! Smile books are a 7-11 invention, and 7-11 convenience stores are everywhere in Thailand. They sell magazines in their stores. They also run Smile book stores. @ Tom Act has never been handled by Smile books or by Faster Books in the skytrain stations. It has often been hard to find. @ Tom Act seemed destined to go under – not much advertising and poor distribution. But it has celebrated its third anniversary, and is very professionally produced. It has become a bit easier to find, but it doesn't get space in Smile books. GMM in Bangkok, apparently, knew how to deal with distribution. Smile Books already handled Maxim with sexy women on the cover. They could now deal with Attitude.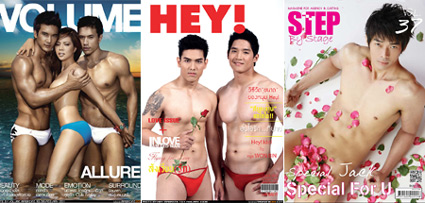 What's the competition for Attitude Thailand? There are a number of soft-core male skin magazines that tend to show up in the few shops that handle the sexy female magazines as well. There are a number of titles of both the hetero and homo versions of these magazines. For gay guys there is Hey!, Stage, Step, Dark, Born, Need+. Titles often come and go. Typically these magazines have no text and no outside advertising. They are not competition for Attitude Thailand.
The article on Attitude Thailand in The Nation newspaper said gays have had "quite a few magazines for some time, but these publications are typically marketed as women's magazines – a safe strategy in our don't-ask-don't tell society." The pictures in the current number of Volume magazine, one of the prominent Thai language women's lifestyle magazines, are far more homoerotic than anything in Attitude Thailand. Two tanned and muscular men on the cover are in white speedos and both are showing their package. There is a woman between them, but inside there are many pages of men alone. As is usual for Volume, there is a male "centerfold". There are often 'lesbian' shots as well, with two women seemingly linked to each other. One strategy of Attitude Thailand is to lure gay customers away from these special women's magazines, to an out-of-the-closet gay lifestyle publication.
It is nice to see an attempt to establish a gay market separate from the women's magazines and separate from the sort-of-underground male skin magazines. I do not read Thai, but I suspect that the trendy approach of Attitude Thailand will be as apolitical as @ Tom Act. Both are 'lifestyle' magazines, which means we all want to enjoy life. Don't expect political commentary. No politics or religion, says the GMM publisher.
Douglas Sanders is a retired Canadian law professor, living in Bangkok. He can be contacted at sanders_gwb@yahoo.ca.