Update (Apr 4): Shanghai Daily reports that according to the police, they were investigating the bar for staging "sex shows"; bar's DJ says he believes the raid to be the result of fierce competition among local bars.

---
Early (on Sunday) morning at around 1am, police raided Q Bar, a new gay bar on the Bund, and detained at least 50 patrons of the bar.
The party-goers are understood to have been locked up at the Huangpu PSB's Xiaodongmen police station for about ten hours and are still being detained as you read this.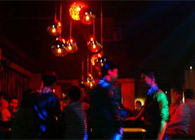 Q Bar Shanghai. Photos: qbarshanghai.com
One of the unfortunate detainees is a young Shanghainese man by the name of Steven Bao (also an acquaintance of your correspondent), who was dj-ing for the evening.
Tweeting from his iPhone to his Sina Weibo account, Bao complains that they have been "locked up like dogs" in the cold, without their clothes (Update: Shanghaiist has confirmed that detainees were not stripped -- many did not have access to their jackets which were back in the bar), and without a single drop of water. Bao also appears to have been roughed up after asking for his clothes before his mobile phone ran out of power.
Tweets from Steven Bao and other friends of the detainees have spread like wildfire on Sina Weibo, eliciting angry responses from members of the LGBT community across China.
A raid of this size on a gay bar has not been seen in Shanghai for years. In 2007, the former Club Deep, located in Jingan Park, had its Halloween party raided, shut down, and several party-goers detained for alleged drug abuse.
Under Chinese law, the police can detain people without trial for a maximum of 24 hours, but let's hope the party-goers don't have to wait another 14 hours to be free.
Update 1, 14:42 (Apr 3): The two Chinese proprietors of the bar, both named Tony, are confirmed to have been detained by police.
Update 2, 14:50 (Apr 3): Two foreigners (Asians) Shanghaiist spoke to wrote in to say, "[My partner] and i were there last nite also and were also brought to the police station! but we kept saying we were foreigners in english and they let us go after about an hour *phew* but police attitude was really quite bad. i did not see any violence when we were there but there WAS a lot of pushing and shoving." According to their estimation, there were about five Caucasian patrons in the bar, but none of them were brought to the station. All other Chinese-looking party-goers were taken to the station in a police minivan in batches.
Update 3, 14:54 (Apr 3): Some of the detainees appear to have been released from the police station, bar about twenty plus people. The above-named bar proprietors have not been released.
Update 4, 15:19 (Apr 3): One of those released @Xiaowuzhi tweets: "When I was young, our teacher told us to love our country, and I have always loved China with a deep love. Today, I hate that I'm a Chinese! I am one of the unfortunate victims of the April 2 raid on Q Bar. In the ten plus hours we were locked up, we were kept without food or water, and this is inexcusable! Police attitude was also extremely rough! 60-70 people all cold and hungry and thirsty and tired. What law have we broken just drinking at a bar? If there was any problem with the bar, why let it operate in the first place?"
And later: "I and [my partner] have already been released. Thank you all for your concern. On our way back, we received many text messages and calls from our friends and we both shed tears -- we're angry, we're frustrated, we're touched. Fortunately throughout the entire process, we had each other, so we were never alone."
Update 5, 15:28 (Apr 3): Another newly-released party-goer Shanghaiist spoke to told us the following:
- Detainees were not stripped, but many did not have access to their jackets which were back in the bar
- Among the detainees were a handful of female bar patrons.
- They were kept mostly in three rooms, one had about forty over people, one had twenty over people, and the third had about five or six bar employees, including the gogo boy dancing that night.
- They were not made to undergo a urine test, so this was not a drug raid. But they did have their ID numbers and pictures taken, and were questioned one by one. Most of the questions appeared to be pointed at the gogo boy act: "Did he take it all off?" "Were his genitals visible?" "Were bar patrons inserting bills into his thong?"
Update 6, 15:48 (Apr 3): Most of the detainees have been released, save about 10 or so.
Update 7, 16:01 (Apr 3): Another person released @hotboyjerry chimes in: "After being ignored for 8-9 hours for no rhyme or reason, a policeman finally appears. When we ask when we can begin 'assisting in the investigations', the fucking policeman actually had the cheek to say all 70 of us were criminal suspects!! I just went to the bar for a drink! What crime did I commit?! Did I accept bribes? Abuse my power? Commit arson? Or sell counterfeit products? Was I in the wrong just because I went to a gay bar?"
A minor skirmish is understood to have taken place between the police and detainees early this morning. When a few of them attempted to take video recordings of what happened, they had their mobile phones confiscated.
Update 8, 18:18 (Apr 3): Another person describes the record-taking process: "I was asked for my name, address, work details, why I went to this gay bar, how I got to know of this bar, was I there just to watch the sexy gogo boy performance. Then he told me, you know, we've invited you here to be a witness. This is not against you. You need to cooperate with us. Once you're done cooperating, you can go home and rest, and won't have to stay here any longer. Later, he asked me about the details of the two dance performances -- was he wearing a transparent brief, was anyone inserting money into his underwear, etc. This went on for a while, and then he began typing. For most other people, he would type as the answers came to his questions, but in my case, he started typing only after he was done asking questions. When the computer printout finally came, it was just as I expected. The details related to the second dance performance were not what I said at all. I had said, I was drinking with friends, with my back towards the bar, so I didn't notice what was going on. I said, I'm unable to sign this. Then the policeman told me to go back to the room and continue waiting. "
This report was first published by Shanghaiist on Apr 3, 2011 and is republished with permission. Kenneth Tan is a Singaporean blogger and businessman living in Shanghai, China. His blog is at kennethism.com.