Read on Fridae: Police raid new gay bar in Shanghai, dozens detained

According to a Shanghai Daily report published on Eastday.com, the Q Bar was raided by Shanghai police early on Sunday morning after complaints that it was staging "sex shows".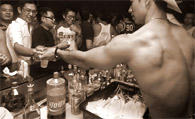 Q Bar Shanghai. Photos: qbarshanghai.com
More than 50 people, including customers, bar staff and a DJ, were taken to Huangpu District's Xiaodongmen police station after police officers burst in at about 1am. By 3pm on Sunday, all the people held in custody had been freed, police said.
The report quoted migrant workers living in a temporary shelter on the rooftop of the building told Shanghai Daily that they often saw naked men on the roof, drinking beer, chatting loudly, and even having sex.
The Shanghaiist, a Shanghai city blog, quoted a patron who was detained that they were not made to undergo a urine test, indicating that it was not drug raid. Instead, most of the questions focused on a a male gogo dancer who was hired to dance at the venue.
The Daily reported that the bar had promoted the event on its microblog on Sina.com.cn as a "table dance party" with "pictures of a man, nicknamed 'GoGoBoy,' dancing on a table, wearing only his underwear."
Steven Bao, a DJ at the bar was quoted in the Daily as saying that he believed the raid to be the result of fierce competition among local bars, suggesting that it was other bars who had complained to police that the bar was staging "sex shows."
He also wrote on his blog that the detainees were not given any drink or food for more than 10 hours although the police claimed otherwise.