Kashish 2011 — Mumbai International Queer Film Festival, the second edition of the biggest LGBT film festival in India, will feature 124 films from 23 countries.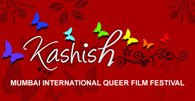 The word "kashish" means "attraction or allurement" in Urdu, though not necessarily only of a sexual or romantic nature.
Organised by Solaris Pictures, a production company with a focus on LGBT issues, Bombay Dost, a gay magazine and The Humsafar Trust, a nonprofit working for gay rights, the annual festival is being held from May 25 to May 29 at Cinemax, Versova, and Alliance France, New Marine Lines.
The screenings are free and open to all although attendees have to pre-register by filling out a form and getting a delegate card. (Registrations have closed.)
Actress Celina Jaitley, who is the brand ambassador for Kashish, was quoted in DNA India newspaper as saying: "It is a great platform to uphold human rights and dignity for all which is what I strongly believe in. Kashish is a celebration of the equality of all human emotions irrespective of sex, creed, race and culture. It also gives an opportunity to young budding filmmakers to present their talents, especially in India, where there is a lack of a platform for showcasing independent films."
Sridhar Rangayan said in a Wall Street Journal's India Real Time blog article that the decriminalisation of homosexuality by the Delhi High Court in 2009 "has definitely been a springboard for Kashish," and perhaps even led to greater acceptance from people outside the community.
A survey conducted last year by the organisers found out that about a quarter of the audience was not from the LGBT community. This year, Rangayan says he expects "close to half of the audience to not be from LGBT community."
For the schedule, visit mumbaiqueerfest.com.