The eminent Michael Kirby, a retired Australian High Court judge who's openly gay, told an audience of about 200 legal professionals in Singapore that the country's gay sex laws could have an adverse impact of the health of gay men who are at higher risk of HIV/AIDS, and it's "important that they should have equality and dignity."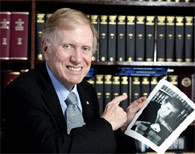 Photo: Marcus Mok via
Michaelkirby.com.au
. The Michael Kirby Centre for Public Health and Human Rights – a collaboration of scholars in the School of Public Health and Preventive Medicine at Melbourne's Monash University – was launched in September 2010. The centre aims to conduct research which informs the development of public health policies and programmes in which human rights standards and norms are critically considered.
Speaking at the Singapore Law Society's Biennial Lecture on Tuesday night, Kirby covered three topics: setting up Australia's Law Reform Commission in 1975, the case for judges to draw on human rights principles and Singapore's section 377A which criminalises gay sex.
The 72-year-old member of the UNAIDS Reference Group on HIV and Human Rights described the threat of HIV as a "very urgent problem" and that prevention is high on the UN's priority list given that 2.6 million people are infected every year. The issue is exacerbated as there's no vaccine, and the funding for anti-retroviral drugs has decreased since the global financial crisis. He will also be speaking at the 2011 UN General Assembly Special Session on HIV/AIDS in New York to be held 8-10 June.
"How can we get rid of the laws… that is a barrier in the minds of people getting the information that is necessary for their protection and the protection of society?"
Kirby, who is an internationally known advocate against laws criminalising gay sex, described Singapore's section 377A as a "problem" in the efforts of HIV/AIDS prevention and "burden" the country inherited as a British colony.
He noted that the law society had proposed for the law to be repealed in 2007 as part of Singapore's first major penal code amendments in 22 years but was not accepted by the parliament.
The "nasty little provision" or similar versions of it is in force in 41 of the 54 Commonwealth countries – including Singapore – today. He pointed out that the rate of HIV infection in Commonwealth countries is double that of nations that have laws influenced by the French (Napoleonic) legal system.
Kirby, who told the audience that he's been a relationship with the same partner for 42 years, drew a comparison between gays today and the way Asians in Australia were made to feel like outsiders who "were never quite accepted" during the 'White Australia' years. The policy, which was in place from 1901 to 1973, intentionally restricted 'non-white' immigration to Australia.
"In my own case I've a particular interest in this because of my own sexuality as a homosexual man. And I tell you that not to intrude a personal feature into what is a very dignified and agreeable occasion but because of this."
"We were very fearful of Asian people," he said as he recalled his experience growing up as a boy in the 1950s in Sydney.
That is until an Asian family moved next door to his. "My parents who had just an ordinary Australian upbringing came to know and to love them... It's much harder to hate people if you know them."
"Now we all know in this room that there've always been gay lawyers and gay judges but generally speaking in societies which criminalise them, they are under tremendous pressure to keep it quiet. I kept it quiet. But I had the good fortune to have a partner for 42 years. 42 years, can you imagine it? It was harder to keep it silent," said Australia's longest serving judge who spoke without referring to any notes throughout his entire speech.
[Kirby himself came out in 1999 in Who's Who in Australia by naming Johan van Vloten as his long-term partner.]
"I tell it to you because I think to some extent gay people have conspired in their own second-class position and it's not their fault; but it's part of the facts that they've kept it quiet because they've been frightened. And I think it is important for it to be said here in Singapore that there are gay people everywhere and if suddenly all them stood up and said: 'This is me. It's like left-handedness, it's no big deal. Get over it. Have an aspirin. Have a lie down. You'll feel better tomorrow.' And things will be different."
"And I hope that in saying that, I have made a little contribution to the understanding that gay people are human beings too, they are professional people, they are lawyers, they are judges, they are amongst you, and it's important that they should have equality and dignity," he said.
"And in the age of AIDS, they should be encouraged to know and to be reached to, to be informed and to save themselves and their societies from infection."