The Mangalorean.com news website warned in a June 10 report: "Almost three years after Nepal became the first country in South Asia where the apex court recognised same sex marriages, the nascent republic's strong gay rights movement now faces severe threat from a new law in the pipeline."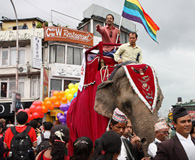 Sunil Pant, Nepal's first and only openly gay member of parliament and founder of LGBT advocacy group The Blue Diamond Society, at a pride parade in Kathmandu in 2010.
The draft of the new criminal and civil code, which was prepared by the law and justice ministry, was submitted to parliament earlier this month. The proposed law will provide for a jail term of up to 16 years and a fine, Sunil Pant, Nepal's first openly gay member of parliament and founder of LGBT advocacy group The Blue Diamond Society, told Fridae in an email.
If the laws pass, it will also affect the country's official recognition of the so-called 'third gender' or transgenders who have been able to register as such when applying for their for national identity papers after a hard won legal battle. The landmark 2007 Supreme Court ruling ordered the government to "formulate new laws and amend existing laws in order to safeguard the rights of these people."
Nepal's Central Bureau has for the first time added the 'third gender' as a category in the national census it is conducting this year although the 'third gender' registration has reportedly not been implemented nationwide.
Until the landmark court ruling in 2007, same-sex acts could be charged under the ambiguous "unnatural sex" law that provided a prison term of up to a year or five thousand rupee fine (US$70). Nepal never had laws that explicitly criminalised homosexuality.
The marriage clauses in the new codes also define marriage as only that between a man and a woman, and if passed, will dash Nepal's hopes of being the first Asian country to legalise same-sex marriage. The Nepal Supreme Court in 2008 directed the government in Nepal to formulate necessary laws to guarantee full rights to gays, including marriage.
Pant told Fridae in an email: "The drafting process was started by few people from the law ministry and two judges from the Supreme Court. The criminal law drafting committee is chaired by Justice Khil Raj Regmi (now Chief Justice) and civil law drafting committee chaired Justice Kalyan Shrestha. There's very little involvement on the part of the current government as it was mostly done by its predecessors. No blame to the current Minister for Law and Justice Prabhu Sah."
Pant, who said his organisation was not consulted on the proposed bill, is appealing to the international community to intervene and write to the Nepal government, and that Blue Diamond will do whatever they can to raise awareness about the issue locally and internationally to prevent the bill from being passed.