Singapore's Speakers' Corner at Hong Lim Park turned into a sea of pink on Saturday as 10,000 people gathered at the third annual installment of Pink Dot – a reference to Singapore being often referred to as a "red dot" and the colour of its citizens' identity cards.
Organisers say this year's turnout broke 2010's record for the largest public gathering ever seen at the Speakers' Corner since its opening in 2000.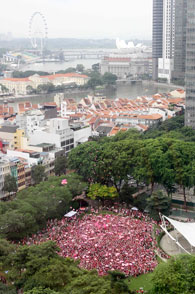 Above: Pink Dot 2011. Photos (above and top of page) courtesy of Pink Dot Singapore.
For the first time, the event featured a concert hosted by Pink Dot 2011 Ambassadors, the Dim Sum Dollies, comprising Selena Tan, Emma Yong and Pamela Oei; and local performers including Sebastian Tan as Broadway Beng, Dave Tan from Electrico, Michaela Therese, Jill Marie Thomas, dance group Voguelicious and performer Rima S. The picnic and concert culminated in a massive human pink dot formed by LGBTs and their friends and family, and a sing-along of the Beatles' classic "I want to hold your hand."
Pink Dot co-spokesperson Paerin Choa said in a statement: "There are few words that can fully describe what we are feeling right now. To have this many people celebrating this event with us is a truly humbling experience, and we are greatly touched by this show of solidarity and support from Singaporeans.
"One of Pink Dot's primary aims is to engender an appreciation of Singapore's diversity – regardless of race, language, religion, and sexual orientation, we are all Singaporeans. We have come some ways in encouraging inclusivity and acceptance of all segments of society, and we hope that more continue to join us in helping to fulfil this aim."
Pink Dot co-spokesperson, Rebecca Ling, said: "We are greatly heartened by this year's turn-out, and it reaffirms our belief that we can make Singapore into a more loving home for all of us. Such immense support from over 10,000 people today is a clear and strong testament to the growing acceptance and awareness among Singaporeans of the LGBT community. Pink Dot 2011 was a milestone in many ways, and we look forward to setting even more milestones in years to come."
Otto Fong. Photo: Facebook
Otto Fong, a former secondary school teacher who made the headlines when he came out in 2007, and who was asked to adddress the crowd this year recalled that in his youth, the same park where the event is being held used to be where gay men met one another.
"Do you know that 30 or 40 years ago, the Hong Lim Park area used to be the main gathering place for some gay men? Isn't it ironic? Isn't it coincidental? Or is it fateful?
"Many years ago, I was a frightened, lonely young man as I looked for love along the back alleys near here. It wasn't easy, and how could it be? We met in the dark, we used fake names, gave out fake numbers because we were so afraid! Worst of all, we broke each others' hearts because none taught us how to love. We had to learn about love the hard way."
He also noted that not only have things changed, the LGBT community is part of that change. Fong, a 42-year-old comic artist and writer, revealed that he has just celebrated his 13th anniversary with his partner and that many of his friends are in committed, long-term relationships with the support of family and friends.
"As we stand here today, we are sending a strong message of love, acceptance and inclusivity. We declare that we are also a part of the Singapore family."
He told Fridae: "I would be happy if 6,000 showed up, but to make 10,000 is a testament that more Singaporeans are hoping for a more inclusive and open-minded society than some would like us to think. I believe more Singaporeans are willing to live and let live, and that this is simply a part of the global trend as more data and studies reveal how ordinary people from our extraordinary community really are!"
The event has been widely covered in the local media including Yahoo Singapore, the Straits Times and on Channel Newasia, a Singapore-based news network.
Fridae has been a proud sponsor and supporter of Pink Dot since its inception in 2009.