The Asian Queer Film Festival opens today at the Cinemart Roppongi theater in Tokyo and will run for two weekends from Jul 8-10 and 15-17. The biennial festival, which began in 2007, will screen 13 Asian shorts and feature films each weekend.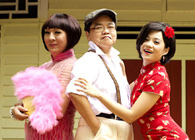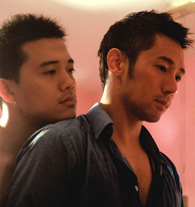 Top: When Hainan Meets Teochew (Singapore); Bad Romance (China) – A tale of seven men and women in Beijing navigating heterosexual, homosexual and bisexual relationships.
Kicking off his festival is When Hainan Meets Teochew directed by Han Yew Kwang, a Singapore-made "a romantic comedy between a 'womanly' man and a 'manly' woman."
Noting the film's "nonsensical plotline", the Japan Times said of the film: "For more sophisticated viewers, the story may seem a bit too naive; but when you consider that Singapore's film industry had been virtually nonexistent until the new millennium, it's a wonder that such a liberated piece of cinema has been released there at all. "When Hainan Meets Teochew" opens the AQFF on just the right note — preparing the viewer for the conviction that love can happen among men, women and those who fall in neither category."
Other highlights include Saratsawadee Wongsomphet's Yes or No, So I Love You (Thailand), first-time filmmaker Francois Chang's Bad Romance (China) and The Secrets (Israel) by by Avi Nesher. Read more in the Japan Times.
All films have English and Japanese subtitles, unless the film itself is in English. Visit www.aqff.jp for ticketing and program details.

First-time filmmaker Francois Chang on Bad Romance