Rev. Oyoung Wen Feng, an openly gay Malaysian-born, New York-based author and pastor, is set to marry his Broadway musical producer boyfriend this month or in early September with ceremonies planned in New York and Malaysia.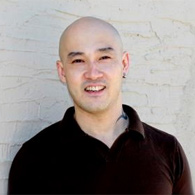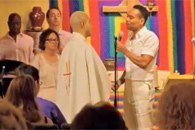 Top: Rev Oyoung Wen Feng, photo: Facebook. Bottom pic: Proposal in church, photo:
Youtube
video.
Oyoung, whose real name is Ngeo Boon Lin, was in Hong Kong last week to launch a new book when he said in an interview with AFP that his partner Phineas Newborn III had popped the question on June 26, two days after New York City legalised same-sex marriage.
"He went to a church and wrote a song for me. He proposed at the end of the song in public," said the former newspaper columnist who now serves at the Metropolitan Community Church (MCC) in New York.
Oyoung, who has published 23 books of which half have gay-related themes, regularly returns to Malaysia where he had co-founded a gay-affirmative church in suburban Kuala Lumpur. The church has been operating quietly for several years before it made the local headlines last September. Male-to-male sex is illegal under Malaysian laws.
In the AFP report that has since appeared in new sites around the world from Thailand to France, he urged Malaysians to come out and should speak out to "break the vicious cycle" and help fight misunderstandings about the gay community.
"When society discriminates against gay people, you only push gay people into the closet. When gay people stay in the closet, people don't know what is gay or homosexuality and because of ignorance they keep discriminating and that will perpetuate prejudice."
"Gay people cannot just blame straight people for not understanding us. Gay people should keep coming out and straight people who are okay with homosexuals should also come out to say publicly that being gay is okay – 'I'm okay with my gay friends'," he said.
Oyoung himself was married to a woman for nine years until he "came out" publicly in 2006.
"She encouraged me to come out. She asked for a divorce, and this is the biggest gift she could ever give me, she literally set me free. I owe her big time," said the 41-year-old who's currently pursuing his doctoral degree in theology.
Oyoung will be speaking and/or having book signings in Singapore, Kuala Lumpur and Kota Kinabalu, Sabah this month.
Singapore
同志教育,同志也需要edugaytion!
An Afternoon Dialogue with O.Young (in Mandarin)
Date: 13 Aug 2011 (Sat)
Time: 3-5 pm
Venue: Free Community Church
Free Community Church
56 Lorong 23 Geylang, Level 3, Century Technology Building, Singapore 388381
Admission is free and all are welcome.
Sunday Service (in English and Mandarin)
Date: 14 Aug 2011
Time: 10.30 am
Venue: Free Community Church
Admission is free and all are welcome.
Taipei, Taiwan
Christianity and homosexuality talk (in Mandarin)
Date: 21 August 2011
Time: 7 - 9pm
Venue: Yiguang Church / 義光教會 (More info)
Address: Taipei No. 16, Lane 31, Sec (Daan Forest Park, go straight across the Dante Hotel alley about 100 meters) /
106台北市信義路三段31巷16號
Click here for more info (in Chinese)
Book signings in Malaysia
欧阳文风新书发佈会:《同志教育》及《这是爱,就这么简单》
Kota Kinabalu, Sabah
Date: 25 Aug 2011 (Thu)
Time: 8pm - 9pm
Venue: Celyn Hotel, City Mall, 1st Floor Kinoundusan Room
Address: Unit No S-0-3 & S-1-3 City Mall, Lorong City Mall, Jalan Lintas, 88300 Kota Kinabalu
Kuala Lumpur
Date: 27 Aug 2011 (Sat)
Time: 2pm - 2.45pm.
Venue: BookFest 2011 @ KLCC,Hall 1