The Jakarta Globe on August 23 reported:
Security authorities in the deeply religious Indonesian province of Aceh have been forced to admit that they are clueless about how to handle a case involving the marriage of two lesbians, saying same-sex marriages are not dealt with under local Islamic laws.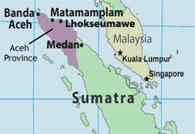 The "confusion" began when authorities arrested Ranto, The 25-year-old woman, however, turned out to be Rohani, who was married to Nuraini, 21.
"We are really confused," Muddasir, the head of Southwest Aceh's Public Order Agency (Satpol PP) told the Jakarta Globe on Tuesday, "Because there are no qanun [Islamic bylaws] to handle such cases."
Islamic bylaws in Aceh prohibit gambling, alcohol, 'khalwat' or close proximity between members of the opposite sex but not, it seems, lesbianism.
In 2009, the Aceh provincial government passed a qanun jinayat, which included outlawing lesbianism, but it was never signed into law by Aceh Governor Irwandi Yusuf.
Muddasir added that the couple will "still be charged, maybe with identity fraud, because what they did was embarrassing and forbidden by religion."
"I told them if Islamic law is applied in Aceh, they must be beheaded, burned and their ashes must be spread in the ocean."