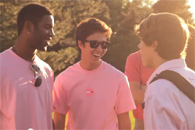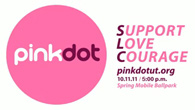 It's a campaign that was conceptualised by a group of Singaporeans and is well known to LGBTs and their allies in Singapore since it started running in 2009. Each year the The Pink Dot: Freedom to Love campaign culminates in a public rally attracting 10,000 attendees in 2011.
The Support Love Courage Council, an affiliate of the Utah Pride Center, this week announced that it has adopted the idea to create Pink Dot Utah to coincide with National Coming Out Day, which originated in the United States and is today observed in several other countries, on Oct. 11.
"Do you know someone who is lesbian, gay, bisexual or transgender? Are they your family member, friend, neighbor or co-worker? National Coming Out Day is October 11. COME OUT and show your Support. Love. and Courage for the LGBT person in your life," the event's Facebook page reads.
Several cities including Penang, Malaysia; New York City; London; Anchorage, Alaska, US and Kaohsiung, Taiwan have organised a localised Pink dot event this year.
Explaining why Pink Dot has found resonance around the world and how it's different from other forms of gay activism, Choo Lip Sin, Pink Dot Singapore organising committee member who came up with the concept, said: "Pink Dot's message is centred around love, and loving the people around you – and love is something everybody and anybody can relate to – is about sharing and compassion. It is one LGBT-supportive activity that presents no age or cultural barrier."
Choo, who's also the editor of Fridae's Chinese language websites, added: "Once you're in agreement with the message, it is such a simple thing to do. Unlike other forms of activism and advocacy work which can be daunting to some or carry messages that are opaque to many, it takes relatively little effort on the part of most of the participants to just show up in a pink outfit and be counted."
Organisers say they hope for Utah residents to create a giant, human pink dot by wearing pink and gathering at Salt Lake City's Spring Mobile Ball Park on the day.
"Most people who are straight know gay people in our community, but they're not quite sure how to support them or show that they care. It's a positive campaign to let everyone have a chance to step up," Denise Winslow, a member of the council who is the straight mother of a gay son, was quoted as saying in The Salt Lake Tribune.
"We just hope that with the campaign that we're able to reach out to families and family members that haven't been willing to step out before," said Valerie Larabee, director of the Utah Pride Center. "It's an action that people can take in response to what happened to Dane, but also more widely in support of their loved ones."
She was referring to a recent case in which Dane Hall, a 20-year-old gay man, was attacked by four men as he was walking home from a gay night at Club Sound early in the morning of Aug 27. He said he heard someone shout gay slurs at him just before he was struck from behind and knocked to the ground. He lost six teeth and fractured his jaw in three places and has a bone chip lodged in his brain. Hall is the third gay Utahn to be attacked in two weeks.
Each week new ambassador videos will be posted on the Pink Dot Utah Facebook page.