The 22nd annual Hong Kong Lesbian and Gay Film Festival (HKLGFF), which is Asia's longest-running LGBT film festival, kicks off tonight with two films: Lost in Paradise – said to be the first film from Vietnam to depict a gay relationship in a positive light; and Yes Or No – Thailand's first lesbian romantic comedy about two young women who start out as college roommates.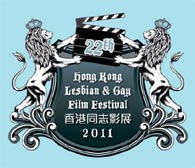 The festival will screen more than 30 full-length and short films over two weeks, and will feature more Asian content than in previous years.
Other Asian offerings include In a Bottle (Dalam Botol), Malaysia's first feature film with gay lead characters about a gay male character who regrets having a sex-change procedure; and Ashamed, a South Korean film that weaves together the lives of three remarkably different women. Japan and South Korea are represented by The Depths‭, which centres around the relationship between a photographer and a call boy.
Two films from China are in the line-up: Francois Chang's Bad Romance, which follows the stories of seven young men and women and their three heterosexual, homosexual and bisexual affairs in Beijing; and Be A Woman, a documentary – about five drag queens and their experiences performing at the "Only Love" Bar in the southern Chinese city of Nanning – that took independent filmmaker Fan Popo three years to film.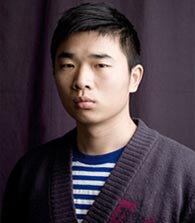 Fan Popo, recipient of HLGLFF's Prism Award
Fan is also the recipient of HLGLFF's Prism Award for his contribution to the LGBT community . The 26-year-old activist-filmmaker, who has seven films to his credit, is also the organiser of the Beijing Queer Film Festival, the China Queer Film Festival Tour, Executive Director of the Beijing LGBT Center has been described by presenters of the award as a "bright star in a bright new generation of Chinese gay men who are becoming increasingly vocal in their call for equal rights."
Other highlights include:
Circumstance
USA / Iran / Lebanon / 2011 / Colour / 105 minutes
In Persian with English Subtitles
Director: Maryam Keshavarz
Cast: Nikohl Boosheri, Sarah Kazemy
Set in contemporary Iran in the unseen world of Iranian youth culture, filled with underground parties, sex, drugs and defiance, Circumstance is the story of two vivacious young girls -- wealthy Atafeh and orphaned Shireen -- discovering their burgeoning sexuality and, like 16 year-old girls anywhere, struggling with their desires and the boundaries placed upon them by the world they were born into. Atafeh and her brother, Mehran, have grown up in a home filled with music, art, and intellectual curiosity. Atafeh dreams of fame and adventure, and she and her best friend, Shireen, explore Tehran's underground scene with youthful exuberance and determination to be themselves. Meanwhile, Mehran returns home from drug rehab, and renounces his former decadent life with a vengeance. Having lost his parents' trust, Mehran is jealous of Atafeh's loving relationship with their father. As Mehran disapprovingly observes a budding relationship between Atafeh and Shireen, he becomes obsessed with saving Shireen from his sister's influence. Winner of the Audience Award of the 2011 Sundance Film Festival.
Weekend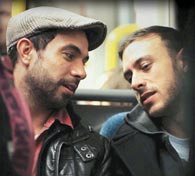 UK / 2011 / Colour / 96 minutes
In English
Director: Andrew Haigh
Cast: Tom Cullen, Chris New
On a Friday night after hanging out with his straight mates, Russell heads out to a nightclub, alone and on the pull. Just before closing, he meets Glen. And so begins a weekend – in bars and bedrooms, getting drunk and taking drugs, telling stories and having sex – that will resonate throughout their lives. Winner of 2011 OUTFEST Grand Jury Award for Outstanding International Dramatic Feature and 2011 SXSW "Emerging Visions" Audience Award, Weekend explores what contemporary gay lives mean in this day and age.
Beginners
USA / 2011 / Colour / 105 minutes
English and French with English Subtitles
Director: Mike Millis
Cast: Christopher Plummer, Ewan McGregor
Supperted by Red Ribbon Centre
When it comes to relationships, we're all beginners. From writer/director Mike Mills comes Beginners, a comedy/drama about how deeply funny and transformative life can be, even at its most serious moments. Beginners imaginatively explores the hilarity, confusion, and surprises of love through the evolving consciousness of Oliver (Golden Globe Award nominee Ewan McGregor). Oliver meets the irreverent and unpredictable Anna only months after his father Hal Fields (Academy Award nominee Christopher Plummer) has passed away. This new love floods Oliver with memories of his father, who, following the death of his wife of 45 years, came out of the closet at age 75 to live a full, energized, and wonderfully tumultuous gay life – which included a younger boyfriend. The upheavals of Hal's new honesty, by turns funny and moving, brought father and son closer than they'd ever been able to be. Now Oliver endeavors to love Anna with all the bravery, humor, and hope that his father taught him.
Beauty
South Africa / France / Germany / 2010 / Colour / 98 minutes
Afrikaans and English with English Subtitles
Director: Oliver Hermanus
Cast: Roeline Daneel, Sue Diepeveen, Charlie Keegan
Francois lives a skillfully controlled, well managed life, in Bloemfontein, South Africa. Father of two daughters and a devoted husband, he is wholly unprepared when a chance encounter unravels his clean and ordered existence. 23-year-old Christian is the son of a long lost friend. By all accounts he is the personification of a handsome young man in the prime of his life. Francois is so disarmed by the young man that it instantly ignites within him in all consuming infatuation and misplaced lust. Despite his careful concealed disgust for himself, Francois pours out the lost emotions he has despised all his life in what becomes a desperate attempt at taking from the world that which he has always secretly wanted: Happiness. Featured in the Un Certain Regard Section of 2011 Cannes Film Festival, Beauty won this year's Queer Palm Award at the festival.
The Wise Kids
USA / 2011 / Colour / 95 minutes
In English
Director: Stephen Cone
Cast: Molly Kunz, Tyler Ross
A thoughtful and evocative coming-of-age drama, The Wise Kids takes place in the transitional space between high school and college, when life seems to be all questions and no answers, and the future is scarily wide open. Set in and around Charleston, SC Baptist church, weaving through this ensemble piece are three main characters – Brea, an introspective pastor's daughter experiencing debilitating doubt; the hyperactive Laura, Brea's best friend and a devout believer; and Tim, the open-hearted son of a single father, confronting his homosexuality for the first time. Tensions and buried feelings around, as Brea, Laura and Tim attempt to hang onto what they are, all the while yearning to break free. Winner of the 2011 OUTFEST Grand Jury Award for US Dramatic Feature Film and Grand Jury Award for Outstanding Screenwriting. Winner of Audience Award of 2011 NEWFEST, The Wise Kids is a character-driven coming-of-age story with an extraordinarily talented young cast.
For schedules and ticketing, visit hklgff.hk. The Opening Gala School Uniform Party will be held Nov 18 at Psychic Jack - 1/F, 30-32 Wyndham Street, Central; and the Closing Gala Party will be held Dec 1 at Beat - LG/F, 62 Jervois Street, Central. Keep your opening movie "Lost in Paradise" or "Yes or No" ticket stub to the opening party for free admission and one complimentary drink; and/or closing movie "Beginners" ticket stub for one complimentary drink at the closing party.