In 2005, the Perry Chiu Experimental Theatre started to explore women's theatre from a new angle, joining shows from the world's classical repertoire to local creative ideas with innovative elements, body movement and music in brand-new combinations. They quickly became known for their high standard of performing arts and for the fresh experience they always give their audiences.
Their recent performances include musicals Wild Wild Rose (2008), She Came from Beijing (2009), Sex 4 Play! (2009) and The Battle of Love (2010), and dramas Golden Cangue (2009), I am Chairman Mao's Bitch (2010), Move Over Mrs. Markham, Zhong Nuis' Antidote (2011) and June Bride (2011).
Perry Chiu Experimental Theatre's founder is Perry Chiu Woon (photo, top of page), and she started preparing for their most recent musical, Chopsticks, in early 2011, their sixth year producing stage shows. At that time she was in New York with her scriptwriter looking for ideas. During their research they came across an interview of the Chopsticks Sisters and realised they would be a good subject for a girl-girl story. Chiu set out to explore the relationship between the two girls and the difficulties they faced in the sixties and seventies. The girls had loads of hit English numbers and combined them with sexy dance moves, so they were perfect for a musical story line.
On my way to their rehearsal studio, I could already hear up tempo music in the corridor outside. As soon as I walked in, I saw the three leads in action on stage: playing the Chopsticks are Perry Chiu as Amelia, Apple Ng as Sandy, while Amelia's dead twin sister is played by Kiki Cheung. Then there I was, talking to the director, producer, and lead of the musical, Perry Chiu and her co-leads, Apple Ng and Kiki Cheung.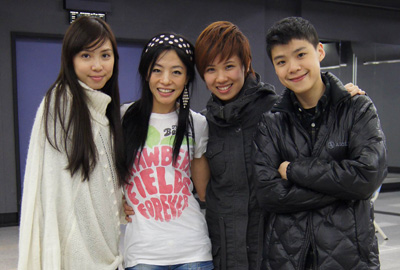 From left: Kiki Cheung, Perry Chiu, Apple Ng and Loli Lam (Pianist)
æ: Can you tell me more about the musical?
Chiu: During the '60s and '70s, relationships between two girls were not accepted. Not to mention, of course, that it is still difficult now. So the story is about how the two overcome their adverse circumstances while being in the limelight as growing superstars. For instance, there is a scene where the Chopsticks are caught kissing in public by the paparazzi. Afterwards they get reprimanded by their manager, who tells them how disgusting they are, how the public will despise them and how behaving like that will destroy their careers. So they have to control their feeling for each other and cannot truly express themselves.
æ: How about now, do you think people nowadays are more comfortable of being lesbian?
Chiu: I would say it's 50/50; some might think it's an image, that being a lesbian is something special which could make them stand out from the crowd and draw more attention to themselves; some might think it's a taboo equivalent to what it was in the past. And now there are more and more artists using "lesbian" as an image in order to attract more audience.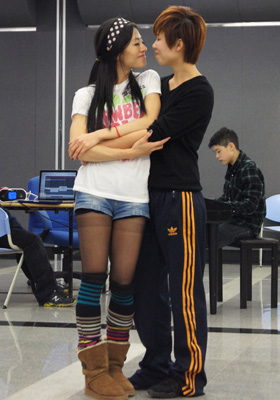 From left: Perry Chui and Apple Ng
æ: Is it hard to portray a lesbian couple?
Chiu: There isn't much difference between a lesbian and a hetero couple, like when the Chopsticks break up in the musical I can just relate to their emotions as I can to any other relationships. As we are doing a musical, the lyrics are really touching, so much so that I have been feeling a bit down since we started rehearsing the show. A relationship is a relationship no matter what gender or sexual orientation is involved.
æ: Have you had any personal experiences with being lesbian or with lesbians?
Ng: Girls are different, they can get really close, but still remain friends somehow. Sometimes even though I suspect there might be something going on, if neither of us takes the lead or kisses the other, we can still get away with it quite easily. Unlike in a boy-girl situation, where once you start flirting with each other, you can't deny you are interested. But when it comes to a girl-girl scenario there is a big grey area. And we can always insist we are just close friends.
Cheung: No, I can differentiate my emotions, having a relationship with a girl is different than with a boy. You can be emotionally intimate; generally girlfriends go through the ups and downs together, which sometimes boyfriends might not understand. We can cry in each other arms and stand up for each other if it were needed. But I know how to tell the difference between the two.
Chiu: Once there was a tomboy interested in me, but nothing happened in the end, as there was no chemistry between us. However, I think when someone is interested in you, no matter if it is a he or a she, you can tell whether they are trying to be friends or want something more.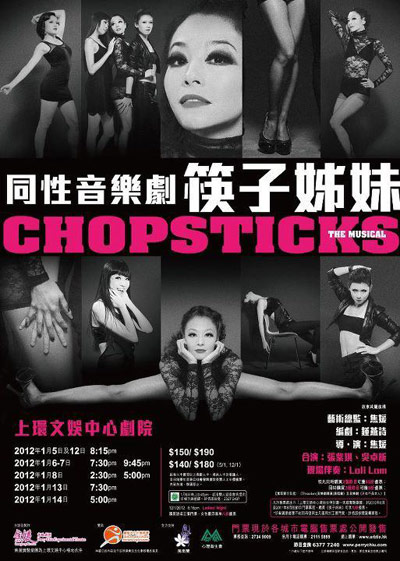 æ: Was because it was a tomboy you could tell she was interested?
Chiu: I never had any other experience so I couldn't tell.
æ: Can you give us a sneak peak of the show?
Chiu: There will be a lot of dances showing how the two characters grow from friendship to relationship; it's the journey of their life.
æ: I heard there would be kissing scene, is there any more to expect?
Chiu: Yes, we have kissing scene and a bed scene; you just have to come and see what it is about. Althought the dialogue will be in Cantonese, we've picked a lot of English songs non-Cantonese speakers can really relate to.
Before we wrapped up the interview I asked Chiu what she would like to say or bring out in her show. She told me that one thing she wanted to show was that we should treasure the people around us and never give cause for regret; people nowadays should do what they wanted to do and should never let anyone tell them they were not worth it.
Chopsticks opens on Jan 5 and runs to Jan 14, 2012 at the Sheung Wan Civic Centre Theatre. Dialogue is in Cantonese and there are songs in English (with English subtitles). Tickets are on sale now priced HK$140-190 from: www.urbtix.hk