The world famous "Sydney Gay & Lesbian Mardi Gras" will now be known as "Sydney Mardi Gras".
In a statement announcing its new brand name and logo, the organisation behind the event also said that it will change its company name from New Mardi Gras back to its old moniker of Sydney Gay and Lesbian Mardi Gras "in recognition that the event and brand remains owned by the city's gay & lesbian community, even as it embraces involvement from the wider community."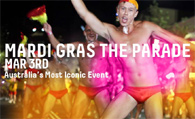 The 2012 season will run from Feb 12 to Mar 4 with the parade on Mar 3.
The parade's new logo is a symbol of two hearts, on their sides, attached at the points while the Sydney Gay & Lesbian Mardi Gras company retains the Sydney Opera House logo, paying respect to the heritage of the organisation.
The organisation operated for nearly a decade as the New Mardi Gras after it bought the assets of the previous organisation which collapsed with debts of A$700,000 in 2002.
Sydney Gay & Lesbian Mardi Gras Chair Pete Urmson said in a statement released last week: "The Sydney Mardi Gras will always have its thumping gay heart that celebrates the city's lesbian, gay, bisexual, transgender, intersex and queer communities, but Mardi Gras is now inviting everyone who has a positive message to share about the power and beauty of diversity to be part of our celebration.
"We would love to see people who share our values, but who never thought they would be in the Parade to approach us and share their ideas. There will always be room for a great float which will both entertain and bring peopletogether."
"Our hope with this change is to turn Sydney Mardi Gras into an even bigger civic event – right up there with Rio and the world's other great carnivals – to be enjoyed by everyone, but always remembered as being a gift to the city from its gay & lesbian community and a demonstration of our pride."
Greg Logan, Executive Creative Director of Moon Communications Group which co-developed the logo, said: "The logo is a universal symbol that connects with everyone in a different way," he said.
"It symbolises all types of genders coming together and does not discriminate. Its symmetry indicates equality and people coming together to celebrate love."
As expected, changes to the logo and name of the iconic annual gay and lesbian festival has been met by a mixed reaction.
Australian gay news site Samesame.com.au reported that some of long-time supporters are incensed that the words 'gay and lesbian' have been dropped. It quoted former Mardi Gras President Richard Cobden as saying: "This morning's Sydney Morning Herald front page sums it up: Mardi Gras goes straight."
"Neither the organisation, and especially not this Board or staff, had any permission or mandate to make Mardi Gras straight. [Mardi Gras Chair] Peter Urmson says 'this is our gift to the city'. It was not his to give.
"For 20-plus years we have been able to force the mainstream media to call it the GAY AND LESBIAN MARDI GRAS. They had to say the words. For a long time they did not want to but we made them. That has been thrown away."
Demanding the decision to be reversed immediately, he added that for years non-GLBTIQ organisations and businesses who wanted to advertise had to give an explicit message of support to the gay and lesbian community. "How can the organisation possibly ask for that now when they themselves have dropped an explicit gay and lesbian message?"
A commenter on the site also asked: "What's the point of all this if we exclude the two words that mean the most to the purpose or reason for the organisation's existence?"
Meanwhile Mardi Gras' Head of Marketing & Communications Damien Eames was quoted by Samesame as saying that the organisation "represents a wider range of interests than just gay and lesbian", and recognises that "many, particularly younger people are much less likely to want to be labeled."
"Third, we have set out a vision that is all about diversity and inclusion, but with at its core a LGBTQI pride event. We are inviting everyone who shares our values – like PFLAG or the Fag Hags – to feel they belong one hundred per cent to the Mardi Gras family."
"We think it's a beautiful purpose that we can all work towards. It doesn't change that our gay and lesbian, and our transgender, bisexual, queer and intersex identity is part of our DNA."
The first Mardi Gras was held on 24 June 1978 and in the nineties became the largest event in Australia and one of the largest such festivals in the world attracting crowds of more than 500,000 spectators from around Australia and overseas. The 2012 season will run from Feb 12 to Mar 4 with the parade on Mar 3.