"Inreach before outreach," Thomas Roth, president of San Francisco-based Community Marketing, advised a roomful of 70 industry professionals at the 1st Asian Symposium on Gay and Lesbian Tourism held at the Le Meridien Hotel in New Delhi on Monday 28 November.
Designed to not only discuss the lure of the "pink dollar" in LGBT travel, the programming of the symposium focussed on helping mainstream industry players who have identified LGBT travellers as a target segment understand their potential customers better as well as challenges and best practices associated with LGBT travel.
Roth, president of Community Marketing, a consumer research company specialising in the LGBT demographic since 1992, says according to its research the US LGBT tourism market is estimated to be worth US$64.5 billion. "But these travellers need to be genuinely welcomed, and their preferences and sensitivities must be addressed while travelling," Roth said.
"Don't just go after the pink dollar, you've to give something back," Roth advised those in management positions to not only treat their guests with respect but also to implement non-discriminatory human resource policies for their employees, making a donation to LGBT community groups, and even involve their LGBT employees in outreach programs.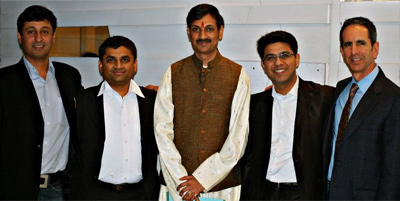 From left to right: Bhuvan Mehta, Ankit Rajvanshi (Out Journeys),
Prince Manvendra Singh Gohil, Abhinav Goel (Out Journeys)
and Thomas Roth (Community Marketing). Photo by Rahul Choudhury
In spite of the fact that India's Ministry of Tourism was unwilling to support the event nor did any of its representatives attend the meeting, organisers Community Marketing and inbound tour operator Out Journeys say the turnout which included tour operators, travel agencies and hotels exceeded their expectations. The event, which is the first of its kind held in Asia, was sponsored by Out Journeys, American Airlines, Tourism Authority of Thailand, Go India Journeys and the International Gay and Lesbian Travel Association (IGLTA).
As part of their efforts to promote India as the next LGBT travel hotspot, a media familiarisation trip has been organised for 10 journalists representing Asian, US and Canadian LGBT media outlets following the symposium.
At least half a dozen travel operators from adventure travel operator Holiday Moods Adventures to travel giant Cox & Kings say they are interested in reaching out to gay travellers.
The audience also heard from Amit Prasad, Chief Operating Officer of Go India Journeys (La Passage to India), who has recently set up a team of three staff members out of a staff strength of 65 to research and meet the needs of LGBT travellers.
While travel operators are eager to customise tours based on their LGBT clients' interests, operators say a major challenge they face is providing sensitivity training to their vendors including drivers, tour guides and hotel staff.
Other speakers included Manavendra Singh Gohil, chairperson of the Lakshya Trust and the first and only gay member of a former royal family to have come out as gay in 2006, who shared his personal experiences about having to attain financial independence after being disinherited by his family. Veteran gay activist Ashok Row Kavi, who is the founder of Bombay Dost and founder of Humsafar Trust, provided a historical perspective of homosexuality in India and gender diversity of various Hindu deities.
At the symposium, the Tourism Authority of Thailand New York Office announced that it has embarked on a project to "crystalise" its approach to LGBT travellers. The pilot "Go Thai, be free" campaign is targeted at LGBT travellers living on the east coast of the US and is expected to launch in the first quarter next year.