India's home ministry on Thursday urged the Supreme Court to reverse a landmark decision to decriminalise gay sex, saying homosexuality was immoral, "against nature and spreads HIV."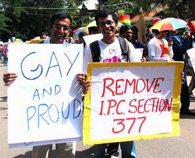 The Supreme Court is now hearing more than a dozen petitions filed to overturn a 2009 ruling by a Delhi high court that made gay sex between consenting adults legal for the first time.
It had noted on Feb 16, 2011 when hearings began that homosexuality should be seen in the context of changing society as many things which were earlier unacceptable have become acceptable with passage of time.
"Gay sex is highly immoral and against social order and there is high chance of spreading of diseases through such acts," additional solicitor general Malhotra, who is representing the home ministry, told the apex court.
"Our Constitution is different and our moral and social values are also different from other countries, so we cannot follow them," the ASG said, adding that societal disapproval of gay sex is strong enough reason to criminalise it.
The ministry said it favoured the ban staying in place in order to prevent child abuse and because Indian society was largely against homosexuality according to a survey by the Law Commission, Malhotra explained.
"Laws can't run separately from society and the morals of the time," he said.
Last week, the Supreme Court begun a debate on the legality of decriminalising gay sex in private between consenting adults.
"So who is the expert to say what is 'unnatural sex'? The meaning of the word has never been constant," Justices GS Singhvi and SJ Mukhopadhyaya asked a petitioner who challenged the judgement.
"We have travelled a distance of 60 years. Now it is test-tube babies, surrogate mothers. They are called discoveries. Is it in the order of nature? Is there carnal intercourse?" the judges said.
The decision on Section 377 could affect other sexual offences in the Indian Penal Code.
The Times of India reported:
A bench of Justices G S Singhvi and S J Mukhopadhaya requested the counsel for parties to keep in mind the evolving social ethos as the key words in the HC judgment -- "consenting adults committing a sexual act in private" - could have a bearing on several other sexual offences enumerated in the IPC.
"Though the focus of our judgment would remain on Section 377, but keep in mind that it could have bearing on provisions relating to other sexual offences. Obscenity could be one such provision," the bench told senior advocate Amarendra Saran, who was arguing against the HC verdict on behalf of Delhi Commission for Protection of Child Rights (DCPCR).
The court was possibly hinting at offences like adultery and obscenity in public, mostly misused by police to harass couples in parks.
Section 497 defines adultery. According to it - "Whoever has sexual intercourse with a person who is and whom he knows or has reason to believe to be the wife of another man, without the consent or connivance of that man, such sexual intercourse not amounting to the offence of rape, is guilty of the offence of adultery, and shall be punished with imprisonment of either description for a term which may extend to five years, or with fine, or with both. In such case the wife shall not be punishable as an abettor."
In this case, the consent of the woman is immaterial and the consenting sexual act still would constitute an offence if the consent of her husband was not taken.