Dharun Ravi, the roommate of Tyler Clementi, who tragically jumped to his death from the George Washington Bridge on Sep 22, 2010 just three days after being secretly watched on a webcam being intimate with another man his dorm room, will finally stand trial for multiple counts of invasion of privacy, bias, intimidation and hindering prosecutors. If convicted on all counts, Dahrun faces up to 10 years in prison and deportation.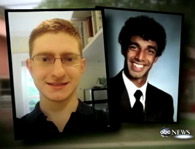 Tyler Clementi (left), Dharun Ravi
The 18-year-old's death and a series of suicides by gay teenagers last year sparked a national conversation about the impact of bullying of young gays in the US.
According to an ABC report, the trial is expected to be broadcast live across the country and as far away as India, where Dharun was born.
Prosecutors say 19-year-old Dharun, who grew up in New Jersey, is a homophobe who used a laptop camera to spy on his roommate while the latter was being intimate with man in their room at Rutgers University in New Jersey on Sep 19, 2010.
He tried again two days later and allegedly invited others to watch the webcam footage, as well as messaging friends about what he'd seen.
Initially, another Rutgers student, Molly Wei was also charged in the case but she entered a plea-trial intervention program last year that allows her to avoid jail time and emerge without a criminal record if she meets a list of conditions for three years. She also agreed to cooperate with prosecutors in their case against Dharun.
Dharun has pleaded not guilty and refused a plea deal, insisting that he intended no harm in what his defence says was simply a bad-taste prank.
Although the court of public opinion quickly condemned Dharun in the immediate aftermath of Clementi's death, revelations since the tragedy have shown that the relationship between Dharun and Clementi was more nuanced than had been initially reported or portrayed in the media.
In an extremely in-depth profile about the two roommates in the New Yorker published on Feb 6, writer Ian Parker documented online communications between the pair as well as exchanges between Dharun and his friends about Clementi even before the pair moved into their dormitory room. When they found out they'd be roommates at Rutgers, Dahrun and Clementi separately checked each other out online.
Dharun didn't appear to have a problem with his roommate being gay and wrote to a friend about Clementi, "FUCK MY LIFE / He's gay," but continued, "I'm just like LOL / Maybe I'm still a little buzzed."
The article also suggests that Dharun who is from a wealthy background and drove a BMW in high school was more classist than homophobic. The article read: "Once Ravi understood that he would be living with Clementi, he felt that he knew these essential facts: his roommate was gay, profoundly uncool, and not well off. If the first attribute presented both a complication and a happy chance to gossip, the second and third were perceived as failings. 'I was fucking hoping for someone with a gmail but no,' Ravi wrote to Tam [Jason Tam is Dharun's high-school friend]. Clementi's Yahoo e-mail address symbolized a grim, dorky world, half seen, of fish tanks and violins. Ravi's IMs about Tyler's presumed poverty were far more blunt than those about sexual orientation. At one point during his exchanges with Tam that weekend, Ravi wrote, 'Dude I hate poor people.'"
It also noted that Clementi had come out to his parents shortly before college began. He wrote to a friend that his father had accepted the news, and "Its a good thing dad is ok w/it or I would be in serious trouble / mom has basically completely rejected me."
The trial is expected to last four weeks.