In July 2013, Singapore's very first liberal arts college is opening up its classrooms on its Dover Road Campus. It's the result of a collaboration between the National University of Singapore (NUS) and Yale University from the USA, hence its wildly imaginative name: Yale-NUS.
But there's a controversy brewing over the project. Many Yale staff have expressed major concerns about setting up a college in Singapore, given the state's lacklustre track record on human rights, including LGBT rights. In a recent faculty resolution, they stated: "We urge Yale-NUS to respect, protect and further principles of non-discrimination for all, including sexual minorities and migrant workers."
Christopher Miller, a Yale professor of French and African-American studies, was even more pointed in his essay "Yale in Singapore: Lost in Translation". "Most immediately troubling to me as a gay faculty member, male homosexuality is illegal in Singapore," he wrote. "Yale has no business establishing a campus in a state where some of its own faculty members are subject to arrest because of who they are."
I'm personally thrilled that Yale academics are so concerned about us Singapore queers. But as a Singaporean university employee myself, I can't help but wonder if they've an exaggerated view of how bad LGBT oppression is here.
Several times, during my creative writing classes at Nanyang Technological University (NTU) , I've deliberately mentioned the fact that I have a boyfriend. This has never been a problem. I've also many other openly queer friends teaching and studying at NUS and NTU, in some cases in rather lofty positions.
In fact, I've always had the impression that Singaporean universities are some of the most queer-friendly workplaces in the country. Miller's vision of us getting arrested for our orientations therefore felt more than a little ludicrous (though I understand he was talking more about the principle of the thing than the danger of enforcement).
My experience, however, is limited. So, in preparation for this response, I quizzed friends and acquaintances on their recent experiences in NUS and NTU. As you might have guessed, the truth isn't as rosy as I thought.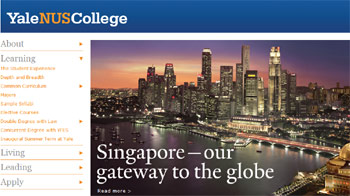 Queering the campus
Before I launch into the problems with LGBT acceptance at NUS and NTU, I'd like to stress that there are actually some really cool pro-queer initiatives happening right now on our campuses.
For instance, there's a new student group set up by folks in NUS's University Scholars Programme called the Gender Collective. On their website, they declare their mission: "to draw together people of all genders and sexual identities for discussion in a safe space." A longer-term goal is to establish a campus-wide support channel for victims of sexism, homophobia or transphobia in any form.
NTU isn't getting left behind. It should soon be offering a minor in Gender and Sexual Studies, headed by openly queer American professor Brian Bergen-Aurand. I interviewed him in his office, festooned with posters and stickers advertising local LGBT community initiatives: Sayoni, SinQSA, IndigNation, PinkDot, and discovered he was rather satisfied with the freedom he'd been given to teach his ideas.
"I can't think of a single thing in my classes that's been censored or questioned," he said. "In the Gender and Sexuality course I teach, we do everything from the intersection of queerness and nationhood to indigenous nationhood, to body theory, feminist theory, cyborg theory."
He's especially pleased with the NTU library: how it's acquired heaps of films and books that explore issues of race, class and gender – even the 2004 film Georges Bataille's Story of the Eye, which features mixed-race bondage scenes and multiple cumshots. He's also pleased to report that none of his students have come to him with outrage or disdain for the same-sex relationships they see in their films.
It's also worth noting that this year's NUS Arts Festival featured not just one, but two performances with gay and bisexual content: Checkpoint Theatre's student-devised play City Night Songs and Zulkifar Ali's dance piece in Face 2 Face II.
But what's more important is that the majority of my respondents claimed that they hadn't suffered discrimination or homophobia in school. Their colleagues, classmates and advisors had been comfortable with their sexual identities, as well as the queer subjects some of them explored in their work.
Fear and ambivalence
Yet not everything's perfect in the world of academia. Those of you who've read my coverage of the Handsome: IVSG exhibition will know about Faisal Husni, a student at NTU's Arts Design and Media school. He's encountered censorship when attempting to exhibit homoerotic artworks – even images of men simply kissing. Oddly enough, he's found far more openness in the School of Humanities and Social Sciences, where he takes writing classes.
Another NTU student told me how students tend to have differing degrees of homophobia depending on which faculty they were in. "If they come from Wee Kim Wee School of Communications, it's totally fine there. The ideas totally open them. But in the Engineering department, you have words going around, people talking behind your back, unnecessary attention. It's not easy or convenient."
Zuni Chong, a Philosophy major at NUS, reported how she's encountered prejudice even in the Faculty of Arts and Social Sciences, especially among Christian groups. "Hatred isn't very strong. It's mostly a sense of fear of homosexual people – you've got this sense of people being uncomfortable around homosexuals. People think they're some other species that cannot be empathized with."
Transphobia, of course, is also a problem. The artist Marla Bendini, who's enrolled at NTU, still has to endure a routine of insensitive stares – though she claims the environment is no worse than the rest of Singapore.
Oddly enough, what troubles me the most is an interview I had with Robin Loon, an assistant professor at NUS's theatre department. While he's happy with his work and has never been challenged over it, he describes a rather troubling culture among the faculty that involves an "unsaid code of don't ask, don't tell" .
"The climate here is really quite ambivalent," he says. "Nobody challenges you, nobody outs someone else. It's not nudge-nudge wink-wink; there's no need to talk about it. No clarity, no spelling out of rules and regulations."
While I understand that a university might find it hard to control its students' homophobia and transphobia, it can and it should dictate a culture of acceptance towards queer staff. Not outing oneself is not a fair option: if a straight professor can talk about his wife, a gay one should be able to speak just as openly about his boyfriend. If people in the theatre department can't understand that, what hope does any other faculty have?
Based on this informal study, Singapore universities seem to be generally tolerant, yet levels of acceptance vary wildly between faculties and communities. Some parties are driving the institutions to open up, but others are still weighed down by prejudice.
I'm aware that this is an incomplete picture – for instance, I was unable to get feedback about life at Singapore Management University. I'm hoping that readers will share their own perspectives in the comments section.
The promise of Yale-NUS
It's at this point that I'd like to turn back to the case of Yale-NUS. However problematic its establishment may be to Yale staff, there's every reason to believe that it's going to be good for Singaporean queers.
You see, Yale has a non-discrimination policy that covers both sexual identity and gender expression. I've spoken to Yale-NUS Dean of Undergraduate Admissions Jeremiah Quinlan, and he's given us the following statement:
"The College seeks a diverse student body that will bring various perspectives and backgrounds to its campus and the College's admissions office operates in ways consistent with Yale's and NUS' policies on non-discrimination. Therefore, like Yale, Yale-NUS does not discriminate in admissions against any individual on account of that individual's sex, race, color, religion, age, disability, or national or ethnic origin; nor does Yale-NUS discriminate on the basis of sexual orientation or gender identity or expression."
This spirit of non-discrimination isn't just rhetoric. I've a friend who's taken up work on the Yale-NUS staff after years in the education sector. As a lesbian woman, she says it's the first time she genuinely feels comfortable being out in the workplace.
As for actually creating a queer-positive campus, Quinlan's also stated his belief that students would be welcome to set up an LGBT group. And while this is great for the college, it could have implications for activism in the whole of Singapore, and even beyond.
Consider the 1969 Stonewall Riots in New York: a revolt by gay bar patrons against police forces that kick-started the modern struggle for LGBT rights in the USA. A lot of the tactical planning that turned those riots into a political movement took place in the Student Homophile League at Columbia University – the world's first queer student association. College queer groups can have, and often have had, an important part to play in national struggles for queer liberation.
If by chance anyone reading this is going to enroll or has enrolled in Yale-NUS, I'd urge him or her to start such a group – and to think big. It won't be enough just to cater to the needs of Yale-NUS students. The group should ideally be open to young people in all tertiary educations, since many of them won't have officially recognised groups of their own.
Furthermore, the group should get politically involved, not just in Singaporean queer rights, but also in movements abroad. Malaysia, for instance, needs as much support as it can get from inclusive, outward-looking, courageous young people.
But the onus to take action doesn't just fall on Yale-NUS students. All of us who're involved in educational institutions should do what we can. Universities, after all, aren't just about exams: they're places where young people are given the space and power to do something with their ideals.
They're places where students can rehearse the responsibilities and tasks that they'll take on in their adult lives. They're places where change begins – and we can be part of that change.