If you've never heard of Robert Mapplethorpe, you've been missing out. He was one of the greatest gay artists of the late 20th century: an American photographer whose black-and-white portraits of men were both shockingly beautiful and shockingly sexual. He shot celebrities, caused huge controversies over arts funding and became a hero of the culture wars before dying of AIDS at the age of 43.
This month, an exhibition in Singapore is being held in memory of Mapplethorpe and his legacy. It's called "Handsome: IVSG" (the acronym can be read as either "four" Singapore or "I love Singapore"). It's organised by rainbowartsproject, a group founded in 2009 to develop and document queer culture.
Ten male artists have been invited to create works for the show exploring masculinity and gender. Their pieces will be displayed at the Substation from 5 to 18 May, with an opening reception this Friday evening. An additional programme of events include laughter yoga and penile massage workshops, led by sexologist Dr Martha Lee.
The exhibition is free, but the truth is, the organisers need our help. The National Arts Council just announced that it wouldn't be supplying them with a grant – which is, of course, what often happened to Mapplethorpe. The curator and artists are therefore self-funding the show. They'd love it if you turned up and bought a catalogue, purchased an artwork, or left a small donation. Creative people have to eat too, after all.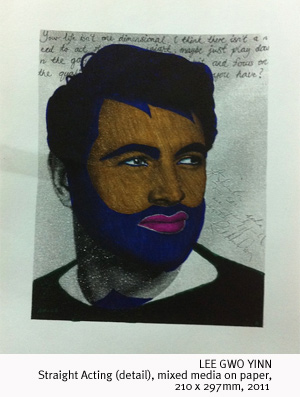 Art stars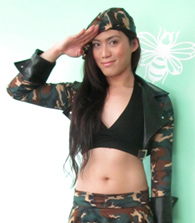 Marla Bendini, curator of Handsome: IVSG
This isn't a completely queer show, by the way. Curator Marla Bendini isn't even sure which of the artists she's chosen are gay or straight – she's chosen them based on whether or not she likes their work and their treatment of themes.
Her selection's been daringly diverse. Though most are based in Singapore, there's also a Malaysian, an Indonesian and an Israeli in the mix. They're of different ages and different reputations: some are internationally acclaimed professionals and some are amateurs. Some are filmmakers, some are performance artists, and some are illustrators.
The most famous name is Bruce LaBruce, the Canadian director who alternates between art movies and underground pornography. Marla wrote to him to gain permission to exhibit his 2010 movie, L.A. Zombie. This flick, by the way, is about a man who's convinced he's an alien zombie from outer space: he roams a post-apocalyptic Los Angeles, looking for dead bodies that he can gay-sex them back to life.
According to Bendini, the work has a special resonance in Singapore: after all, our anti-gay-sex law, 377A, is in the books right next to laws against necrophilia. However, there's no way the movie could be shown here (it's caused police raids even in Melbourne!), so specific clips will be incorporated into an installation instead.
There'll also be work from a star artist closer to home: the photographer Marcus Mok, who's gained fame for his sensual images of nude Asian men. He's recently published them in a book called Liberate, available from his website.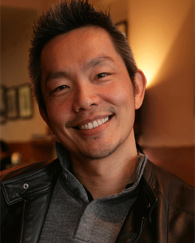 Marcus Mok
In an e-mail interview, Mok expressed his admiration for Mapplethorpe, calling him the father of the kind of images he makes today. "Naturally there would have been photographers of nude males before him, but he confronted it directly, broke taboos and boundaries and brought it into the full light of day."
He concedes that his nudes are nowhere as provocative as Mapplethorpe's: often their faces and genitals are turned away from the camera. This serves to tease the viewer, as well as to comply with Singapore's blasted laws of public decency.
Men and boys
There's plenty to say about the other artists in the show. There's Chan Wai Teik, a past winner of Mr Singapore whom we've profiled on this site. There's Bryan Ho, a talented NTU photography student whom Marla praises as "one of the most flamboyant persons in school". There's Lee Gwo Yinn, who stumbled into art in his forties and is currently working on "Straight Acting", an 85-piece series of mixed media artworks that use the image of closeted gay Hollywood star Rock Hudson.
However, I'd like to focus on one particular emerging artist: 24-year-old Faisal Husni. He's also studying photography at NTU, but he also has a background in illustration. The erotic drawings he's presenting – "Anemone, Orchid and Hyacinth" – reference the fact that Mapplethorpe spent the last years of his career photographing flowers.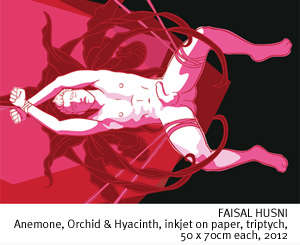 Faisal's intriguing because his artworks possess a frankness about sexuality that's similar to Mapplethorpe's . Not surprisingly, it's also created trouble for him. He's clashed with his visual communications instructors at NTU several times when his final assignments included images of men having intercourse or kissing. He's even scolded his professors for failing to include an in-depth look at sexuality in their courses on art history. (He has a point – there's a lot of classical paintings which were originally meant to be sexy.)
"I think it's important that we recognise that there's a place for sexual imagery in our society," he says. "That's the important thing about this exhibition: we need to see sex in order to deal with sex and educate the young about sex."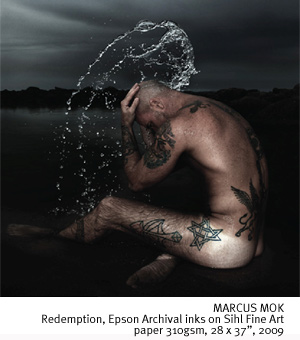 Mok agrees. "I believe if we draw on the courage and creativity of Mapplethorpe we will over time be able to change repressive societal attitudes. It is very often the artists - writers, poets, playwrights, painters, photographers etc. – who lead the way in opening the dominant paradigm to an alternative, and making the alternative acceptable."
Even if this exhibition isn't getting funded, at least it's happening, and people will see it. Hopefully, that means it can make a difference.
"Handsome: IVSG" will be showing from 5 to 18 May at the Substation Gallery, 45 Armenian Street. There will be an opening reception at 7:30pm on Friday 4 May. To find out more, visit the Substation website at www.substation.org/handsome-ivsg. For more on the rainbowartsproject, visit rainbowartsproject.wordpress.com. Bruce LaBruce's website is at www.brucelabruce.com and Marcus Mok's website is at www.marcusart.net.