Some 100 lesbian, gay, bisexual and transgender (LGBT) people gathered on a US embassy sports field in the capital Vientiane on Monday, June 25, to publicly celebrate LGBT pride for the first time.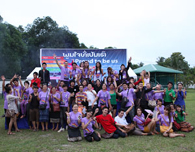 Photo: US Embassy in Laos
According to a press release issued by the US Embassy in Laos, the event, called "Proud to be Us!", was produced by a group of young Lao LGBT activists and featured music, dance, skits, and dramas exploring issues faced by LGBT people in Laos today, such as discrimination, gender roles, and sexual health.
The guests of honour were US Ambassador Karen Stewart and Dr. Bounpheng Philavong, Director of the Center for HIV/AIDS/STI (CHAS) at the Lao Ministry of Health. During their remarks, both Dr. Bounpheng and Ambassador Stewart congratulated the event organisers for taking an important first step to achieving full acceptance of LGBT people in Lao society.
"The message we want to send is that no matter what you look like or where you come from or what your sexual orientation is, every single one of you is a person with value and should be treated with dignity and respect," said Ambassador Stewart.
The event drew performers and participation from a number of organisatons that provide outreach and services to Laos' LGBT community, including the Purple Sky Network, Lao Positive Health Association (Lao PHA), Population Services International (PSI), the Burnet Institute, Family Health International (FHI), the Vientiane Youth Center for Health and Development, and UNFPA.
According to an AFP report, while homosexuality is legal in Laos, it is frowned upon by many among the socially conservative nation of around six million people. As such, event organisers decided against holding a parade as is common at global pride events. [Edited June 30, 2012]